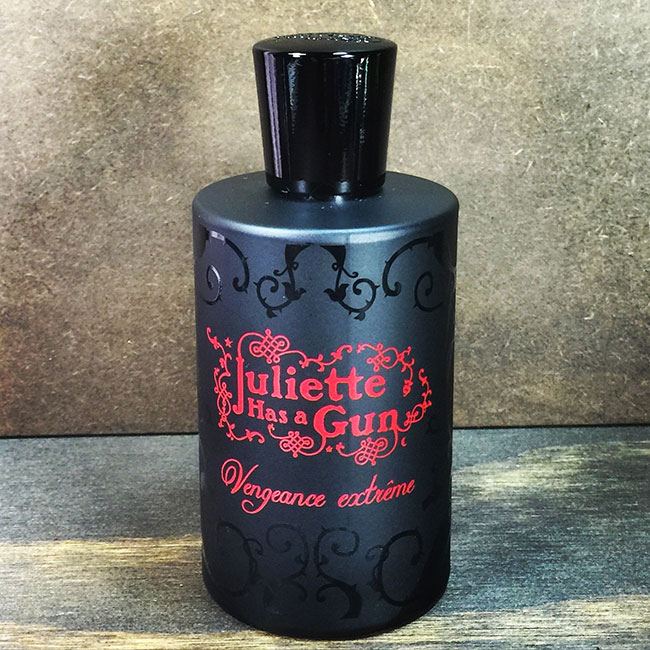 Question of the Week: Name one of your favorite beauty discoveries of 2015.
Answer: It's been a great year for cosmetics, but I think my very favorite beauty discovery of the past year was from perfumery Juliette Has a Gun. I've always been a fan of the line, but this year they really wowed me with Vengeance Extreme. It's gorgeously packaged (always a plus) in black and red, and contains a "high concentration of rose, in addition to seductive vanilla and patchouli." For me, it is the perfect mix, managing to be sexy and girly at the same time, but with a dark edge.
Readers – What was your favorite favorite cruelty free beauty discovery of the year
Please note: not all Lipstick League posts are cruelty free.
Clumps of Mascara – Wanna smell pretty? I don't! I can't handle strong fragrances and I love when brands give us body care products that have gentle scents. Yessss.
EauMG – Every year Victoria puts together a holiday gift guide for her favorite people – freaks, goths, post-punk dames, vintage vamps, alt-chics. Here's Victoria's Holiday Gift Guide for anyone that leans towards a "darker" aesthetic.
Gouldylox Reviews – Everyone is talking about Wen and the lawsuits. Should you stop using Wen?
Love for Lacquer – The MAC x Ellie Goulding collection is a neutral lovers dream. Check out these gorgeous pieces!
My Beauty Bunny – Still have some names to cross off that holiday gift list? Check out our list of Must Have Beauty Products for Women over 40.
My Newest Addiction – If you haven't seen the MAC Faerie Whispers collection that will be released online December 23rd then you NEED to check out Laura's post. She possibly gushes a little too much, but the entire collection is swoon-worthy so we will forgive her.
Nouveau Cheap – If you're on the fence about the new Too Faced Chocolate Bon Bons Palette, hopefully my review can help you make up your mind!
Phyrra – is having her biggest giveaway of the year with Urban Decay, Too Faced, OCC and more. Enter her Christmas 2015 Giveaway!
Prime Beauty – has a last minute stocking stuffer for the beauty addict–Neutrogena Nourishing Long Wear Eye Shadowin 3 colorways!
we heart this – check out our Skincare Gift Guide for any budget (which at this point is really a list of things you need to buy for yourself!)
Beautygeeks – If you don't know Canada's super-hot St. Nick, you missing out. For real. Start with these 5 things about Fashion Santa, and go from there!
Beauty Junkies Unite – There are some gorgeous shades in the new OPI Starlight Collection! Check out Amber's review & swatches, you just might find one for your perfect holiday manicure.
Blushing Noir – The Top 10 Luxury beauty items from the Chanel Vamp Attitude Collection for Holiday 2015! Did your favorites make the cut?
(Wondering what the Lipstick League is? Find out here.)