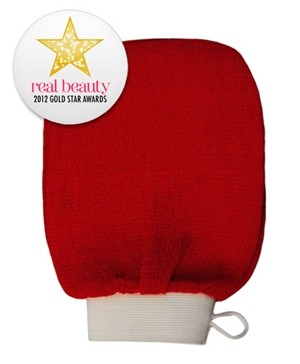 I have tried so many scrubs in my lifetime, but nothing beats a reusable physical exfoliator that you can use over and over again. I have purchased scrubbing mitts at the local Korean spas (the same ones they use to do body scrubs) and they are fantastic. If you don't have a Korean spa near you (or if you're afraid to walk around naked with elderly Korean women), pick up a Beautisol Hammam Exfoliating Mitt. Actually – pick up two so you can scrub a dub dub with both hands.
It's the best way to exfoliate before using self tanner or anytime you need to get rid of dead skin and nasty stuff. These are serious exfoliators – if you're a wuss, you might only be able to use it on your feet, elbows and hands. I like my exfoliation hardcore, so I use it all over! It's much cheaper than buying scrubs over and over – a definite must have for every shower!
Get 20% off at beautisol.com with promo code ifabbo20. Expires 01/31/2013.
Beautisol also has less hardcore exfoliating options – a body scrub, face scrub and exfoliating gloves. All Beautisol products are cruelty free and most are vegan.
Jen