Gold lip gloss looks good on pretty much every skin tone. It can be subtle when worn alone or super glam when layered over a fun lipstick. You can also "warm up" a lipstick color by adding gold gloss. Here are three cruelty free lip glosses you should check out.
Josie Maran Natural Volume Lip Gloss in "Optimism" ($20) – This shimmery gold gloss is filled with organic argan oil, olive oil, jojoba oil, coconut cream and ginger root oil. A naturally occurring tripeptide stimulates lip collagen. It's fragrance, paraben and toxin-free. It's definitely not tested on animals and I believe it's vegan (please correct me if I'm wrong). It has a dulce de leche flavor but I wish it was a little sweeter – I'm not 100% sold on the taste.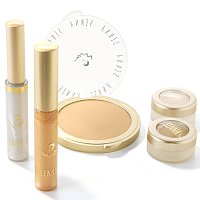 Senna Cosmetics Lip Lacquer in "Bling Bling" ($19) – This is the most yellow-gold-ish of the three. And the most glittery and shimmery. It's also the most long-wearing…and the most sticky. If you can tolerate MAC Lip Glass, this will be nothing to you. If you're sensitive to sticky glosses, you might want to skip this one. Conditions lips with Vitamin E and jojoba oil. Vanilla flavor. This one has lanolin and carmine (so it's not vegan).
YoungBlood lip gloss in "Champagne Ice" ($23) – This is the most neutral of the bunch in terms of color – it seems to have a little pink in it. It also has the most pigment and is the least sticky. It moisturizes with sunflower seed oil, jojoba oil, Vitamin E and honeysuckle flower extract. Cruelty free and vegan (some of their glosses are not vegan, but this one is).