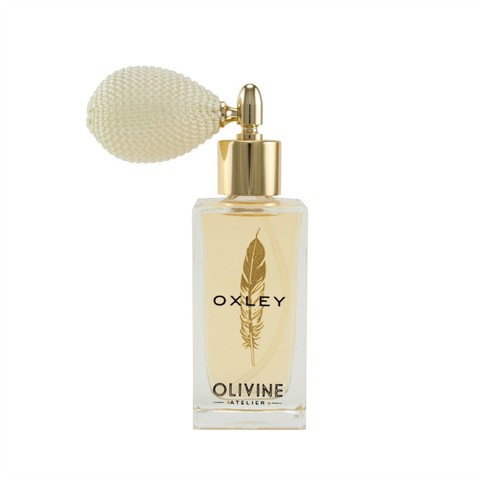 I am a huge perfume snob. I prefer indie perfume artisans to those gross drugstore and department store stink bombs (that are generally not cruelty free anyway). My friend Ashlee of The Little Foxes told me that I MUST try this vegan, cruelty free perfume called Olivine. The owner, Julie, sent me a wonderful selection of samples along with a full size Oxley perfume with atomizer (just beautiful to behold!) and the Amongst the Waves lotion that Sierra reviewed for you earlier.
Oxley perfume: Julie describes Oxley: "Sexy, sultry, warm: that's the way I feel around my husband. My luck was extraordinary: this tall, dark, handsome surfer man with a delicious accent came into my life and took me as his bride. Oxley is the name of the street in Australia where he grew up. Oxley was his home. And he is my home. Sexy, sultry, warm: that's the way Oxley makes you feel. Starting with white gardenia and night-blooming jasmine, it draws you in. The base notes of essential vanilla and African musk are welcoming, comforting, solid." Oxley is definitely a warm, floral scent – not too girly – more womanly. It reminds me of an exotic vacation for two. I love the scent, and it's definitely one my fiance can appreciate (we can be SO different when it comes to scents)!
Olivine: Julie's signature scent. She says, "Olivine is the rich, delicious scent of my favorite flower [gardenia] mingling gracefully with an earthy musk, soaring and centering all at once. It's my starting point, and my reset button, and my constant indulgence." Gardenias are definitely girly and romantic. This one's a little too girly for my taste, but my fiance loves it.
Amongst the Waves Perfume: Inspired by Julie's favorite place in the world– Hanalei, Hawaii, "Amongst the Waves captures the ultra relaxed, sensory paradise that is a beach day in this Hawaiian nirvana. With a top note of ocean salt and black coconut, Amongst the Waves melts into a full bodied, floral heart composed of lush stargazer lily, waterlily and tiger lily.  These flowers rest on a warm base of clean musk mingling with tonka bean and Arabian sandalwood." A lovely beachy, summery scent.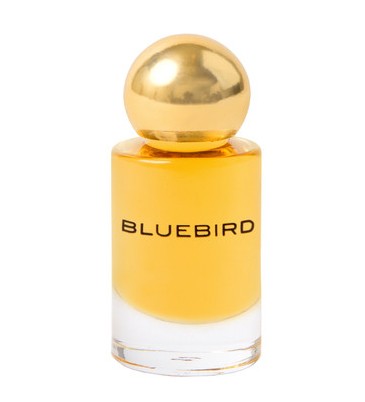 Bluebird (Limited Edition): "With a bright top note of blood orange and neroli, the full floral middle note accord of orange blossom and stargazer lily bring you the warmth of sun on skin.  The soft creamy base notes of French vanilla and floral musk embrace you, leaving you with an inner joy, a radiance – of childlike innocence and the feeling of being home." This might be my favorite – it smells fresh and clean with plenty of citrus goodness.
Full Regalia: "What you'll notice first is pure, sweet vanilla. Simple, lovely. But don't be fooled. Waiting just beneath the surface are Egyptian Jasmine, Moroccan Red Rose, Musk, Blackberry, and a hint of Patchouli. Complex and delicious: a winning combination." I LOVE this one – I'm a big fan of earthy fragrances – maybe because I'm a Taurus! 🙂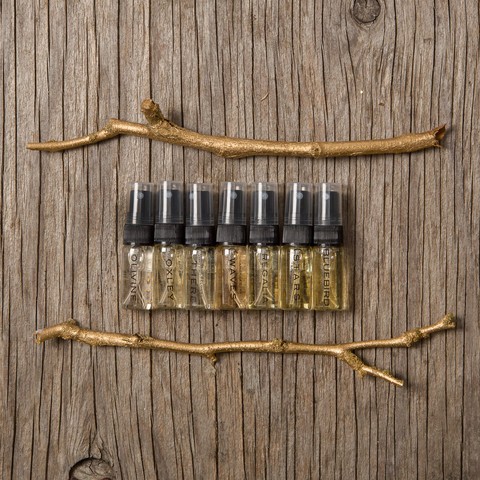 More Than the Stars: "With a top note containing the tiniest hint of Almond, More Than The Stars opens to a feminine middle note accord of lush Stargazer Lily and soft Gardenia. But this gossamer skin scent lives where it lingers – in the base note.  Egyptian Musk and fresh Sandalwood are accented by essential Vanilla and Brazilian Vetiver which add both an anchor and a sensuality to a fragrance that can be worn both during the brightest of days, and into the deepest of those star filled nights." I would like for this to have more vetiver, and less floral, but that's just because I'm obsessed with vetiver.
She Belongs There: "It's your life. You belong there. And the warm, sexy tangle of gardenias, pikake, night-blooming jasmine and lush, smoky vanilla will remind you and keep you grounded in that knowledge." Love the scent and I love the name.
All fragrances are cruelty free and vegan. You can buy the Eau de Parfum (with the gorgeous atomizer), Oil or Lotion for each scent. You can even get a sample pack of very generous spray-bottle samples for $30.
Julie's new Love + Salt Beach Hair and Body Mist sounds AMAZING. I may just have to order some to check it out. I'm a sucker for hair mists with salt (makes my hair curl up with nice, beachy waves). Especially nice if it has an amazing scent.