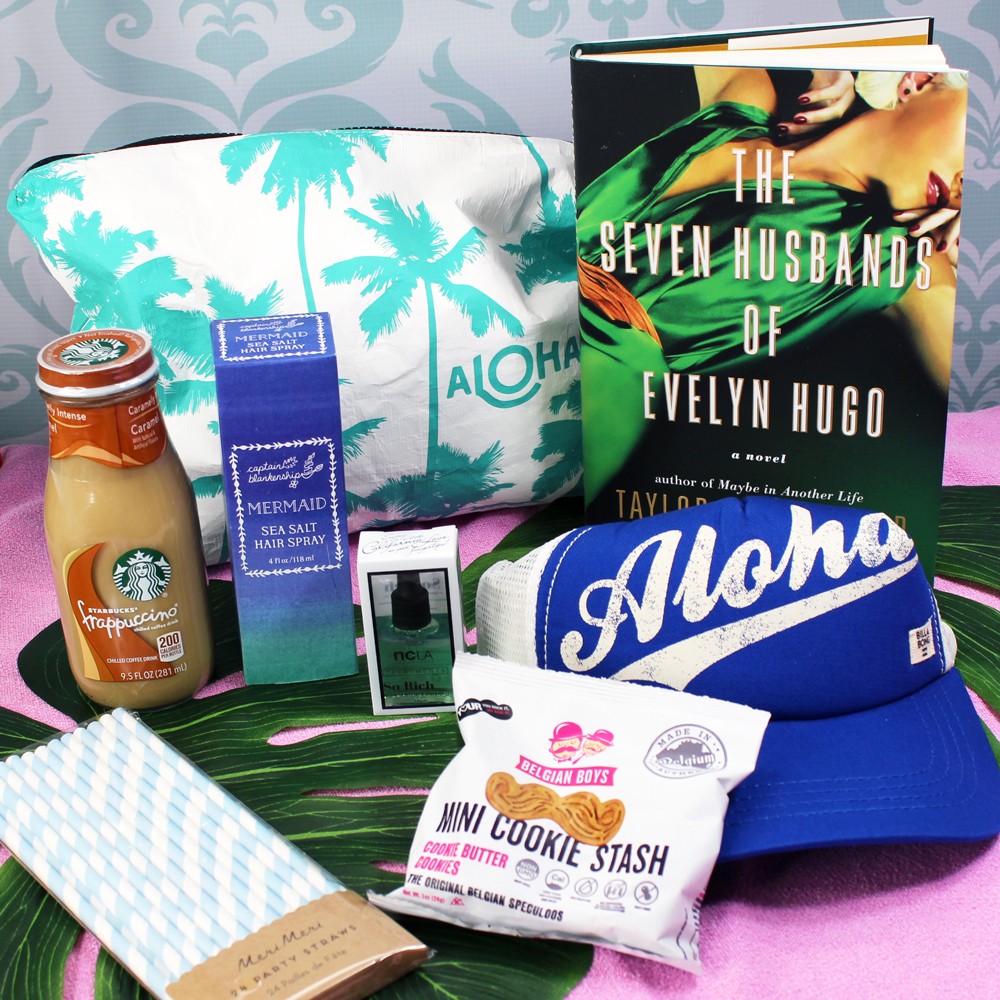 PopSugar Must Have Box June 2017 – Review and Coupon
The PopSugar Must Have subscription box is one of my favorites. I love seeing what surprises I'll get in the mail each month, and I love that they include not just beauty, but – fashion, food and lifestyle type products. PopSugar sent me the June 2017 Must Have box to try out. It has a summer, beachy, mermaid, tropical, Hawaiian theme. So appropriate since I got to visit Hawaii for the first time this year!
Without further ado, here's what came in the June sub box:
Aloha Collection Mid Size Ocean Palms Pouch – This is a nicely-sized bag that I plan to use for makeup and toiletries when I travel. It's splash-proof, and made from a crinkly material that wears well, so I may use it in my pool and beach bag as well. I have so many tiny makeup bags that are pretty useless when it comes to traveling. I need a lot of space for my makeup, and this one is pretty big. I love the pattern too – it's super cute. I'll be bringing this one as my makeup/pool bag when I go to Cosmoprof this weekend. I'll be staying at the Palazzo and enjoying a cabana out by the pool with my other beauty blogging friends. Check out their other designs here (loving the California, Cotton Candy Palms and Harmony prints)!
Billabong Aloha Trucker Hat – Okay – is this trend really coming back? I look like Mike Meyers in Wayne's World when I wear a hat like this – just not a good look for me at all! I didn't wear these in the Paris Hilton-era, and I won't be wearing 'em now. But, I could see this being cute on some of you pretty young things as a music festival or beach hat.
The Seven Husbands of Evelyn Hugo – I have a feeling this is going to be a great beach or pool-side read. I tend to read a lot of non-fiction, so it's nice when a novel like this lands in my lap (kind of literally!). Since I have yet to dive in, here's the gist:
In this entrancing novel "that speaks to the Marilyn Monroe and Elizabeth Taylor in us all" (Kirkus Reviews), a legendary film actress reflects on her relentless rise to the top and the risks she took, the loves she lost, and the long-held secrets the public could never imagine.
Aging and reclusive Hollywood movie icon Evelyn Hugo is finally ready to tell the truth about her glamorous and scandalous life. But when she chooses unknown magazine reporter Monique Grant for the job, no one is more astounded than Monique herself. Why her? Why now?
Monique is not exactly on top of the world. Her husband has left her, and her professional life is going nowhere. Regardless of why Evelyn has selected her to write her biography, Monique is determined to use this opportunity to jumpstart her career.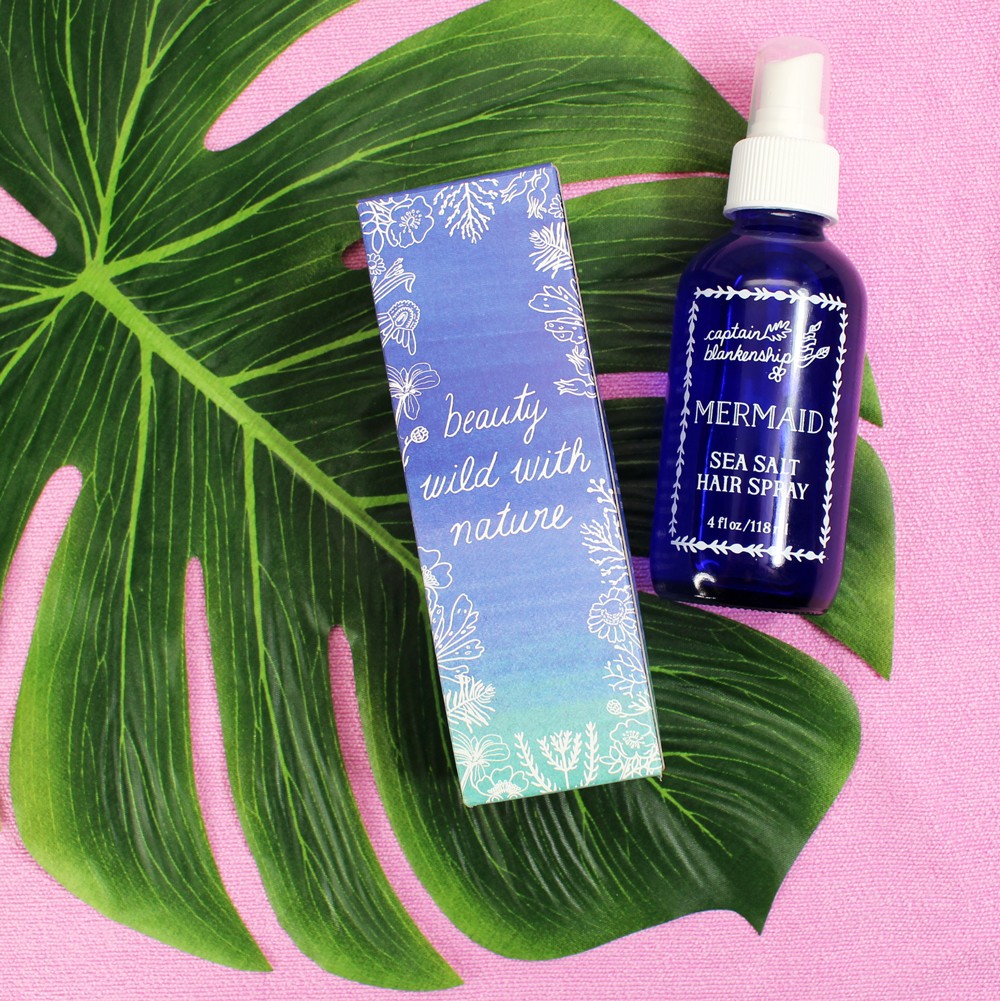 Captain Blankenship Mermaid Sea Salt Hair Spray – I've been curious about this brand since I saw they sell it at The Detox Market. This is a natural, cruelty free hair spray and volumizer. I have curly hair, but sometimes it doesn't want to curl up. It's often somewhere between curly and straight, which is never a good look. Sea salt gives me those natural beachy waves, that I MUCH prefer to straight hair. This hair spray also has the added benefits of aloe vera and sea kelp, plus the organic geranium and palmerosa essential oils make it smell so good (a spa-like scent)! This product is called a "hair spray" but there is no alcohol or other ingredients typically found in hair sprays. The sea salt gives you some hold, and it will dry your hair out a little, so go easy and don't use it every day. I like to use products like this on 2nd or 3rd hair wash days when my hair is oily. It serves the purpose of a dry shampoo – de-greasing and adding volume – without filling my hair up with powder.
NCLA So Rich – Mermaid Tears – I don't know why my cuticles are always so sad and ragged, but I'm very excited to try this cuticle oil from NCLA. It's cruelty free and vegan – made with Vitamin E and sunflower oil. The scent is "honeysuckle and ocean breeze" but it's a little strong for my taste. It definitely smells like anything labeled "ocean scent". So if you're familiar with that type of scent, then you know exactly how this smells! It comes with an easy-to-use dropper. I generally prefer a brush to apply this type of oil, but the dropper is better than an open bottle with no applicator. It's a pretty green color, and definitely fits in with the mermaid mania that everyone has right now!
Meri Meri Blue and White Party Straws – The other day I was asking my fiance why we don't have any straws in the house. My wish must have been put out into the universe, because it was granted! These blue and white straws are so cute, with major vintage vibes. And, if I was actually the kind of person that you know, entertained people and had backyard parties, I would buy these for every summer party! I think part of my no-backyard-parties problem might be that I don't have a backyard! Oh city life…
Starbucks Frappuccino – I'll be really happy if Starbucks comes out with an almond milk or soy milk version of their Frappuccino ready-to-drink beverage. Or do they? If I'm missing out on something, let me know! I love the Bux, but Gregg and I generally avoid dairy, so this one is going to be gifted to a friend.
Belgian Boys Mini Cookie Stash – These portion-controlled belgian cookies are delicious (vegetarian but not vegan). They are non-GMO and made without palm oil or nuts.
All things totaled up, this box is worth over $125, and at $39.95, that's a pretty darn good deal! If you want to sign up for the next Must Have box, use PopSugar coupon code SHOP5 to get $5 off your first box. They don't guarantee that all products will be cruelty free or vegan, but so far I have had good luck with what they have sent me.