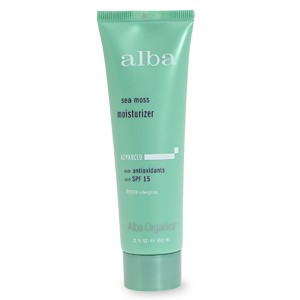 I wanted this moisturizer to be different than the other sunscreen/moisture combos that I've tried in the past.
I thought, it's natural and organic, it will feel better on my skin, but unfortunately, Alba Organics Sea Moss Moisturizer with SPF 15 falls in the same trap so many others do–the grease pit.
Now in some cases, a moisturizer that sits on the skin is important, especially if it's a night cream or a heavier moisturizer used during the winter or in super-dry climates. But a daily moisturizer is usually light and absorbs quickly. This one is neither.
I'll have to admit, as one with oily skin, it's possible someone with dry skin may like this (although Jen didn't).  It does provide a good foundation for your makeup and it definitely prevented sunburn. Another plus for this moisturizer is it contains antioxidants, which, not only prevent the skin from aging, but also (according to the latest reports) take care of the extra free radicals that sunscreen causes.
This moisturizer also contains other healthy skin ingredients, such as aloe, safflower seed oil, shea butter, algae, sea lettuce, kelp, iris moss, green tea and vitamin c. It's available at albaorganics.com.