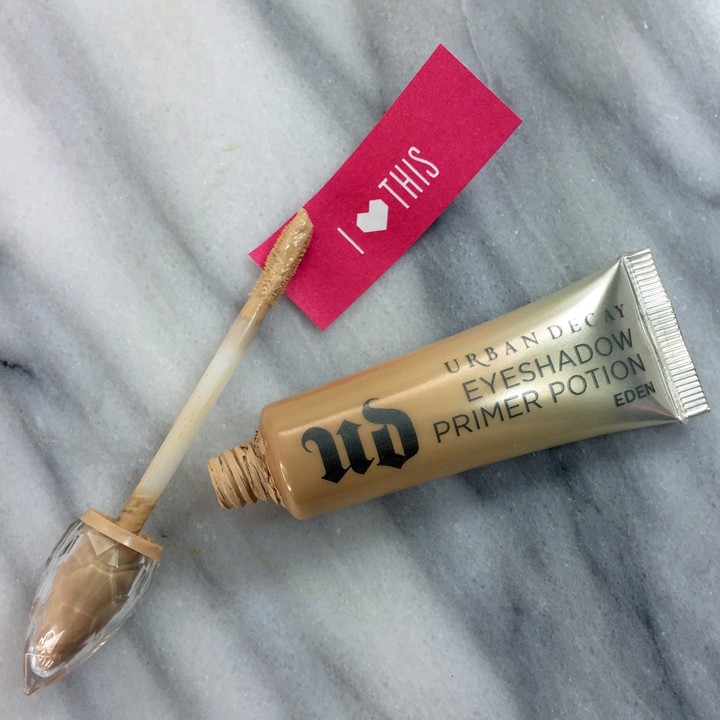 Question of the Week: Are you loyal to one eyeshadow primer or do you like to hop around and try new things? What's your holy grail eyeshadow primer (or your favorite of the moment)?
Answer: I test a fair amount of cruelty free primers for My Beauty Bunny, and will experiment with different brands and formulas, but the one eye shadow primer I always return to is Urban Decay's Eyeshadow Primer Potion in Eden. The "nude matte" shade works well with my complexion, covering up the dark skin on my eyelids. It always leaves me with a smooth canvas for eyeshadow and does a nice job in preventing creases and smudges.
Readers – What is your all time fave cruelty free eyeshadow primer?
Please Note: Not all Lipstick League posts are cruelty free.
My Beauty Bunny – Searching for a full coverage foundation? Look no further than the Hourglass Vanish Seamless Finish Foundation! We've got the details and a look at the coordinating Vanish Foundation Brush.
My Newest Addiction – Makeup is fun but becoming dependent on it is not. Laura talks about breaking up with your makeup and has a fun giveaway where 3 people can win $500!
Nouveau Cheap – A gel-to-oil cleanser in beautiful packaging for under $15 at Target? Sounds pretty awesome, but does it actually work?
Olive & Ivy – If you haven't tried these NUDESTIX Gel Color Lip and Cheek Balms yet, you are seriously missing out. One of my absolute FAVE beauty products!
Phyrra – Are you dying to know how to contour for your face shape? I can help! Check out my Pale Girl's Guide to Contouring! I show the best tools and how to use them, too.
Prime Beauty has very specific criteria for her mascara. See if PÜR Cosmetics Big Look Mascara passes her test!
Beautygeeks – What does cheese in a sandwich have to do with nail polish basecoat? Celebrity manicurist Mar y Soul explains in the first of these short videos on how to achieve your best DIY manicure..
Blushing Noir – OTHER LEVEL METALLIC. The latest limited edition eyeshadows from NARS are eye-catching, reflective and shimmery in every amazing way imaginable.
Clumps of Mascara – What do my purple hair and MAC Cosmetics have in common? Mmm…
Gouldylox – Go back to school with these beauty hacks that will help keep your life/school balance in check.
(Wondering what the Lipstick League is? Find out here.)
My Beauty Bunny is Currently Craving: tarte Amazonian Clay Highlighter
The latest highlighter from tarte is on my wish list! I love that it has a universal shade – for any skin tone.