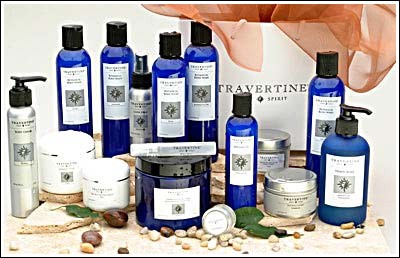 A luxurious getaway doesn't have to mean splurging on an expensive spa retreat. You can indulge a mere few yards away, in your very own bathroom with Travertine Spa beauty products. Founded in 2004 upon the belief that people should treat themselves well, Travertine Spa offers a sensual line of bath products such as body wash, oils and lotions in aromatherapeutic ingredients such as lavender, shea butter and jojoba.
A Spa Master in Disguise: The founder of Travertine Spa was a former corporate executive who sought out quality spa treatments as a healthy way to balance the stresses of the boardroom. Her hobby became her lifelong dream!
Lavender Botanical Body Wash ($30) – The Botanical Body Wash contains Bulgarian lavender and moisturizing jojoba oil, chamomile and calendula, in a very light, calming lavender scent. I like the soothing skin ingredients, but I thought the scent could have been stronger. This is a great body wash for all members of the family – very kind to sensitive skin.
Hand Soap ($16) – Enriched in aloe and vitamin E, Travertine Spa's Hand Soap in Moroccan Tangerine gently cleanses, moisturizes and protects your hands. I liked the soap, but $16 is a little steep for my blood. If the scent was amazing, I would consider that price, but I found it to be pretty average. It smells more spicy than tangerine/citrus-y. And the scent is very mild (good for sensitive skin).
Lavender Linen Spray ($14) – I so wanted to love this linen spray, but the scent just wasn't strong enough. I think you could easily make this at home and customize to your own liking. A better idea would be to purchase their lavender essential oil ($18) and make your own! You can also use essential oils in your bath or in a diffuser to make your whole house smell great.
Follow Travertine Spa:
Jen