This year, I hope everyone is buying cruelty free gifts for friends, family, associates and coworkers. Here are some of my favorite cruelty free gifts to consider this holiday season! Enjoy my 2014 Cruelty Free Holiday Gift Guide! Obviously there are TONS of wonderful cruelty free gifts, so if you have any great ideas, please add them in the comments below!
100% Pure
Now THIS is something very cool! 100% Pure has partnered with me to create 3 vegan brush sets and ALL of the proceeds to go to my favorite charity L.A. Love & Leashes! The biggest set even comes with a cute clutch that has bunnies and carrots on it. Amazing! Check them out here. And remember – when you purchase a limited edition set, your money goes to help shelter animal find homes!
LUSH
Everyone loves LUSH! They are cruelty free warriors! They also have TONS of great gifts. Check out their Gift Guide for lots of holiday-themed goodies!
Some of you have mentioned concerns over synthetic preservatives, parabens, etc. Well the good news is that LUSH is gradually changing over to "self-preserving" products. That means the natural ingredients in the products will keep them fresh and germ-free without any additives.
One of the self-preserving products is the Charity Pot. Now in a self-preserving formula, this is a gorgeous body lotion that does a lot of good – and not just for your skin! Since launching the program, they have donated more than $5,800,000 to over 600 grassroots charities in 35 countries! WOW! Some of my favorites have been in there, including the Beagle Freedom Project. Their Dream Cream, Mask of Magnaminty and Ocean Salt are also self-preserving.
Wet n Wild and Milani

Drugstore brands can be cruelty free too! These make great gifts and great holiday makeup prep for yourself! Grab some glitter polish, glitter liner, glitter eyeshadow, or just go classic with a great red. (I snuck some Gabriel Cosmetics polish in there because it's the perfect holiday red!)
The Organic Pharmacy
The Organic Pharmacy has lots of luxe gifts for the holidays, but I want to share with you the new Organic Glamour Food range. It's made with food grade ingredients that are GREAT for your skin. I tried the hand wash and hand lotion, and used those bottles UP! Great stuff. The hand wash is made with antioxidant rich dark chocolate and blueberries, for a truly softening experience. The hand lotion is made with  a delicate orange blossom fragrance, along with antioxidants from dark chocolate and blueberries. Truly a gift for the woman who has everything! Practical and luxe at the same time!
The Body Shop
The Body Shop does holidays like no one else! They have something for everyone! And many of their gifts are on sale right now! Plus, many of their fair trade gifts do double-duty – when you buy, you help send a child to class! There are also large and small versions of almost everything – so you can buy stocking stuffers, coworker gifts, or larger gifts for friends and family. Something for every budget.
Treat someone to a little bit of sunshine this festive season. The Satsuma Treats Gift Cube is a cute cube of mini shower gel, body lotion and a poof.
Know someone who loves apple scents? Try the Schoolbook of Peace. Love cranberry? Try the Book of Love! Plus they both have bunnies on the covers – love it!
Lips chapped? Try Candy Kisses! A stocking full of lip butters: shea, coconut, honeymania, strawberry and mango.
The Wild Argan Oil Premium Selection comes with large-sized versions of the Argan Oil bubble bath, body scrub, body butter, Lip Oil and a mini bath poof. The set is super moisturizing and perfect for winter's harsh chill!
The Wild Rose Handy Manicure Set makes a gorgeous gift for anyone who loves rose scents (like moi!). It comes with Wild Rose Hand Cream with SPF 15 (love to keep this in my car – I always forget to put SPF on my hands!), a mini 4-way nail buffer, a nail file and nail clippers. A practical and beautiful gift!
Bite Beauty
The BITE Beauty Mix n Mingle Collector's Edition gift set is a stunner! It's a limited edition set with FIFTEEN shades! It includes Keep your lips looking festive with BITE Beauty's Mix & Mingle Collectors Edition! With a very limited quantity created, this set is a super assortment of ten deluxe minis in one beautifully festive set. You can also get the mini versions at Sephora.
Dermalogica
Dermalogica has a Holiday Skin Kit for every skin type. One of the brands I trust the most, Dermalogica puts more research into their skincare than any brand I know. See my Dermalogica review here.
Evolution Man
Men love skin care – even if they won't admit it! For the man in your life, try EvolutionMan Resurfacing Clay Mask. This transformative mask is the closest at-home treatment you will find to a professional facial. It works by utilizing EXFO BIO, a powerful blend of Alpha Hydroxy Acids that are naturally derived from tropical fruits. The mask clarifies the skin by clearing and tightening pores, which instantly brightens, rejuvenates, and smooths out skin texture. It's made without parabens, triclosan, and other stuff you don't want on your face. You and your man can have mask nights together! Or maybe he'll only use it when you're not looking! 🙂
Savannah Bee Lip Balm
Savannah Bee has these cute little gift pouches that are perfect for stocking stuffers or small gifts. I also love the Natural Beeswax Lip Balm Tins. Gotta love the packaging on these, and I especially love the names: Soulful, Cheerful and Hopeful. All three Savannah Bee Lip Balm Tin varieties contain beeswax, royal jelly, propolis, and honey. Savannah Bee Lip Balm Tins are 100% natural, free of drying petroleum products, free of dyes and preservatives, and never tested on animals.
A Girl's Gotta Spa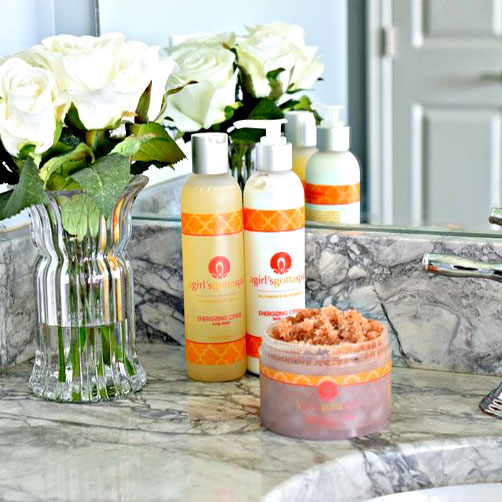 You really can't go wrong with spa products. Especially luxury spa products that are vegan and Leaping Bunny certified!
Lavish a loved one who truly is in need of some pampering (including yourself!) with A Girl's Gotta Spa! Energizing Citrus 3-Piece Gift Set. This set includes our Body Wash to help wash away the day, our Salt Scrub to gently exfoliate skin and our Body Lotion to provide maximum hydration. The Energizing Citrus fragrance is naturally invigorating and comprised of pure essential oils of grapefruit, orange, lemon and lime.
This natural, vegan and cruelty free gift set includes full size products:
8fl oz. Energizing Citrus Body Wash
8fl oz. Energizing Citrus Body Lotion
10fl oz. Energizing Citrus Salt Scrub
Products come in a silver matte gift box tied with a guava colored ribbon. You can also sign up for the mailing list and get an instant 15% off coupon!
i smell great
I'm seriously obsessed with this new line of perfumes. I've already bought some goodies for my mom for Christmas (hope she's not reading this!). See my full review here.
Murad
Murad has a skincare product for every skin type. Since I am on the combination, acneic side, these are my faves. I love the Clarifying Cleanser (I use it on my face and back), the Transforming Powder Dual Action Cleanser and Exfoliator,  Acne Clearing Solution, Clarifying Mask, Clarifying Body Spray (not pictured – great for body acne!), Acne Treatment Concealer and Acne Spot Fast Fix (with benzoyl peroxide).
Are you feeling stressed out this holiday season? Who isn't? Seriously! I highly recommend you pick up a copy of Dr. Howard Murad's new book Conquering Cultural Stress – The Ultimate Guide to Anti-Aging and Happiness. Buy it for yourself and get a copy for a friend. Stress is killing us a nation and we have to RELAX and learn how to add some playfulness into our lives.
I recently went to Murad's NEW flagship store at 8207 W. 3rd St, Los Angeles, and Dr Murad has created an Interactive Art Wall – a giant screen where you can "paint" your own drawings with a digital brush and send it to yourself (or post on Facebook). How cool is that? You can also get complimentary express services and a YouthCam skin consultation to see what's REALLY going on with your skin, and what products can help.
Michael Todd

The Soniclear by Michael Todd is the only sonic skin care brush that has anti-microbrial properties. Now why would you want to spread bacteria around your face every time you use a Clarisonic? Answer – you wouldn't! Try this out and get clear, exfoliated, fresh skin. They have a holiday bundle right now, but you can also purchase the Soniclear (or any of their amazing, natural, cruelty free skincare products and gadgets) individually.
DOG for DOG
Got a pal with a dog? I highly recommend Dog for Dog. They give an equivalent amount of dog food to a shelter in need for every single purchase you buy. It's the only brand I buy for Riley dog, and he especially loves the mini treats and the doggy peanut butter – DOGSBUTTER!