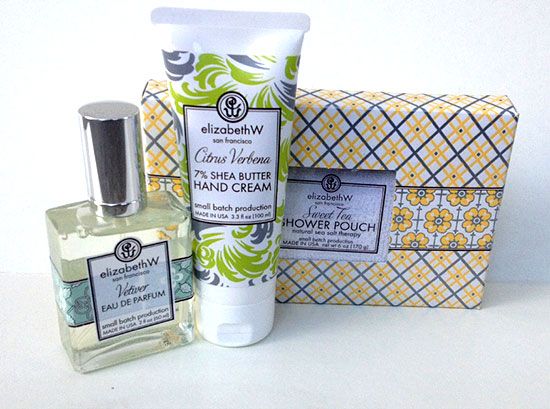 elizabethW was originally a perfume line based in San Francisco, that has since expanded into cruelty free skin care. The founder, Albert, wanted to pass on the memories of his Great Grandmother, Elizabeth Wightman, whos spirit, determination, independence, and elegance inspired the entire line. The brand provided three products for review – Vetiver Eau de Parfum, the Sweet Tea Shower Pouch, and the Citrus Verbena Hand Cream. I'm always on the look for products that have a touch of a natural scent and are not too strong. After reading the philosophy behind the brand, I was curious to try each product.
Perfume is a very personal item. How it reacts with our own unique body chemistry means that what smells great on one person may not work so well on another. The Vetiver Eau de Parfum was described as a woody and earthy scent. It is a combination of vetiver balanced with light, citrus tones and green tints of bergamont. The initial spray was very floral, but that transformed into a warm, woody scent. This would be a great scent for winter as it's fresh and clean, but still has earthy elements.
The Sweet Tea Shower Pouch is a really unique item! It's bath salts inside a terry cloth pouch – easily making your shower or bath soothing and relaxing. The scent of black tea and lemons was delicious! The scrub was very soothing and my skin felt wonderful afterwards. This is a great option for those without a bath tub or those on the go who still want a similar experience to a soak in the tub with their favorite bath salts.
The Citrus Verbena Hand Cream has a bold and fresh citrus scent. This mellows as the floral verbena comes into play, leaving you with a refreshing and awakening scent that is not at all overpowering. Shea butter is the second ingredient of this product. It absorbed quickly into my hands, leaving them soft but not greasy. This is a wonderful hand cream that comes in a variety of scents. I can see it being a great addition to anyone's skin care routine.
All elizabethW products come in a variety of scents. You're sure to find one (or two!) that please your senses. All of their products are cruelty free and the three featured in this post are also vegan.
Overall, I am very impressed with the elizabethW products. They all smelled great and worked well. Plus, I love the philosophy behind the brand.
Tashina Combs is the creator and editor of Logical Harmony, a vegan beauty and lifestyle blog. Logical Harmony features product reviews, the latest news on cruelty free living, recipes, fitness tips, and more. All items featured are free of animal testing and free of animal ingredients. You can keep up-to-date with Tashina on Twitter, Facebook, Instagram, and Google+.