Thursdays with Cheeky Rox: Anastasia Beverly Hills Moonchild Glow Kit Review and Swatches!
Cruelty-free beauty brand, Anastasia Beverly Hills, has been taking the makeup world by storm lately! They've been releasing tons of new products and hitting the nail on the head with every single one. One of their newest additions is the Moonchild Glow Kit. You may have seen these popular highlight palettes floating around Instagram and Youtube (I know I have!). We even did a full Strobing Tutorial on My Beauty Bunny's YouTube Channel with the shade "That Glow".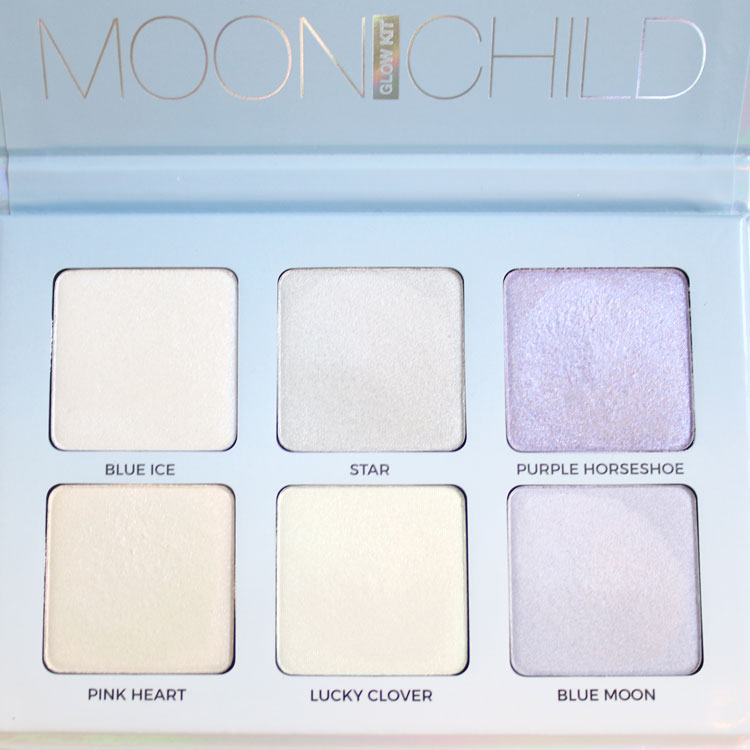 So let's get down to business – is the Moonchild Glow Kit a hit or a miss? First off, this Glow Kit is so different from anything we've seen from Anastasia Beverly Hills. This Glow Kit contains six metallic powder highlight shades that are all incredibly pigmented. The palette has predominately cool-toned shades, but I still think it would be suitable for a multitude of skin tones. I have light/medium warm undertones and I find the shades quite flattering. The highlight shades are extremely unique – the colors in the palette range from whites to purples and they actually have a duo-chrome metallic finish! I know what you're thinking – "WHAT?". Seriously!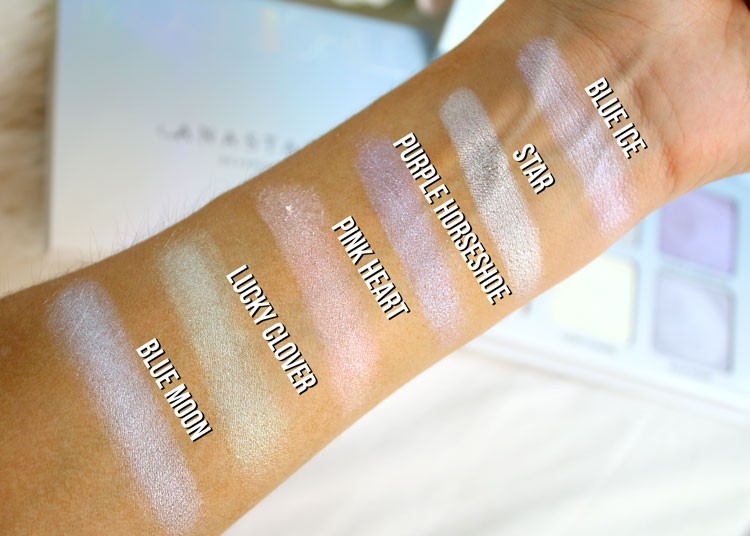 These swatches tell it all! See what I mean about the duo-chrome metallic finish? In the pan, the shade "Blue Ice" looks white but when applied, it has a gorgeous blue iridescence to it. Isn't that amazing? The shade "Star" is similar – it looks grey in the palette but appears silver/blue when applied. "Purple Horseshoe" is one of my favorites! It's bright purple with blue iridescence. The shade "Pink Heart" is white in the pan and a baby pink when applied. Love! I think this next one is so cute – "Lucky Clover" appears white in the palette but it actually has a light metallic green finish when applied. Isn't that the most adorable name ever? Can't forget about "Blue Moon"! This one is blue with slight pink iridescence, which gives it a periwinkle finish.
Needless to say, these highlights are super pigmented and so beautiful! (Could we expect anything less from Anastasia Beverly Hills?) I love how daring the palette is – would you ever expect to apply a metallic green highlight? I wouldn't have! Until now, that is 🙂 I definitely think I'm going to get a lot of use out of this palette even though the shades are pretty "out there"! I can already tell that the Moonchild Glow Kit is inspiring me to step outside of my comfort zone in regards to makeup, which is honestly amazing. The results are in and *drumroll please* the Moonchild Glow Kit is a hit!
Now that you've read my review and seen the swatches, I'd love to know – would you wear these daring highlight shades?
To see my video review, swatches, and a try-on first impression, just watch the video below!