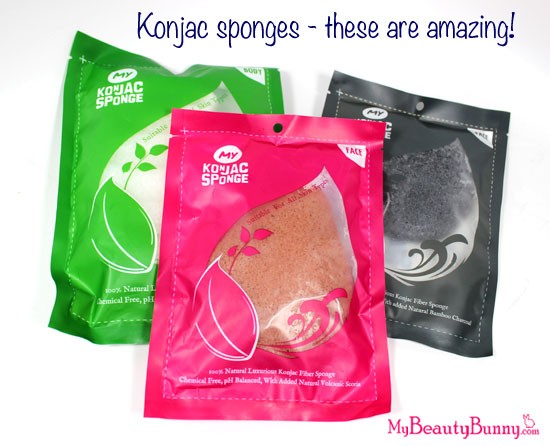 My Beauty Bunny loves My Konjac Sponge!
If you're getting tired of hearing about the same types of skincare products over and over, you will be as excited as I am to learn about the konjac sponge! It's not new to Korea or Japan, but it's new here in the US. It's a natural sponge made from konjac root. Konjac root is often used as a vegan alternative to gelatin or seafood. You can even buy zero-calorie noodles made from konjac flour!
Konjac sponges are hard to the touch, but when you wet them, they become soft. They are much softer than a loofah, but kind of the same concept. The reason I'm so excited about these sponges, is that they remove dirt, makeup, etc, and exfoliate my skin PERFECTLY. Not too hard and not too soft. I think these are way better than muslin cloths, drugstore facial exfoliating pads and even rotating skin brushes! I've definitely over-exfoliated with some of these products (even broke a capillary once), and I know I'm not the only one!
My Konjac Sponge has facial and body sponges infused with volcanic scoria and bamboo/charcoal. They are great for all skin types: dry, oily, sensitive, combo, normal, etc. The sponges last about 2-3 months, depending on how often you use them. After cleansing, rinse, squeeze and hang to air dry. You can even pop them in the microwave for a minute if you want to really sterilize them.
I really can't say enough good things about these products. I highly recommend you give them a try!