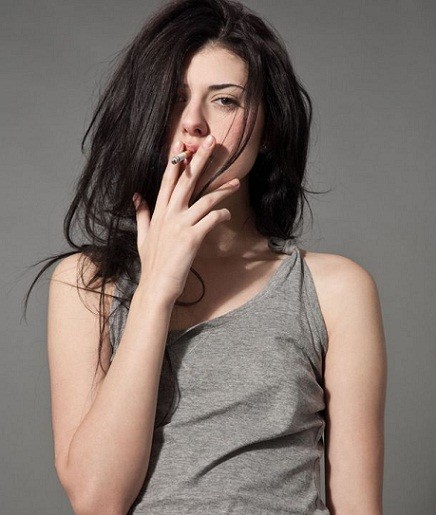 Written by: Lauren Warner, Staff Writer
While I'm all for saying I like to live without regrets, I'm well aware that it's impossible not to have them if you are going to live a full life. Let's face it. A life without regrets is one that leaves nothing interesting behind to be learned by anybody else. And while most people might not like to admit that they have regrets – I'm here to share my regrets, particularly my beauty regrets.
I wish I stayed out of the sun. No, seriously. When you are young and see your skin as fresh and nearly flawless, it's hard to imagine that it can ever accumulate wrinkles, sun damage or age spots. There were many days that I stayed out in the sun for hours and hours without applying sunblock and then proudly showed off my sunburn like an achievement. What was I thinking? There was also the need to excessively visit tanning beds in the dead of winter. Oy! Thankfully there are less harmful alternatives such as cruelty free sunblock or faux tanning that can be used today. I should have worn sunblock everyday in my face moisturizer, limited my time in the sun (or at least worn a big floppy hat), and (for goodness sake!) stayed out of the tanning beds.
I wish I had used eye cream. Turning thirty this year has left me treating eye cream as if it were as vital as toothpaste. I've finally found the ultimate eye cream and treat it as my favorite child in my beauty regimen. Eye cream refreshes, replenishes and, most importantly, supports the delicate skin around your eye. I truly believe that the skin around your eyes needs extra attention and its own product because of how delicate the skin is around the eye area. Eye cream also helps if you are prone to baggy eyes or dark circles. Once the skin around your eye starts to lose moisture, it's hard to replace what has been lost. It's a good idea to feed your skin what it needs before it actually needs it.
I wish I hadn't tugged at my eyes so much. Speaking of eyes, how many women tug their eyelids flat every time they apply eyeliner? How about violently wiping underneath your eyes with your fingers when you spot a little mascara? Well, your skin is like a rubber band and each time you pull on the skin around your eyes, you are making it less elastic. Overtime, this tugging can lead to looking like you've been tugging at your eyes for the past decade. Be gentle with your skin. If you have to tug your eye flat just to get an eyeliner to work, try finding an eyeliner that applies easier. And when you see that eyeliner or mascara underneath your eye? Wipe it away gently! If you can, try patting around your eyes rather than rubbing so hard.
I wish I had gone cruelty free sooner. There's something to be said of the ignorance of my younger days. Back in the day, all it took for me to buy a new beauty product was a convincing commercial. I was a marketer's dream consumer. Now my first thought is, "Is it cruelty free? What ingredients are in it?" Buying cruelty free is the acknowledgement that certain practices with animals and makeup are unnecessary. Chances are, if you read this beauty blog on a regular basis you already know all the gory details. Buying cruelty free is the practice of being kind and of being an informed consumer. Knowing what ingredients are being soaked into your largest organ (your skin) is your human right.
I wish I had treated myself to regular facials. We visit the dentist for our teeth, the doctor for our bodies, but we still treat massages and facials as if they are a luxury. Although just because they feel like a luxury doesn't mean they necessarily are. Facials deep clean our skin, take care of whiteheads and blackheads and deeply moisturize the layers of skin in our face. My mother just started getting facials two years ago and I've never seen her skin look better. She now swears by them and considers them "regular face maintenance." Based on her gorgeous skin, I couldn't agree more. I should have started getting routine facials in my twenties.
I wish I had been diligent about taking off my makeup before going to bed. Did you know that sleeping with your makeup on ages your looks by seven years? Allowing all that makeup to sit on your skin interrupts your skin's natural replenishing process. Help your skin out by always washing your face before bed and choosing quality face products that assist your skin's natural renewal rather than working against it. Whether you climb into bed at 9pm or 4am, always, always take off your makeup. Also routinely change your pillow cases. This help keeps breakouts at bay.
I wish I hadn't have slept on my face. Now this is a tough one. How many of us love to sleep on our stomachs or curled up on our sides? The skin on the side of our face we sleep on actually gets more wrinkles than the side we don't! If you can, try sleeping on your back. If this is impossible, well I'm not sure what to tell you. But try to be aware of how much you are sleeping on your face.
I wish I had gotten in the habit of looking nice before I leave the house. In my young twenties, I could happily throw on any articles of clothing I'd find on my floor, throw my hair up and still look cute. Going to college classes in your pajamas was considered normal at certain hours of the day. Now? Not so cute. It took me looking down at my pajama pants at noon, on a day off, and realizing that I had cat hair all over myself, had no make up on and had my hair in a greasy bun. Gross.
I wish I had known the premature aging effects of alcohol and smoking. I like to relax and have a social drink now and then as much as the next person but I wish I had just been more aware of the long term affects of alcohol when it comes to the body, especially the skin. Did you know that over time your body may give off an odor if you drink all the time? And that premature aging from alcohol shows on your face? Not to mention the long term effects such as bone damage, cancer, early menopause and high blood pressure. Smoking can cause deep wrinkles around the mouth from puckering cigarettes and can severely dry out the skin.
As with all regrets, the best thing to do with them is to learn. Start today. If you haven't treated your skin the best, you still have time to turn your habits around. Has anyone seen the movie, Death Becomes Her? Treat your body like it's the only one you've got!
Lauren