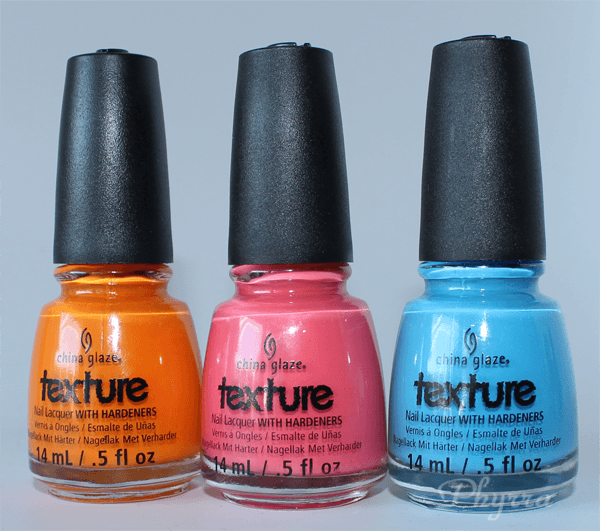 Products sent for consideration. All opinions are my own. Affiliate links.
Today I've got 3 of the China Glaze Texture Collection for you. It's a thicker nail polish formula and pretty easy to work with. You can easily do stripes (think like a beach ball) or other nail art with these colors because the texture makes the edges blend easily.
Price
$5.49 at Sally's if you have a Sally Beauty Card.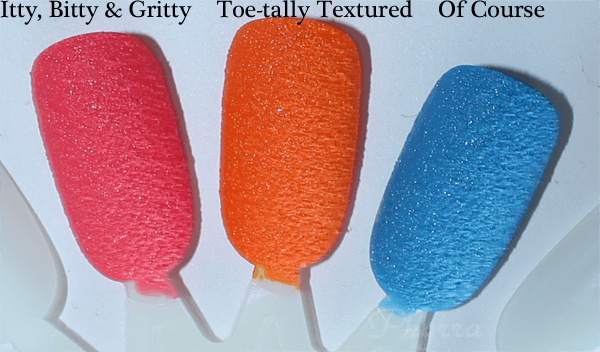 Itty, Bitty & Gritty – bright, almost neon, pink-toned coral.
Of Course – This is a bright blue, bordering on cornflower.
Toe-tally Textured – bright orange. This reminds me of fruity oranges.
Tips for applying textured polish
I always recommend using a base coat with textured polishes. For most textured polish, they take longer than average to dry, so make sure you wait 10-15 minutes between coats. The China Glaze Texture collection is closest to the Milani Textured Creams (which I previously reviewed and gave a tutorial for here on MBB)  in that they have a matte textured finish with no sparkle. The colors are quite vibrant and make me think of Summer, too! If you just can't handle the matte finish, you can always stick a top coat on these, though I haven't tried doing that myself.
What do you think of the China Glaze Texture Polish? Do you like the Texture Craze?