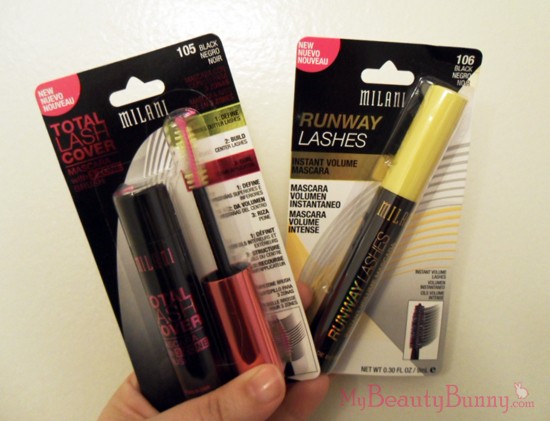 Have I found the best cruelty free mascara? Milani is a great cruelty free alternative to animal-testers like Maybelline, Cover Girl and Rimmel. They have great products at very reasonable prices. I got a chance to try their new cruelty free mascaras and I think these are just as good if not better than the higher-priced department store brands. They are both light formulas, so you don't feel like your eyelids are weighed down. They don't clump and they look natural.
RUNWAY LASHES Instant Volume Mascara (SRP $4.99) the classic shaped, soft bristle brush gives instant volume, length & curl. The formula is long-lasting, smear-proof and does not clump. Paraben-free. Available in 1 shade (black). Only available at select Walmart stores. This one seemed slightly more dramatic and fuller than the other.
TOTAL LASH COVER MASCARA with 3 Zone Brush (SRP $4.99) provides multi-performance coverage. Split into 3 zones the brush defines, builds, and curls lashes. This long-lasting, non-clumping formula feels comfortable for all day wear. Available in 1 shade (black). Only available at select Walmart stores. This one has a 3-way brush that you can use to define, build and curl. This one curled better than the Runway Lashes did.
I would also like to point out my amazing eyebrows, courtesy of Victoria at Anastasia Beverly Hills. I stopped by after a client meeting and I really needed to get them done, so I said what the heck! $45 for an eyebrow wax might seem steep but I feel like a different person when I have great, clean brows and cheap places always fall short. They also tell you what you've been plucking too much (or in my case plucking and trimming), and they add brow pencil and a highlight so you walk out looking great. If you look at my brows in my default pic below, you can see that they were too rounded at that time – and too far apart. I've already promised Victoria I won't trim or pluck until I see her again next month!