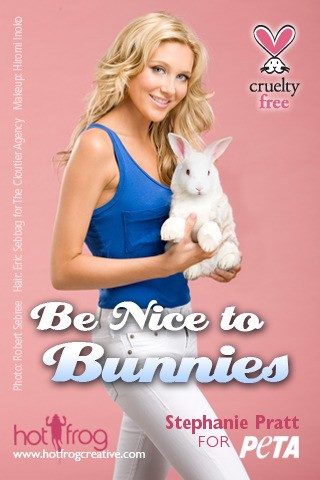 Picture this: You're at your local drugstore, attempting to pick out the perfect shade of lipstick. While scanning the ingredients you notice that it says it's made of arachidyl proprionate. You know you've heard of this word before but just you can't really put your finger on it. Do you buy it? Well, unless you want to slather your lips with animal fat, its best that you don't— arachidyl proprionate is a special wax made from our kind furry creatures. But how are you expected to know that?
No matter if you are newbie or a long-time veteran, sometimes you need a little guidance to help you on your mission to purchase animal cruelty-free beauty products. While we wish there were more available, continue reading below to discover some of the top few iPhone and Android applications to assist you with your animal cruelty-free shopping.
This crafty app sponsored by PETA has been around for quite some time, but late last year it got updated with a fresh new look—most noticeably with the endorsement of Stephanie Pratt, star of the MTV series The Hills. This app lists the beauty companies that do (and do not) test on animals. It also lists vegan-friendly beauty products ranging anywhere from skin care, makeup, hair products and even household cleaners. You can either search through the companies alphabetically or search by individual product. The app currently lists more than 1,100 products and is updated regularly. Price: $2.99
This app, sponsored by Coalition for Consumer Information on Cosmetics, is another great tool to use in order to guide you with your shopping.  Similar to the app listed above, it also offers a database filled with companies that do and do not test on animals. Companies can be searched directly by name or by product categories.  This app only lists 200 U.S. and Canadian companies, but it's completely free. To get the Android version click here. Price: Free
This handy reference app allows consumers to check for any hidden animal ingredients that may be found in your beauty products.  You can scour a list of common ingredients that are animal derived and those that are partially animal derived so you know what products to avoid entirely.  It also lists some commonly misunderstood terms to help those who have just started shopping cruelty-free. Price: Free
This guest post is contributed by Vanessa Jones, who writes on the topics of dating sites. She welcomes your comments at: [email protected].