Lush Cruelty Free Fragrances
Yesssssss! I have finally found my summer fragrance! Actually THREE of them! It took me until the end of July but hey! I have a very sensitive nose, and I seriously cannot stand 90% of the fragrances out there. Most of the name-brand drugstore and department store perfumes are not cruelty free anyway, so I don't bother with them. I took a chance and asked my friends at Lush if they would send me a few samples, and OMG I hit the jackpot with these products!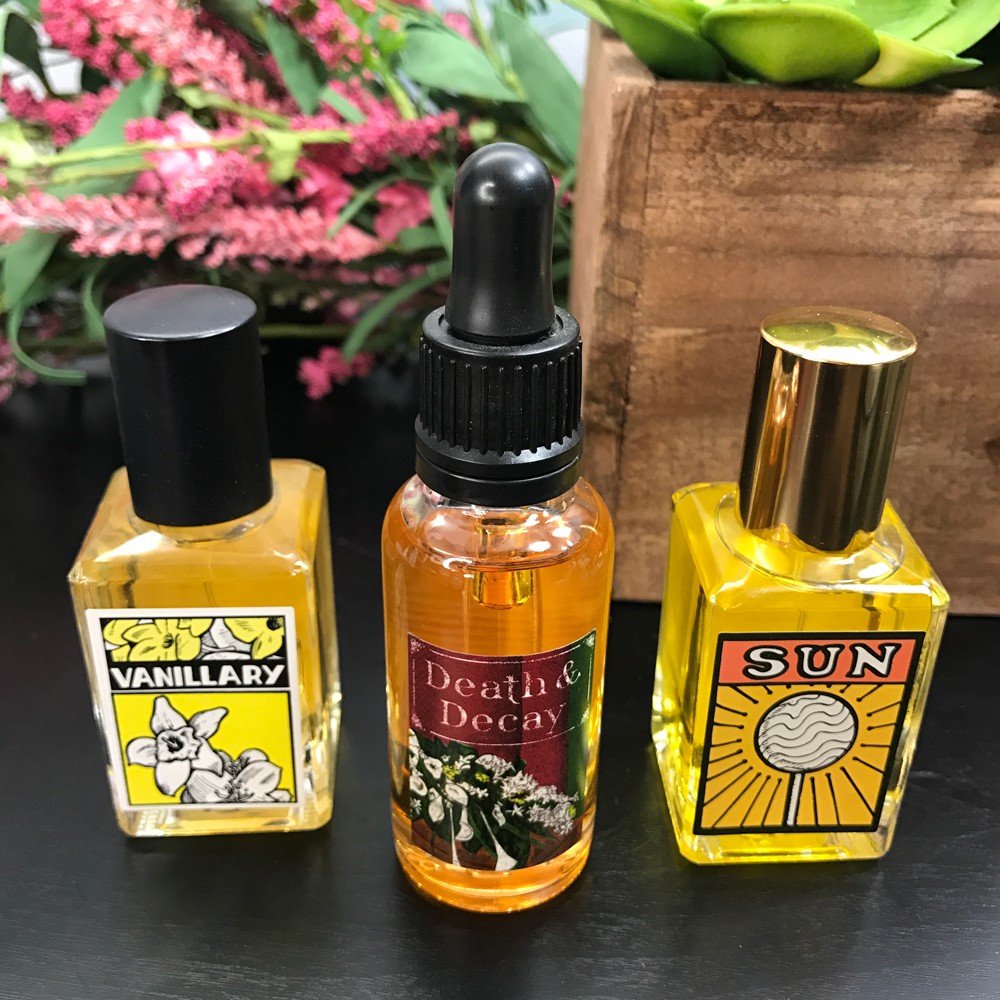 Lush sent me three fragrances: Death & Decay, Vanillary and Sun. They also sent me my favorite, holy grail massage bar scent – Shades of Earl Grey (which I wrote about here). And finally, they sent the newly formulated Dirty Springwash shower gel.
I love the whole Gorilla Perfume line by the co-founder of Lush, Mark Constantine and his son, Simon Constantine. The whole line is full of amazing scents and amazing packaging. Everything is inspired by music, art, poetry and life – there's a lot of meaning behind each scent.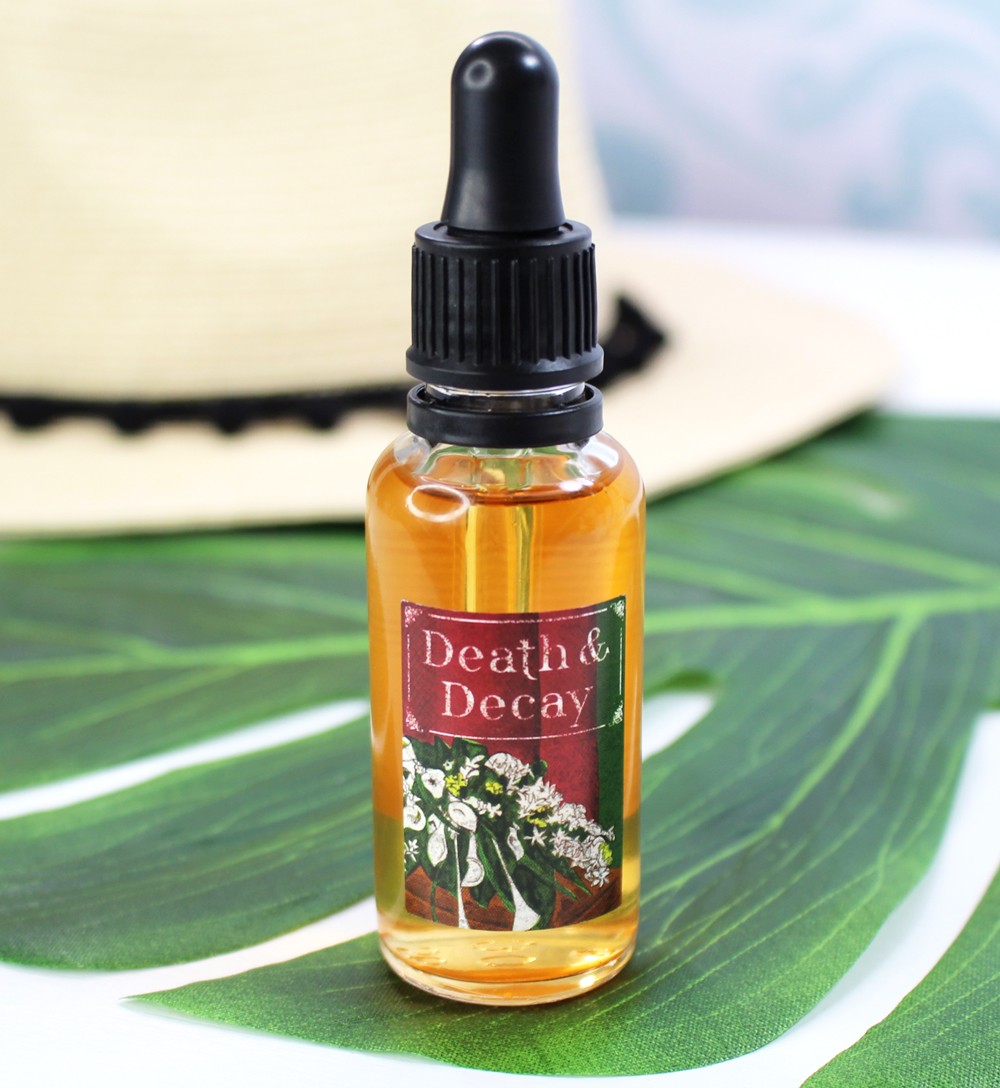 One of the first scents created by Simon and Mark is one of my favorites. I first sniffed it while I was visiting Lush North American headquarters in Vancouver, and it has stuck with me ever since. It's called Death & Decay, and it's based on Mark's dad's lemon tree. Mark took cuttings from the tree to make a perfume after his dad (who he had only just met!) passed away. The scent is based on the theme of death and renewal, and the hope that can arise after a period of sadness. It sounds morbid (which wouldn't be that off base for me, the horror movie lover!), but it's actually an uplifting floral blend with a bit of darkness and woodsy or oaky scent behind it. It's 100% vegan and made from: lily, indole, jasmine, ylang ylang, rose, and tonka.
You're probably familiar with the flower scents, and it makes sense that the types of flowers that are often seen at funerals or sent in times of mourning would be included in a scent called Death & Decay. But what about indole? What the heck is that? Well indole is the "decay" part of the scent, and the description on Wikipedia blew my mind a little bit. Apparently it's a scent given off by bacteria – hence the "decay" part of the scent. Let's just focus on the fact that small quantities smell like flowers. And I promise you – it DOES smell amazing. There are so many ingredients in the perfume world that seem like they would be gross. Did you know oud comes from a tree that is infected with a specific type of mould? And that stuff is pricy! But I digress… The scent is really lovely and I highly recommend you check it out. You can get it in a dropper bottle (my preference) or a solid fragrance (good to throw in your bag).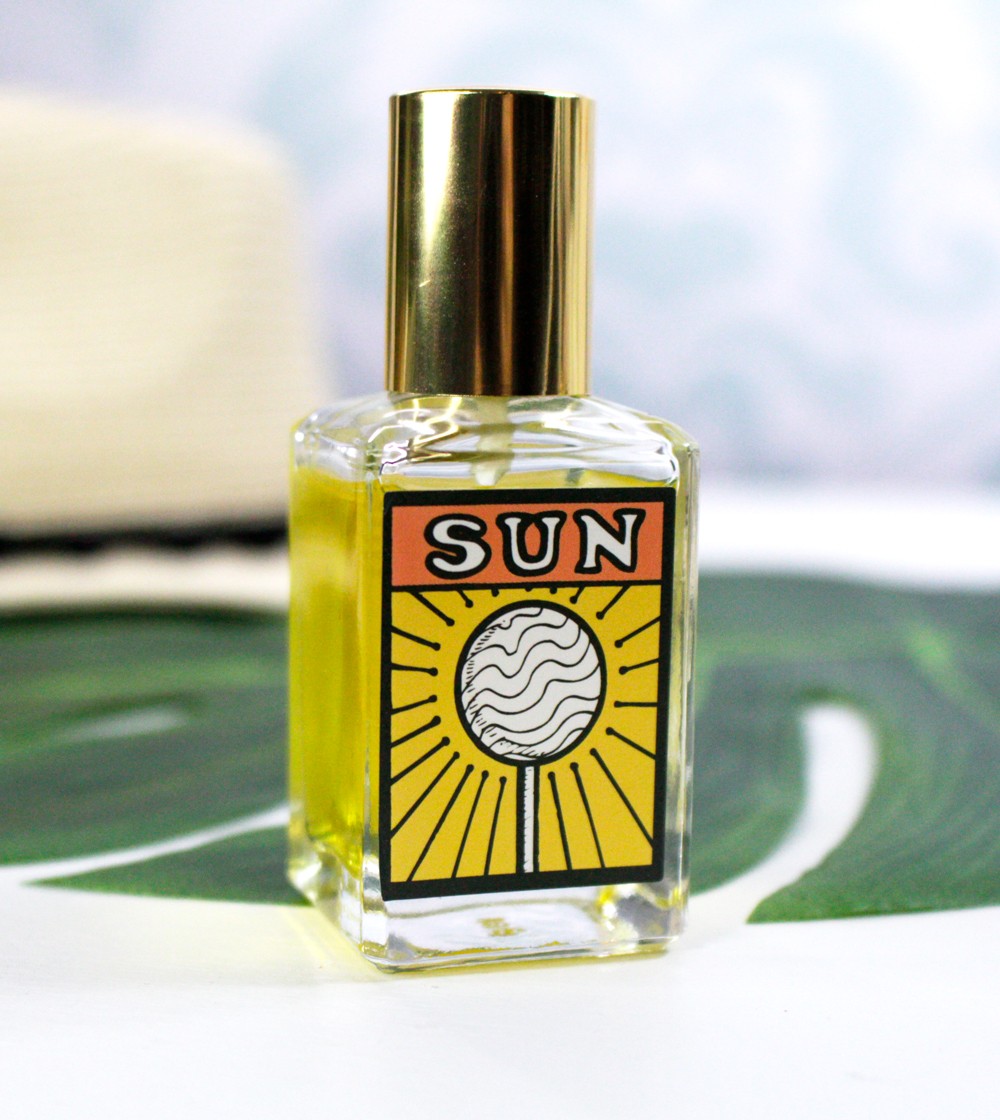 Next is my FAVORITE cruelty free perfume for the summer – Sun! I cannot express in words how happy this scent makes me! It's a citrus blend – Brazilian orange oil, mimosa and sandalwood. It smells like fresh squeezed oranges! I don't notice the sandalwood THAT much – it tempers and darkens the citrus notes a bit to keep it from being overly fruity. I have found myself spritzing this on even when I'm not going anywhere because I love it so much. I even put it on before I jump into bed at night. Seriously – it's THAT good! It's cruelty free (of course) and vegan. It comes in a 1 oz or 0.3 oz size. Unfortunately Lush doesn't offer a gallon size, or I'd be buying it! 😀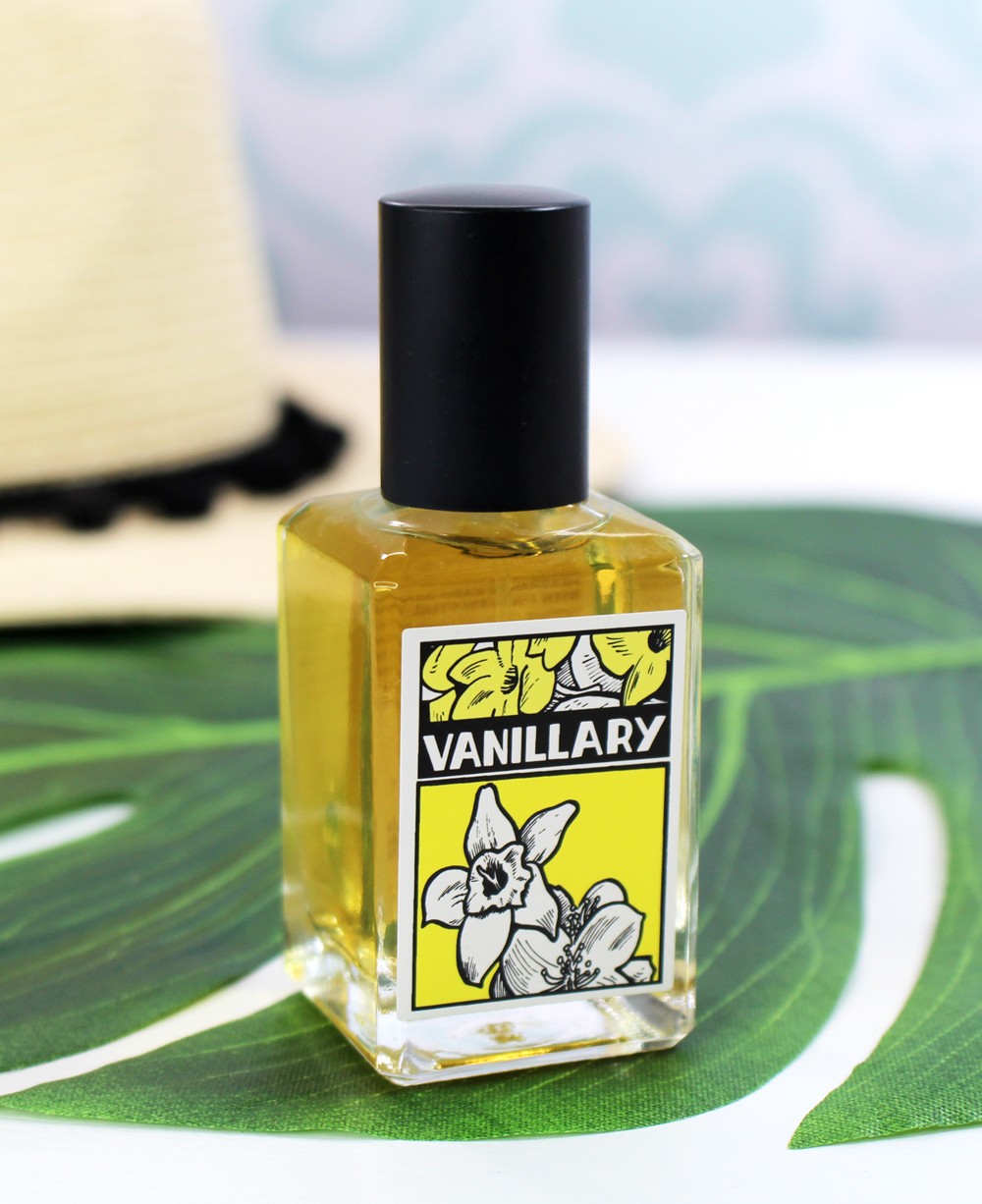 Vanillary is the one Gregg loves on me the most. It's a vanilla-toffee-caramel scent made with tonka, vanilla absolute and jasmine, with a touch of sandalwood. It's very sweet, but has a bit of heaviness to it so I wouldn't say it's juvenile. It's sweet and sexy, and I can see why it's a hit with the fiance, since guys are known to love sweet foodie scents on women! The blend is vegan, and it comes in a liquid or solid perfume.
You really need to test these scents out for yourself – hopefully you have a Lush store near you. If not, you may want to start with ordering the smaller sizes to make sure you like them. And of course you can trade with your fragrance-loving friends. I love this description of how scents can differ from person to person from the Lush website:
"In the least creepy way possible, your skin is the final ingredient… before you run for the hills, let us explain. Your skin's temperature, pH range, natural aroma and moisture are all important components when it comes to what a fragrance will smell like. It can take a couple of hours for a perfume to go through all of its notes and the time this takes will differ depending on your skin too."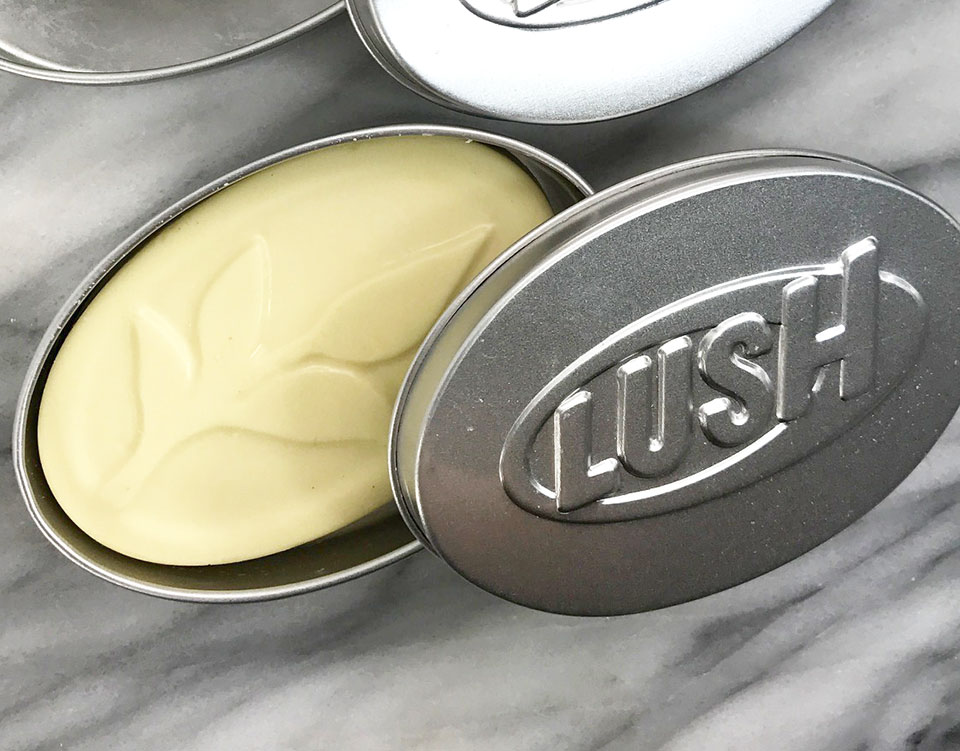 Shades of Grey is not a perfume, but just because it's in massage bar form doesn't mean I'm not rubbing it all over just to smell that amazing blend of bergamot, lemon and lime. Bergamot oil must have some kind of happiness trigger in it, because it legitimately makes me feel happier when I use it. I cannot get enough of this stuff. My buddies at Lush need to let me know if they ever plan to discontinue this product, because I will be stocking up!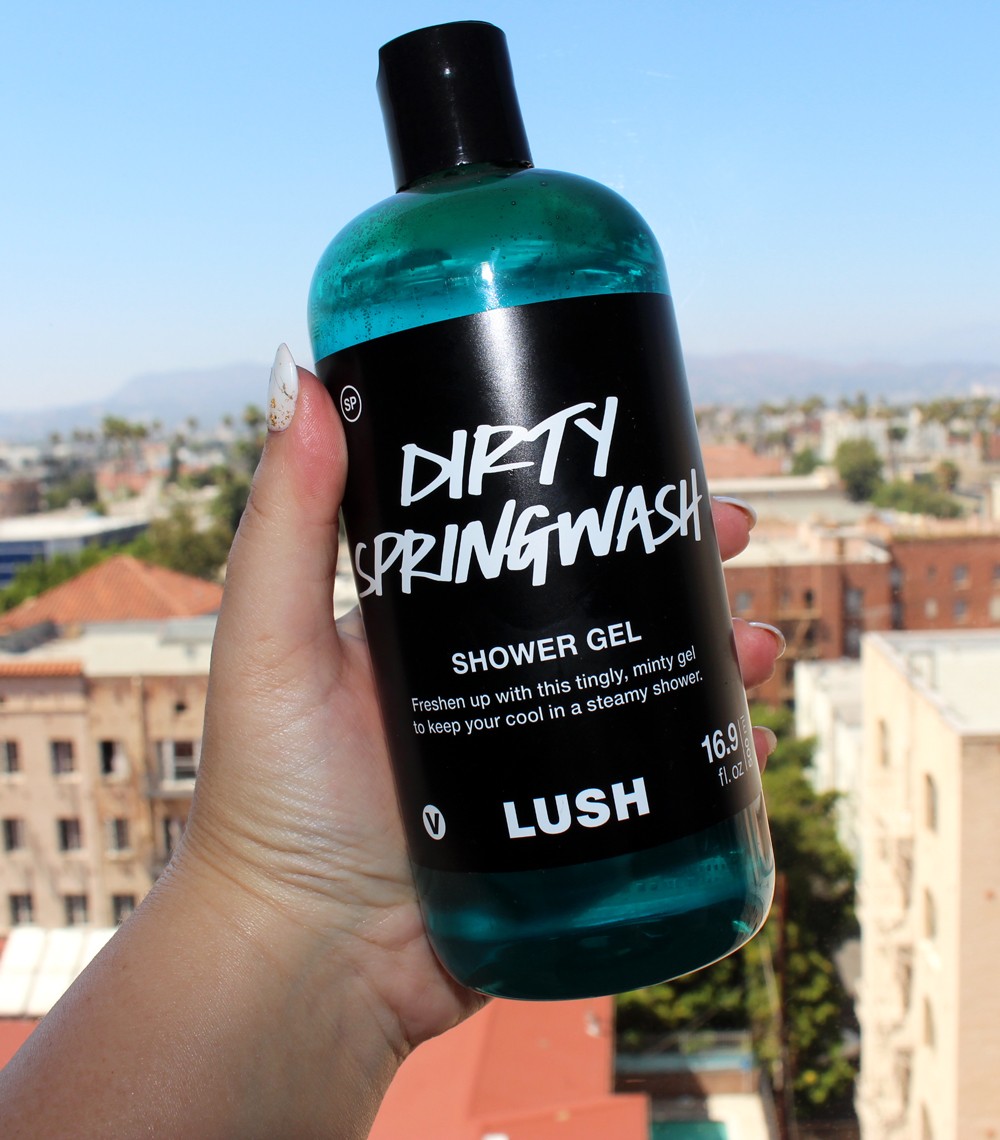 Dirty Springwash is a shower gel, so not exactly a fragrance. BUT, I defy you to find a more suitable body wash for a hot summer day! The spearmint and menthol (with a dash of thyme) feel so good when my air conditioner is doing it's best but it's still 85 degrees in my apartment. The sodium bicarbonate softens the water and deodorizes your skin. Dirty Springwash is cruelty free and vegan, and it's one of Lush's self-preserving products (made with veggie glycerin and sea salt).