Which LUSH Products are Made Without Synthetic Preservatives?
I've heard some of you say you're not on board with cruelty free brand, LUSH, because of the preservatives used to keep their products fresh. Well – good news!
Currently, 65% of LUSH products are self-preserving, meaning they use natural ingredients and carefully balance their formulas to keep bacteria and mold away. In turn, they don't require synthetic preservatives.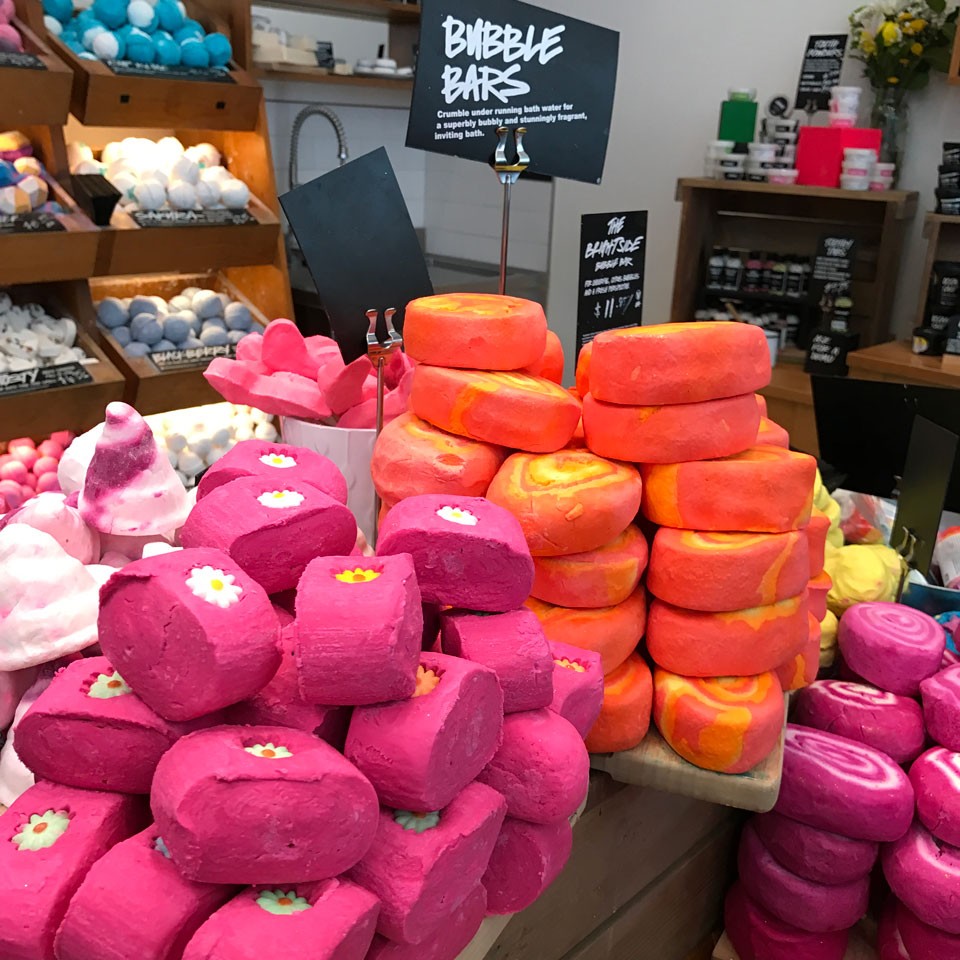 All of the solid products (bubble bars, shampoo bars, solid conditioners and other products with moisturizers like cocoa butter, murumuru oil and shea butter) have actually been self-preserving for decades (because there is very little water content). LUSH has been hard at work to create more self-preserving products, so it's not just limited to solids anymore!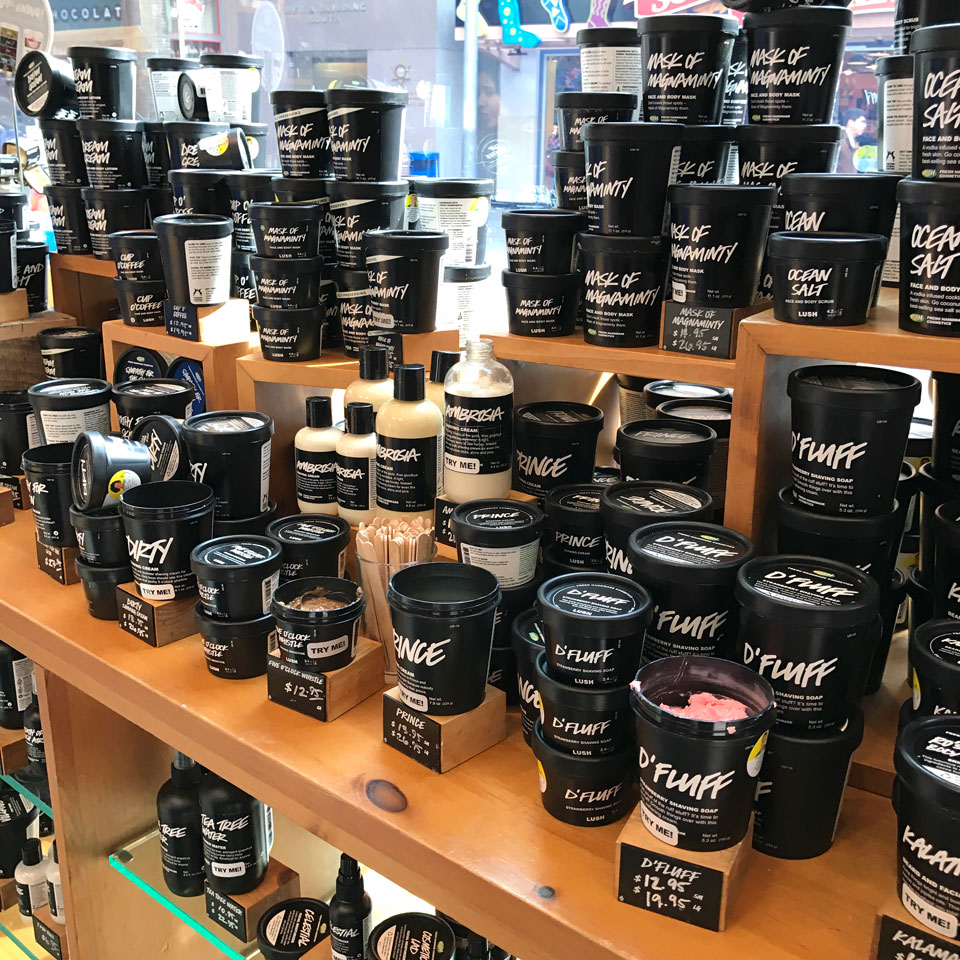 LUSH is now using more natural preservatives like salt, which raises the pH, creating an alkaline environment that some bacteria can't grow in. They also use ingredients like vegetable glycerin, honey, clay, calamine and talc to lower the water content, so bacteria can't grow.
Some of LUSH's best sellers now come in a "preserved" and a "self-preserving" formula. The self-preserving versions are slightly darker, thicker and more moisturizing. Shelf life is the same for both. You now have a choice when you buy Mask of Magnaminty, Dream Cream Hand and Body Lotion and Ocean Salt. The self-preserving version of Ocean Salt is now vegan because they have removed the lanolin and synthetic emulsifiers, and replaced them with tofu and Japan wax. Check this video to see how Ocean Salt is made. Warning – when you watch these "how it's made" videos, you will want to buy EVERYTHING – which is how I felt when I took a tour of the LUSH factory in Vancouver!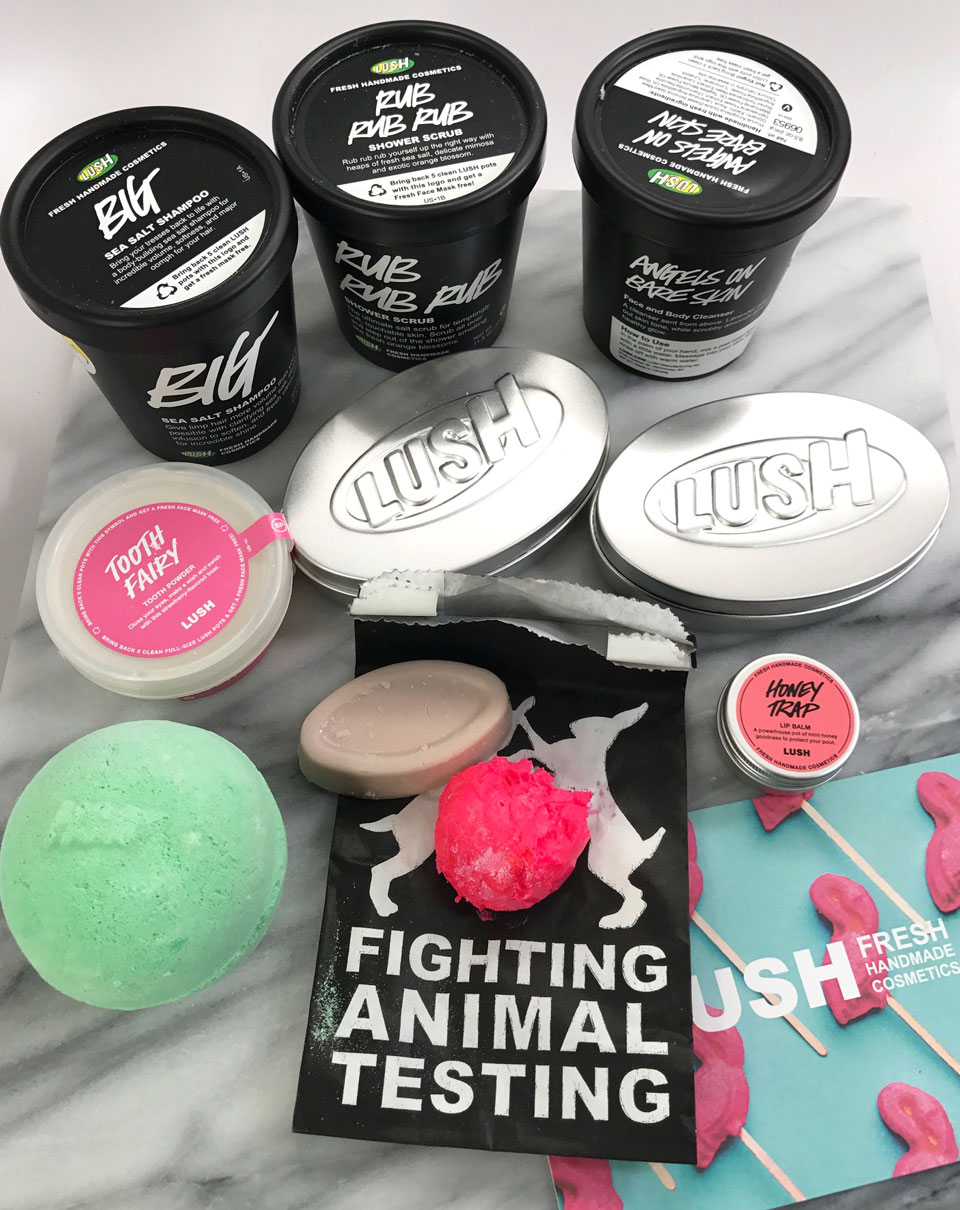 LUSH recently sent me some of their self-preserving products to test out. First let's talk about the products I loved, and then I'll tell you about the ones that were just not for me.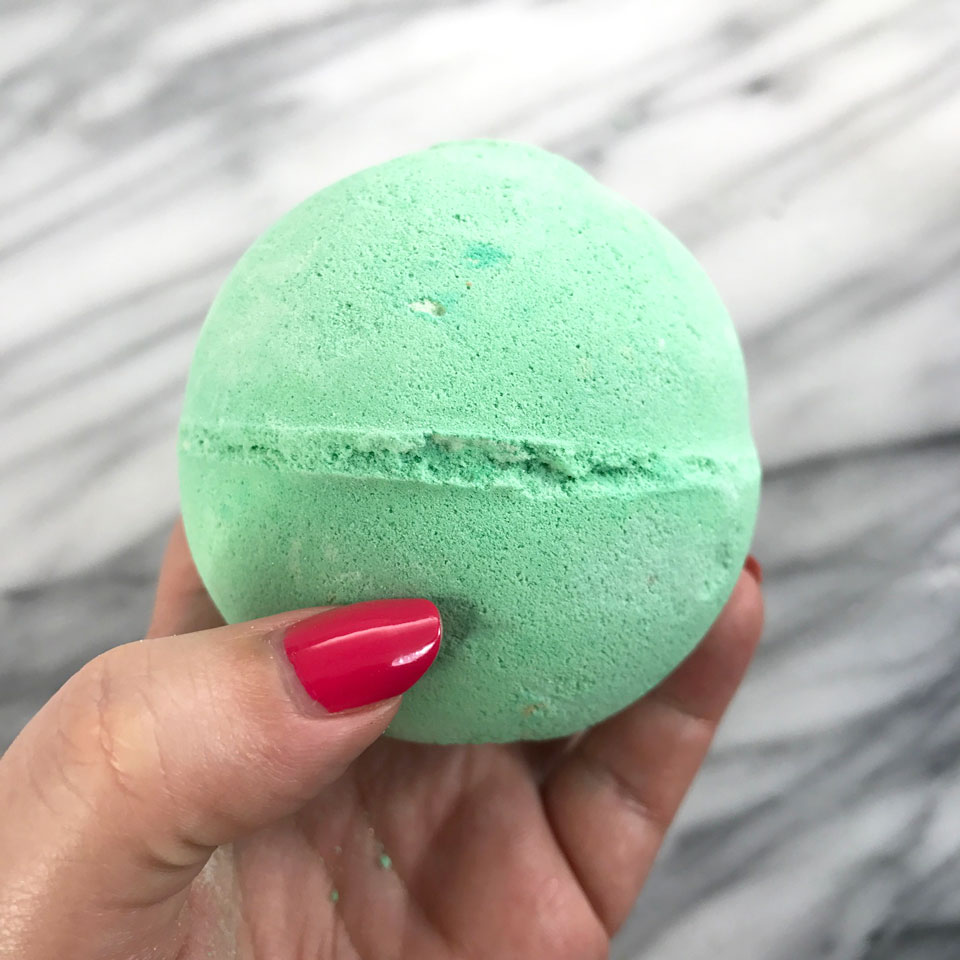 First off, the Avobath bath bomb. I saw this one at the LUSH store in Los Angeles, and it was on my wish list, so I was thrilled when one showed up in my Bunny Mail! It's got a wonderful (not overbearing) lemongrass and bergamot scent. It's actually made with real mashed avocados and olive oil to moisturize your skin. It's also vegan. I'm in LOVE with this one – it's up there competing for number one with my other favorite, Twilight!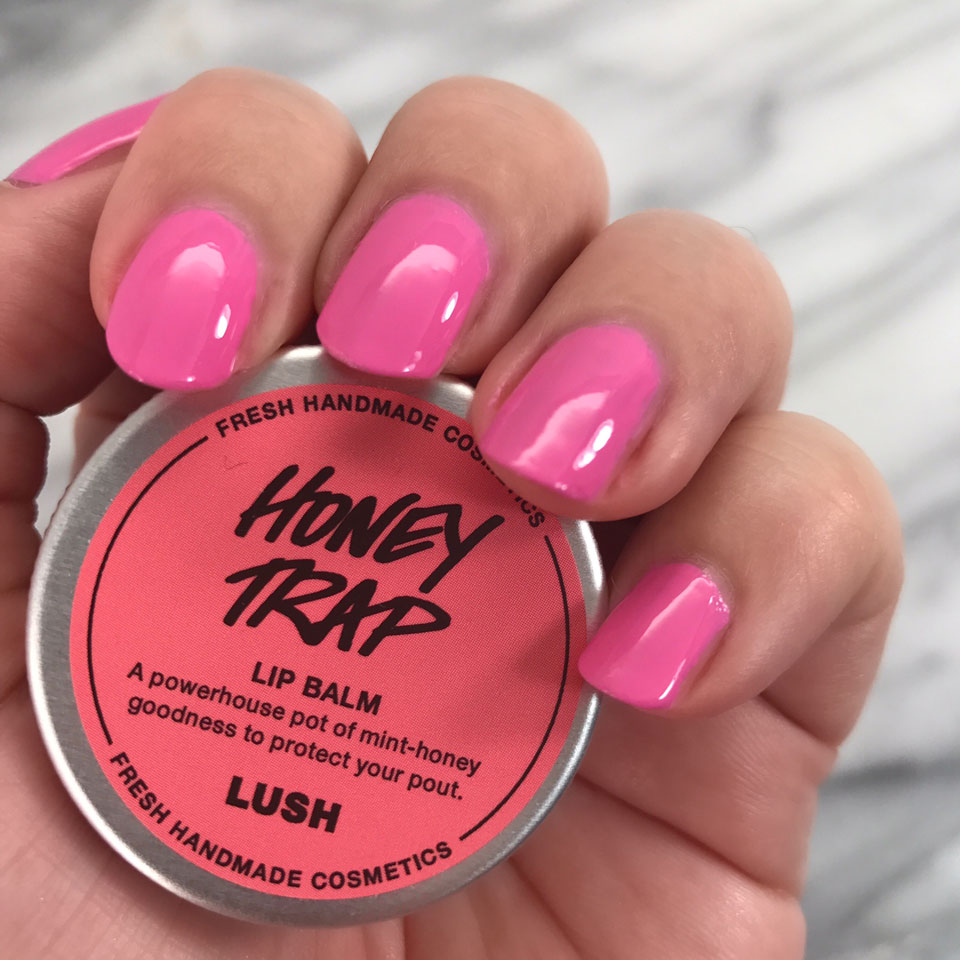 Although, I typically prefer lip balms in tubes rather than tins, Honey Trap lip balm is adorable and has such an amazing flavor! I'm definitely into the honey, white chocolate, vanilla and mint scent. It sounds kind of weird to mix mint with those bakery-esque scents, but it's actually perfect. And I like a little minty-coolness with my lip balms. This product is vegetarian, but not vegan (honey and beeswax).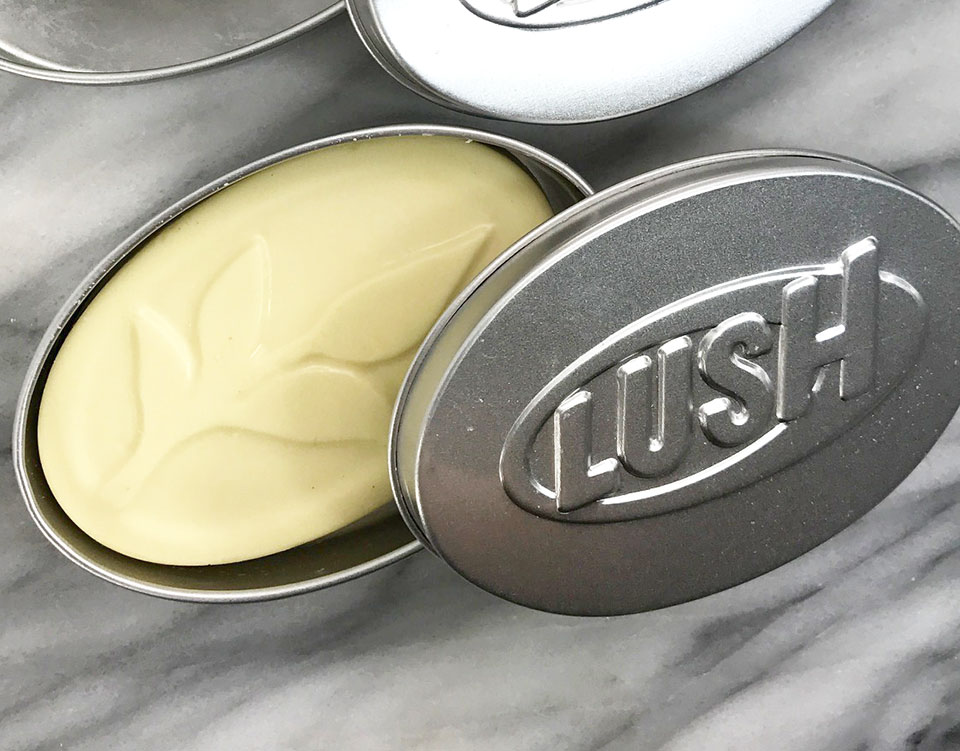 Okay, so this product is without a doubt in my holy grail category! First let me just say that I have never been a massage bar person. I generally prefer lotions to oils, and if I'm going to use an oil, it seems more efficient to have one that is liquid at room temperature. That being said, I am a CHANGED WOMAN! I watched a LUSH video that showed how to use the massage bars (you don't need to have a partner rub this on your like I kind of assumed). Rub it in your palms until it warms up and then is slides nicely over your arms and legs or wherever you want to put it. You guys – the (vegan) Shades of Earl Grey massage bar freaking changed my life! I know this sounds absolutely over the top and ridic, but the lemon, lime and bergamot scent genuinely lifts my mood and makes me happy! As someone who deals with depression and anxiety, this is a pretty amazing discovery! I keep this bar on my desk while I work and put it on throughout the day for a pick me up. Listen LUSH – I will buy anything made with bergamot now – just take my money!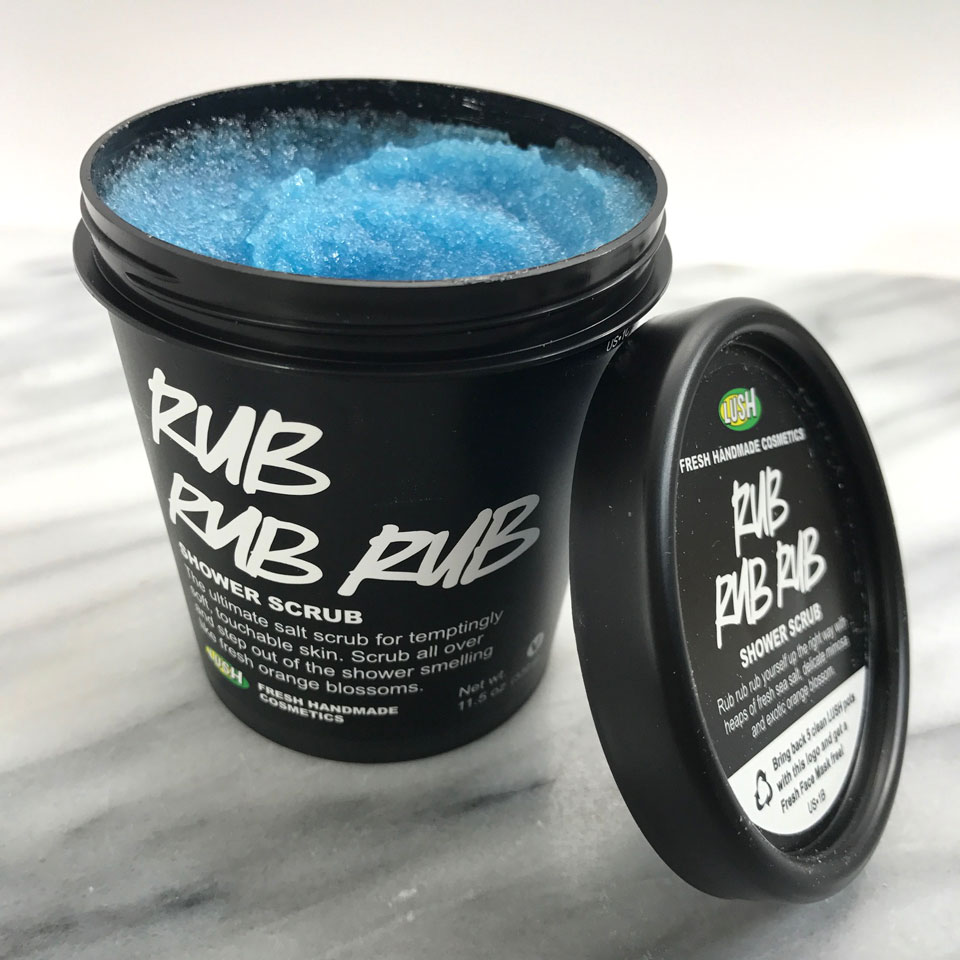 The Rub Rub Rub Shower Scrub (vegan) is another one that completely blew my mind. This blue scrub is made with sea salt, lemon juice and lemon oil. It has a jasmine, mimosa and orange floral/fruity scent. When I tried this on my hands, I was shocked to see how it instantly brightened my skin. My hands and wrists were much lighter than my forearms!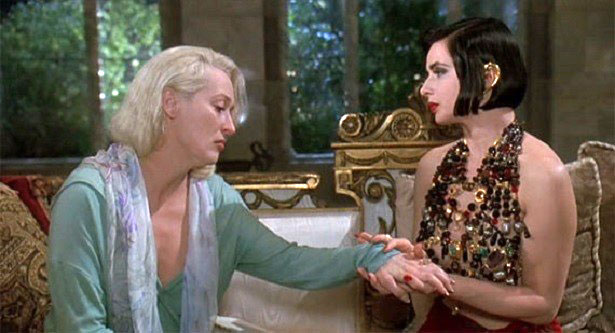 My skin looked completely new and felt so soft. It was like that scene in Death Becomes Her when Meryl Streep tries the magic youth serum on her hand and it instantly transforms into a younger hand! Are you kidding me right now? I've been using this all over – it's truly amazing.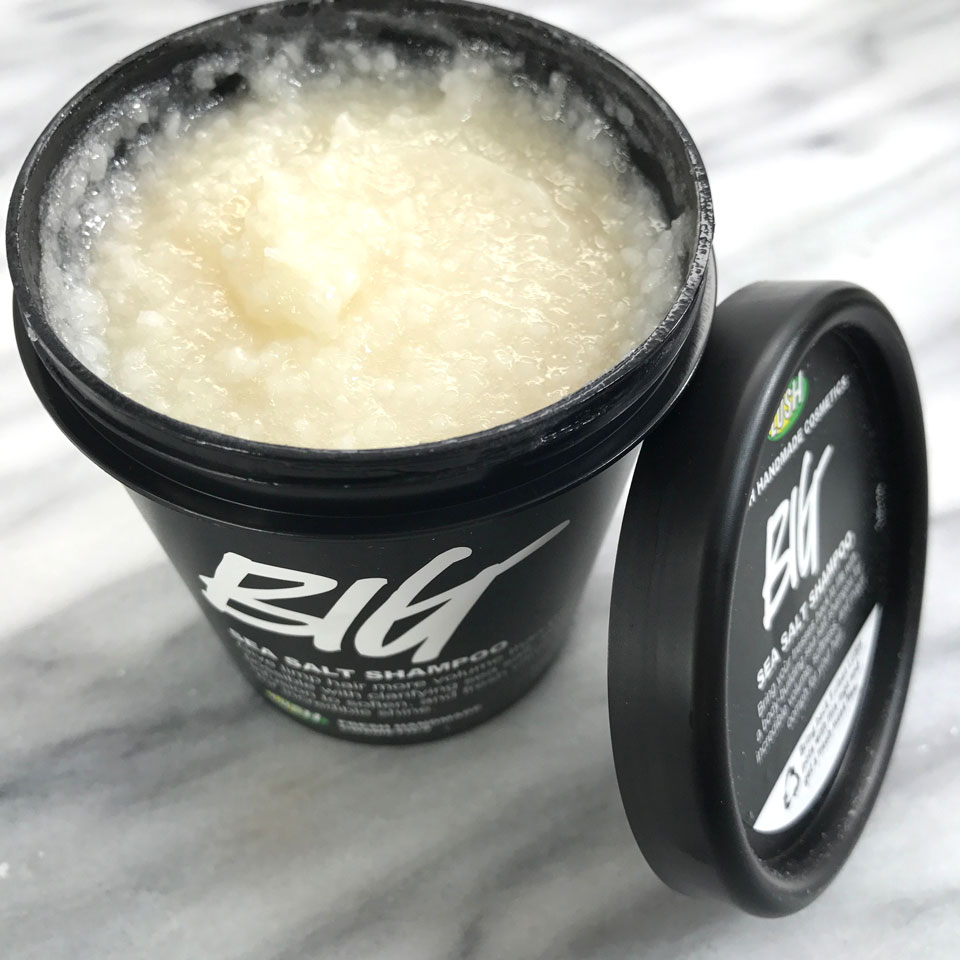 Big Sea Salt Shampoo is great if your hair needs volume. It's made with sea salt, citrus oils, seaweed and coconut oil to de-grease your hair without stripping the natural oils. It smells so good, and my hair likes it. I can see why it's a best seller! It's also vegan. When you first try it, you're going to feel weird putting a bunch of salt in your hair. I actually grabbed a big handful the first time, and then I realized a little bit goes a long way – it lathers up so well! I would not recommend it if your hair is very dry or damaged – it does make it squeaky clean. But if you have fine hair that needs volume, give it a try!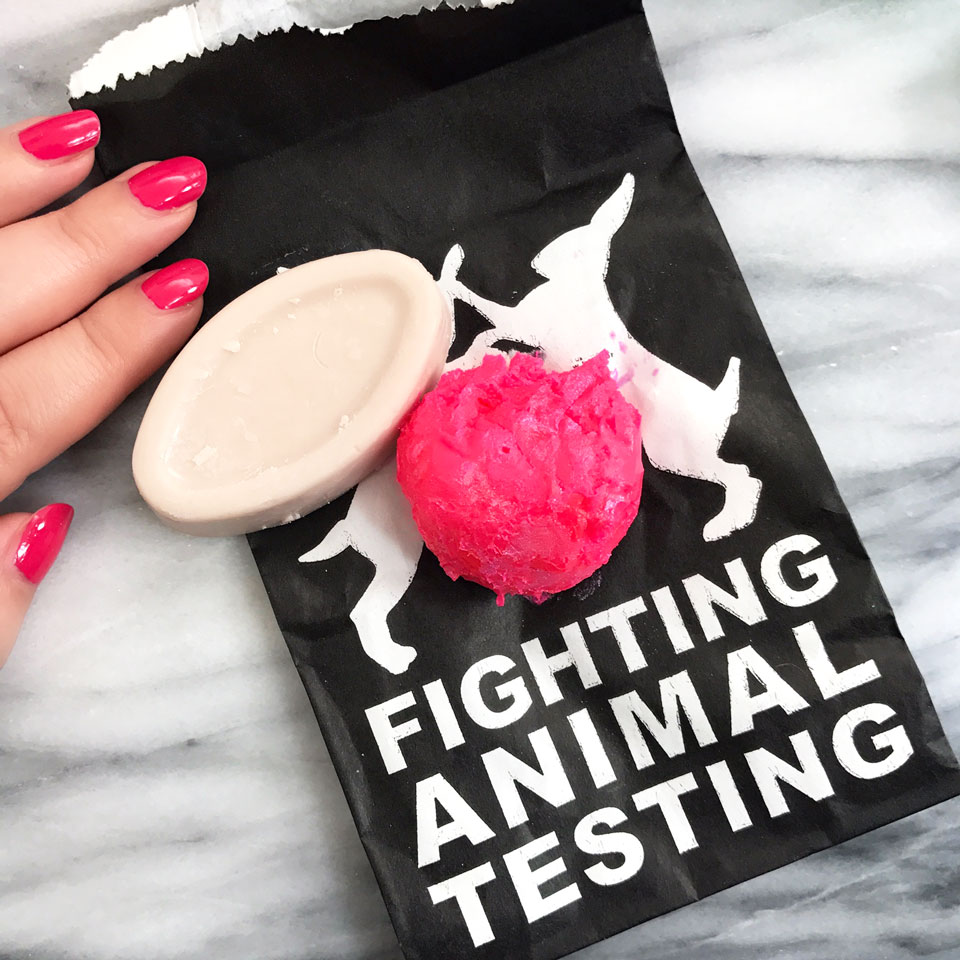 Razzle Dazzle is a bright pink bath oil melt made with lime, bergamot and violet leaf. It's got a juicy raspberry scent, and it's super moisturizing (it's made with organic shea butter, fair trade cocoa butter, coconut oil and jojoba oil). It's 100% vegan and a good option if you want a relaxing bath and a super treat for dry skin. It's very gooey so it was a little hard to photograph under hot lights, but you get the idea! It turned my bath a lovely shade of light pink, and it smells SO FREAKING GOOD (must be that bergamot that I'm crazy about)! I couldn't stop sniffing handfuls of water – haha! And I didn't come out of the top greasy or covered in oil – just with soft skin. Definitely love this one.
Full of Grace is a solid moisturizer that was originally made for the LUSH spa. It is similar to the massage bar – you melt a bit of the oil in your hands to apply – perfect for dry skin. It's made with hydrating murumuru butter, almond oil and cupuacu butter. And, it's got the added benefit of rose oil (and real rose petals), portobello mushrooms (full of vitamins and antioxidants), calamine powder and chamomile. It's safe for sensitive skin and it is vegan. It makes my skin look super glowy and healthy.
Okay, so now let's talk about the products that I couldn't get down with. These might be great for you, but they didn't work for my particular needs.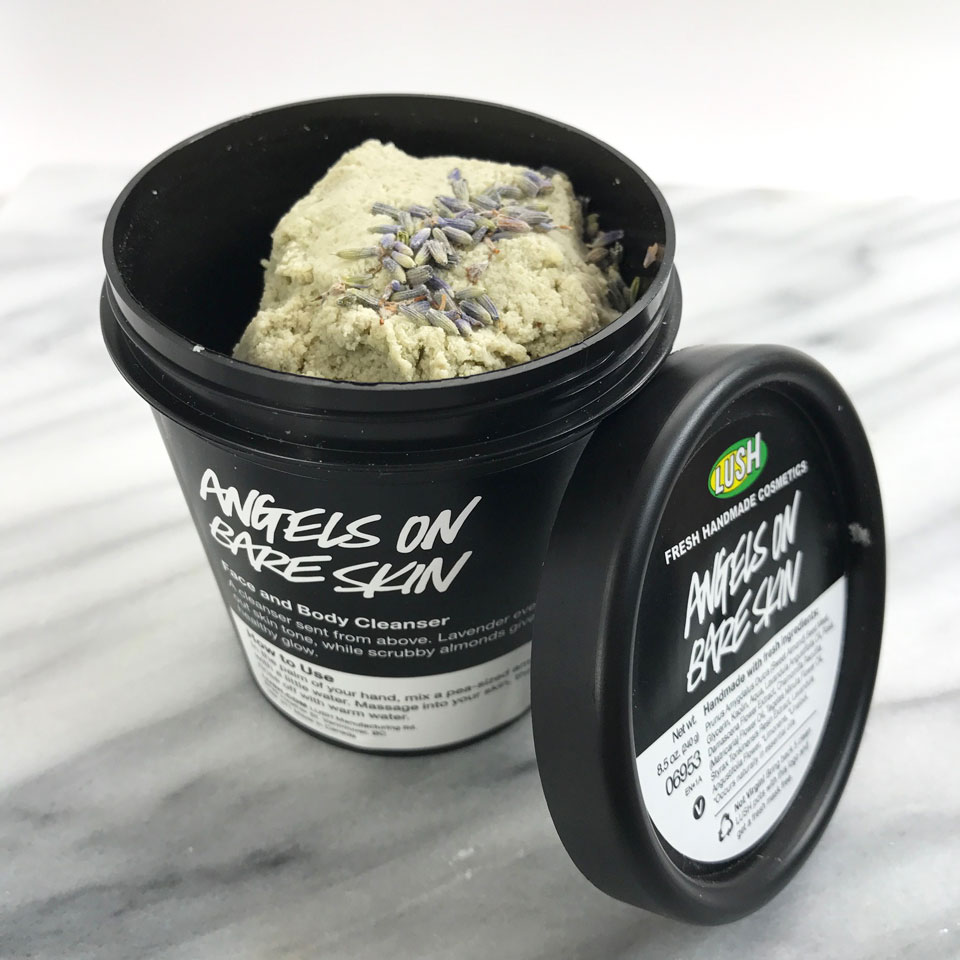 The Angels on Bare Skin Face and Body Cleanser is made with kaolin clay, ground almonds, and a blend of chamomile, rose and lavender. It sounds perfect, but something (maybe the clay and almonds?) made the scent no bueno for me. It's very crumbly, and it takes a lot of work to get it into a lather to use it on your face and body. I ended up dropping big chunks of it in the shower. To me, that's just not very efficient. There are better face and body scrubs, so this one gets a no thanks from me.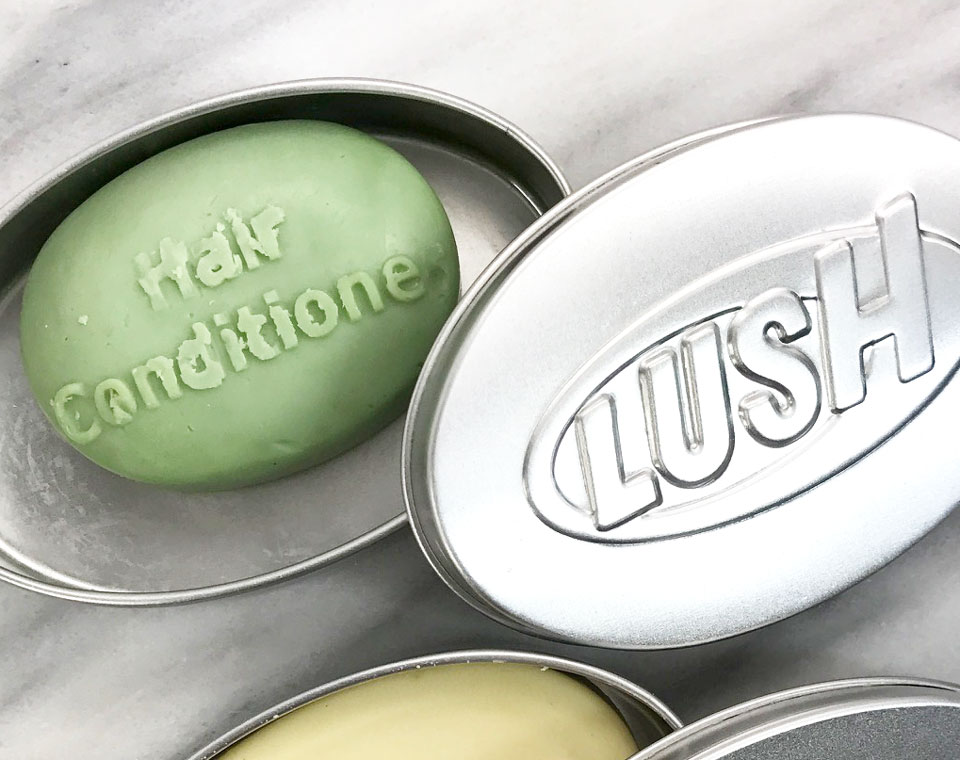 I'm not a huge fan of the Jungle solid hair conditioner. It's really made for thick or very curly hair, and my hair is fine and wavy. It's a bit too much moisture for me, and I need a little dimethicone or something to keep my hair from frizzing up (super moisturizing products can have the opposite effect for my hair because it's very porous). I do love that it's made with fair trade, organic cocoa butter, bananas, figs, kumquats, passion fruit juice, and avocados. I'd rather drink it in a smoothie than put it on my hair!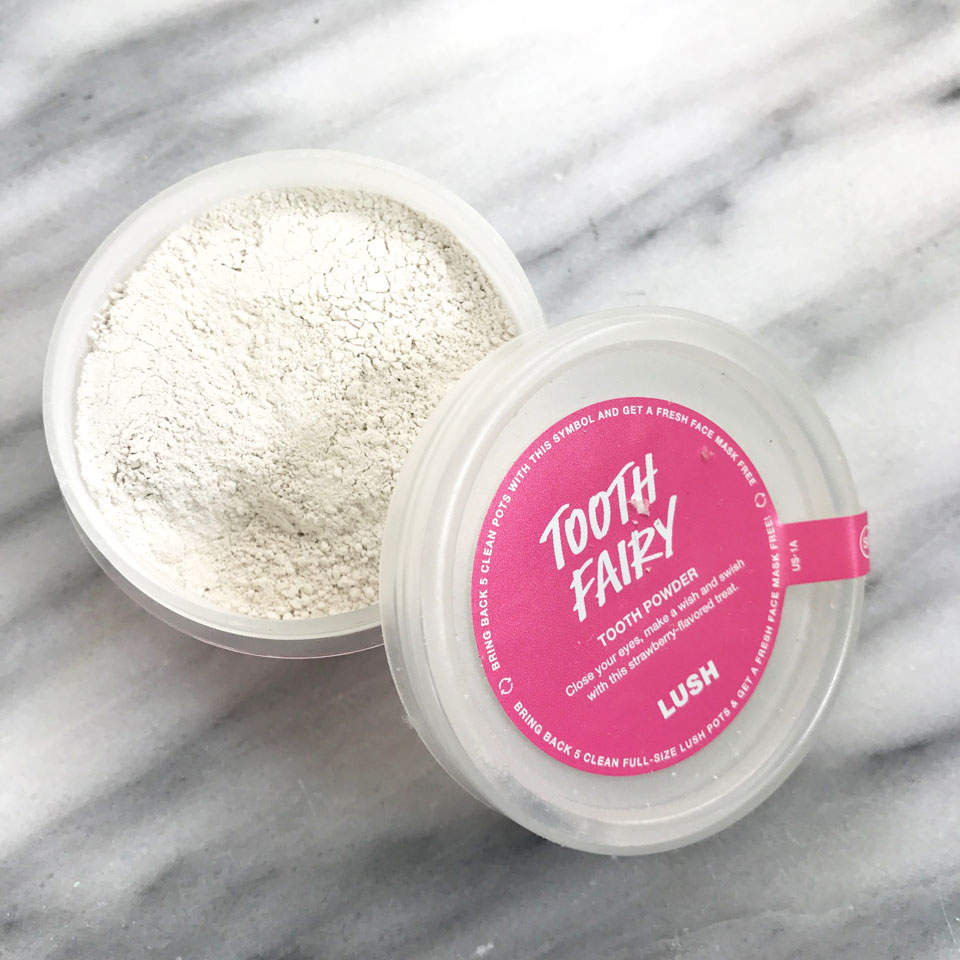 The Tooth Fairy tooth powder is strawberry scented, so I thought I might be into it, but no such luck. It's just not an efficient way to brush your teeth (seeing a pattern with my thought process yet?), and I don't like the idea of dipping my toothbrush into the jar each time. It was a little runny and my teeth didn't feel very clean afterward. Sorry LUSH but this one is a little too strange for me!
So all in all – most of these products are pretty fantastic! Some holy grail products for me in this LUSH haul! And some that I will pass on for next time. Which LUSH products have you tried, and which ones are on your wish list?