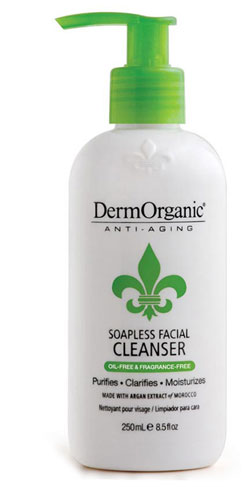 When you're in the drugstore, perusing all the different facial cleansers, what makes you pick one vs another? Are you loyal to one or do you like to try a new one every once in a while? If you're ready for a change, let me introduce you to Dermorganic Soapless Facial Cleanser. It's what this one comes WITHOUT that has me hooked: no animal testing, oil-free, fragrance-free, vegan, parabens-free, no artificial preservatives, no sodium chloride (normal table salt), sulfate-free, gluten-free, no MEA/DEA (ammonia compounds), dyes, and it's pH balanced at the right level for the face at 4.5 – 5.5.
This one also contains argan oil, which we all know is the ingredient of the moment for its softening properties, omega-6, vitamins C & E as well as trace amounts of (very little but it's nice that they're in here) jasmine, vanilla, apricot and apple, among others.
So with alllll the above going on, how does it work? Wow, better than I would ever have imagined! No tightness; just really smooth – and it takes off makeup.
And of course, the big test for any face cleanser for me is, does it sting the eyes? No sting at all. This could be my go-to facial cleanser from now on. Big recommendation.
$6.99/2oz, $20/8oz @ dermorganic.com.
Cybele