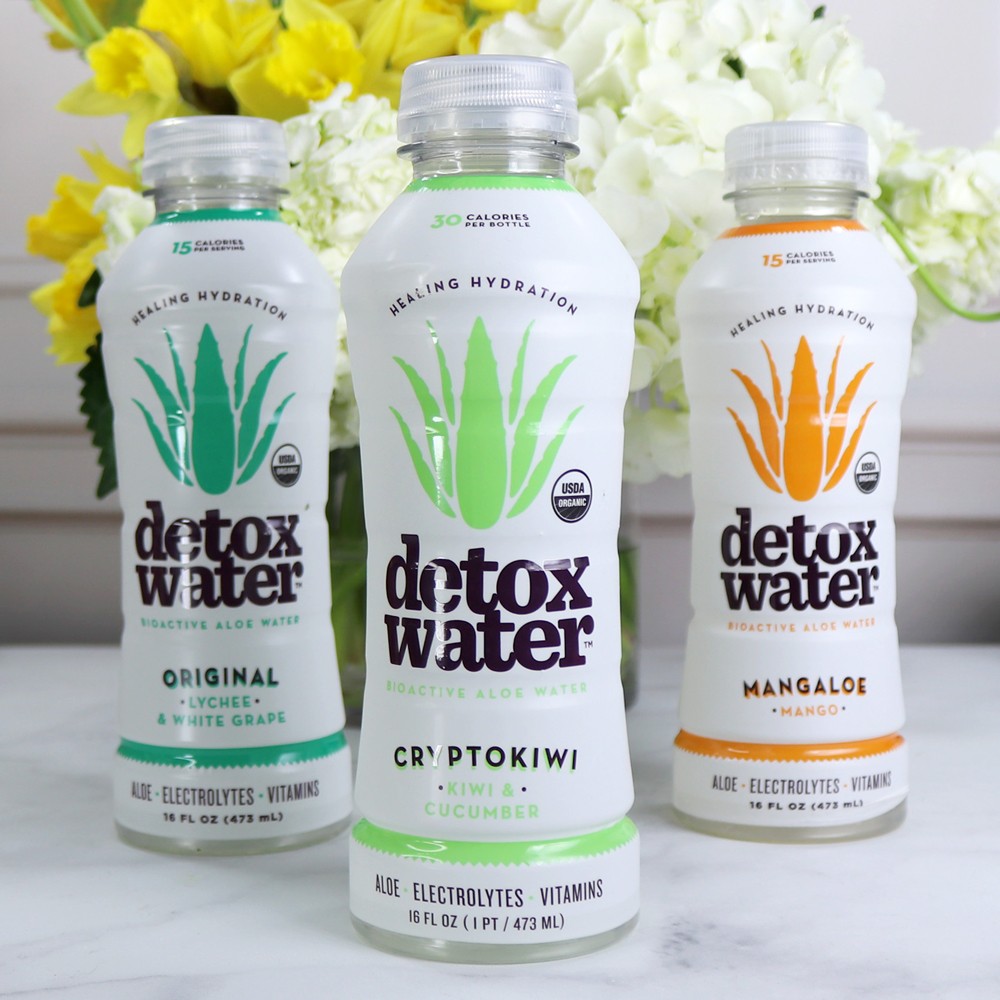 Detox Water low sugar aloe health drink review
Some of you know that I have been on a mission to heal my leaky gut for awhile now (sounds gross but it's really not – read more about it here). I'm doing really well on my diet, and I've lost 15 pounds so far! I'll give you guys an update on that later, but for now I want to tell you about a healthy aloe drink I recently discovered called Detox Water.
Aloe is one of the most healing plants out there. Not just topically, in lotions and potions, but internally – as a supplement. Aloe is great for your skin, for your digestion and for your immune system. Aloe is anti-inflammatory and contains several antioxidants, which can improve your overall health and potentially the look of your skin (whether you have dry, oily, sensitive or aging skin). Aloe vera is also a major player in healing leaky gut (or intestinal permeability). If you're vegan and can't do bone broth, you need to try aloe vera to heal your intestinal lining. A warning – aloe can have potassium-reducing, laxative and blood thinning effects, and isn't recommended for pregnant women. So just be careful and don't overdo it! If you're prone to constipation, aloe can help that!
Detox Water is an aloe drink with added Vitamin C and Vitamins B3, B5, B6 and B12. I appreciate that they are using methylcobalamin (the methylated version of B12) instead of cyanocobalamin. People like to argue over this, but I believe the non-synthetic methyl version is easier for your body to absorb, and a necessity if you have MTHFR like I do (roughly 50% of the population has this genetic mutation or SNP). Methylcobalamin is more expensive, so when I see brands using this type of B12, I automatically have more respect for the quality of their products and the research they have put into their formulations. The methylcobalamin vs cyanocobalamin debate is more complicated than I can get into here (and obviously I'm not a nutritionist or doctor, and I don't know everything, so do your research – start here).
Detox Water is sweetened with stevia, but one 16 oz bottle still has about 8 grams of natural sugars from agave and lemon juice. If you are on a standard American diet, 8 grams of sugar is nothing! If you're on a macro or paleo diet, you might want to drink half, or a quarter at a time. If you're on a keto diet, this might be too high for you. But considering MANY aloe vera drinks have as much sugar as a Coke (I've seen some with more than 40 grams), I think this is really reasonable.
Detox Water uses aloe vera gel, so it's latex-free (latex comes from the middle of the aloe plant). It tastes delicious and comes in several flavors: Original (lychee and white grape – my fiancé, Gregg's, favorite), Mangaloe, Pinamint, Peachberry, Appleberry and Cryptokiwi (kiwi + cucumber – my favorite!). I haven't tried Pinamint, Peachberry or Appleberry yet but I want to! You can also get an assortment of flavors if you want to try them all out.
You can find Detox Water on Amazon, the brand's website, and at lots of grocery stores and retailers throughout the US.
If you REALLY want to avoid sugar completely, and aren't drinking aloe for fun, but for health reasons, I'd recommend George's aloe vera. It tastes like WATER – I mean literally nothing. You can do a shot of it or add it to your drinks or smoothies to get that healing aloe vera goodness.