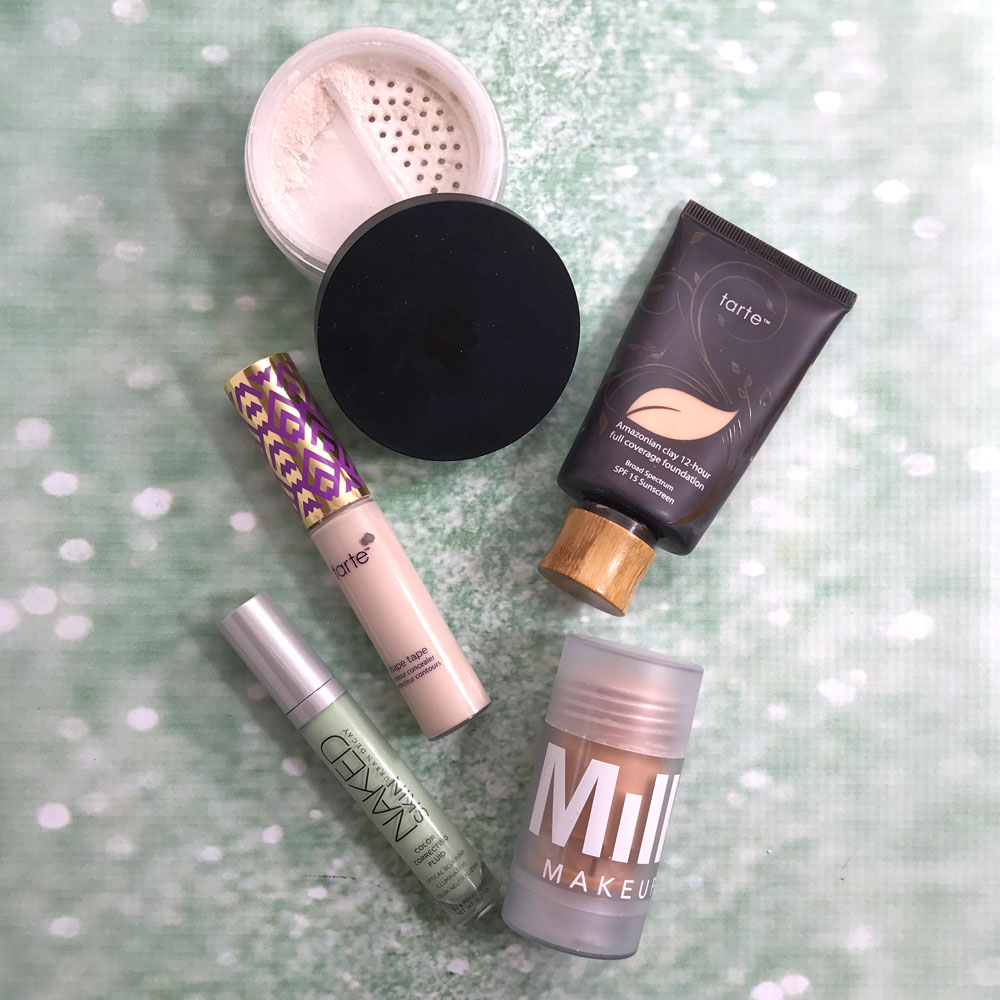 Lipstick League – Week of April 4, 2017
Lipstick League Question of the Week: Quick! Name the last concealer that you purchased and tell us how it's been working for you.
Oh my goodness – I have been meaning to tell you guys how obsessed I am with Tarte Shape Tape! It got so much hype when it launched, that I finally had to try it. I have to say – the hype is legit! It is so concentrated, that you only need a few dots when you use it as concealer. I dot it on with my finger, and then blend it out with a Beauty Blender sponge. You can also use it to highlight and contour. I found the perfect conceal/highlight shade (when I don't have a tan) in shade Fair. I haven't tried it for contouring, because yet, but I have heard good things. Some people don't like the scent – it's a little lemon or citrusy, which I actually like. I honestly didn't even notice the scent until someone pointed it out.
I have been using Milk Blur Stick as a primer (this stuff is amazing – I just tried it on my hand at Sephora and I was SOLD), followed by the Shape Tape, followed up with Tarte Amazonian Clay Full Coverage 12 hour foundation, and topped with Lily Lolo Translucent Silk Finishing Powder (it's SO ultra fine – and doesn't leave my face looking well…powdery!). I also use Urban Decay Naked Skin Color Correcting Fluid (green) on any red spots before I add concealer/foundation/powder. This combo is the best thing I've found so far to cover my acne spots and blur out my pores! I will say that the foundation does move and streak a bit when my skin gets super oily – even with powder. I was previously using Urban Decay's All Nighter foundation because it doesn't move, BUT it also dries down about four shades lighter, so there really isn't a good color match for me. Plus, the foundation tends to sit in my pores instead of on top of them, which makes them more prominent. I wish there was something in between the Tarte and UD foundations, but for now, Tarte is the winner!
Please note: not all Lipstick League posts are cruelty free.
Blushing Noir – The unicorn trend is STRONG and if you're feeling magical and maybe a little sassy, yet still want to be BUDGET FRIENDLY check out these amazing Unicorn Brush Sets on Amazon!
EauMG – I bought a sample of a perfume with oud and raspberries with the expectation that I'd write a (funny) snarky review. Well, I've been played! I ended up falling for a raspberry/oud that reminds me of frolicking in a magical, fantasy forest.
fanserviced-b – I was overwhelmed when acne first hit my skin. Here are the products that form the Anti-Acne starter pack I wish I'd had back then.
Gouldylox – Who doesn't love a killer matte lipstick that actually helps dogs and cats have better lives? I know I do, even though one of the colors is NOT for me.
My Beauty Bunny – I'm trying out some natural goodies from RMS Beauty, One Over One, and Lily Lolo and letting you know what I think!
Nouveau Cheap – I struggled to find a place in my skincare regimen for the new St. Ives Coconut Oil Scrub. Here's what happened.
Phyrra – Unicorn obsessed? I've got over 20 of the most magical pieces of Unicorn Makeup & Makeup Brushes you can get your hands on!
Prime Beauty – sent her undereye bags packing with Dermalogica Stress Positive Eye Lift AND she's giving away one to you!
we heart this – discovered NINE new formulas from Herbal Essences (including one that smells more like a high end perfume than shampoo, it's a must-have!)
Beautygeeks – needed a second date with a Dyson Supersonic hair dryer to know whether a little nozzle issue was going to be a deal-breaker.
(Wondering what the Lipstick League is? Find out here.)
Blushing Noir is Currently Craving: The Benefit Cosmetics Sunday My Prince Will Come Easy Weekender Makeup Kit. It has the GALifornia Blush that I'm DYING for plus a bunch of other awesome little goodies in an adorable bag!