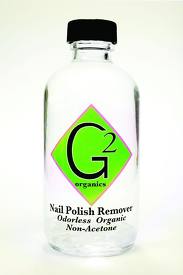 There's nothing worse than the lingering smell of nail polish remover in my house after I have done my nails. Not to mention the squinty-eyed, offended faces I get from my cats whenever it's nail polishing time. G2 Organics Odorless Nail Polish Remover is amazing stuff!
I had my doubts on it being at all effective. After all, how good can a non-toxic, natural and 95% organic nail polish remover be? G2 quickly and easily took off all my nail polish without all the lingering fumes. G2 Organics has created a non-acetone formula that's free of harsh chemicals, artifical fragrances and colors. In fact, there are only 5 ingredients in the whole bottle.
I think this product will also make a great beauty find for expectant mothers or those with sensitive health issues. What intrigues me most about this nail polish remover is its claim to be "spiritually enhanced" to make you feel good and send positive energy into your life. Floating at the bottom of each bottle are genuine, reiki-charged quartz crystals. Even if you don't believe in the healing powers of crystals, they add a unique touch to the bottle.
Representing a sense of well-being, G2 Nail Polish remover claims to be good for your body, spirit and the environment. The jar is meant to be displayed giving you a reminder that everyday, there is a positive purpose in everything you do.