The holidays are the perfect time to change your makeup style a little as you go to holiday parties and various festivities. Holiday makeup is all about giving your face a natural glow that makes you look like you've been warming by the fire after coming in out of the cold winter's snow. With a few quick tricks, it's easy to change your usual style into an amazing holiday look.
Holiday Makeup Made Easy
Shimmer Or Smoky Eye
For your eyes, your makeup depends on what you plan to wear. If you're wearing sparkling or glittery clothes, opt for a smokey eye look. Jewel tones, purple shades or mauve shades are always great for getting the perfect smokey eye. Try to use a color that compliments your outfit without matching exactly.
If your clothes aren't full of sparkle, use a shimmery shadow like The Body Shop Frosted Pastels Palette below. Add a little shimmer powder on the inner corner of your eyelid and the spot just above your iris. This helps brighten your eyes so you look stunning in holiday photos.
Choose your shadow shade based on your outfit. The more bold your outfit, the more neutral your shadow color should be and vice versa.
Make your eyes really pop by using a shimmer liner. Curl your lashes and apply a volumnizing mascara. Finish off the look by trimming your eyebrows and applying a touch of hairspray to prevent any flyaways.
Keep Lipstick On All Night
You don't want to rush off to reapply your lipstick every few minutes while you're mingling at a party. Start by filling in your lips with a liner that's almost the same shade as your lipstick. Apply a long lasting lipstick followed by setting powder followed by another layer of lipstick or lip gloss for extra shine.
Get A Subtle Glow
Holiday makeup shouldn't look overdone. You want a subtle glow with most of your color being either on your eyes or lips. For instance, if you opt for a smokey eye, use a light shimmery lip gloss instead of a bright, holiday red. If you use a pastel shimmer on your eyes, use a bright or dark red lipstick.
Next, get a highlighter pen and eliminate shadows so your face gets a nice dewy glow. To do this quickly, place your chin as close to your chest as possible while looking in a well lit mirror. Apply a line of highlighter to the shadowed areas and blend well.
To finish off the glow, add just a hint of shimmer to your cheeks. A good rule of thumb is to limit shimmery products to no more than three places on your face to avoid looking over done.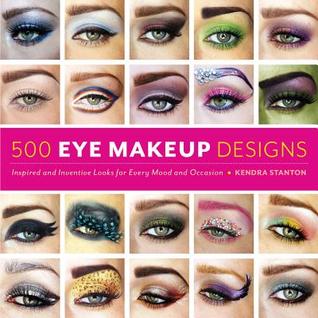 If you want a book of eye makeup tutorials, I highly recommend 500 Eye Makeup Designs: Inspired and Inventive Looks for Mood and Occasion by makeup artist and blogger, Kendra Stanton. Perfect for yourself or a holiday gift for a friend! 500 Eye Makeup Designs is a collection of gorgeous eye looks for every occasion!
Holiday makeup doesn't have to be traditional or boring either. Go bold or go home! Check this beautiful look out from Kendra's book!
From everyday "work-looks" that never get boring, to fantasy-inspired eye shadow with glitter and rhinestones, this guide provides amazing looks for breaking out of the neutral eye shadow-black mascara rut. Filled with designs for every skill and patience level, you can play up your most important feature with looks from different eras, a perfect smokey eye, theatrical looks, and even wild nature-inspired looks! With 500 Eye Makeup Designs, you'll always have the stunning look.
Holiday Nails
Holiday nails can be bright, glittery and fun! Silver, gold, red…or red and white – or white and blue! You can also get some fun nail art done at your local cruelty free nail salon, or do it yourself (I'm terrible at it, so I don't do it myself!). You don't have to spend a lot of money on your nails either – there are plenty of gorgeous cruelty free holiday nail polish shades from Wet n Wild, Milani, Zoya, NCLA, LVX, Chrome Girl and Gabriel Cosmetics.
Holiday makeup isn't difficult. Keep it simple with just a little color and shimmer and you'll look great.