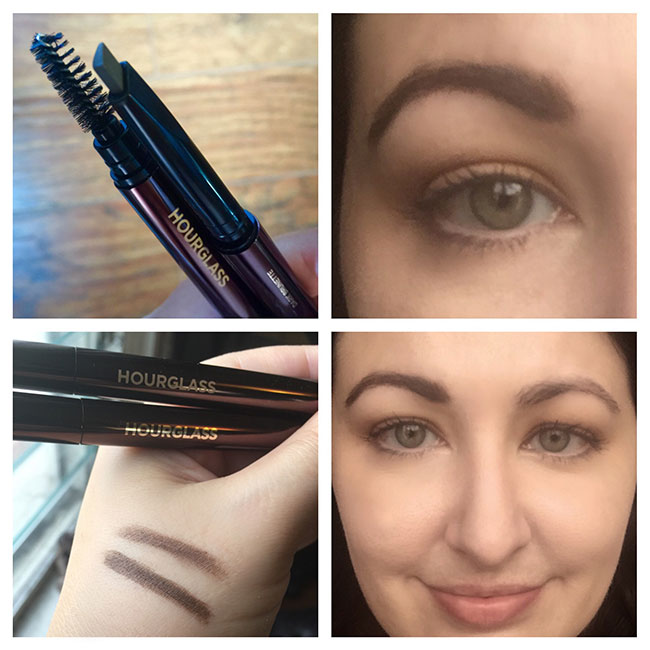 Hourglass Arch Brow Pencil Review and Swatches
Don't you just feel more confident with "power brows"? I do! I love how a well defined brow can really frame my face. I don't claim to be an expert brow artist (not even close), but with a good brow pencil, I can do okay. As long as I get my brows waxed on a semi-regular basis, I can follow the pattern and fill in any gaps. In the photo above, I'm wearing Hourglass Arch in Dark Brunette on one brow and nothing on the other (quite a difference!).
The Arch Brow Sculpting Pencil from Hourglass is a winner. It goes on easy, has a vegan wax to keep brows in place, and the triangle shape allows you to shape your brows easily. Use the wide end for the thick parts, and use the tip to define thinner areas. Press lightly for a lighter shade and harder for a darker shade. It's also easy to build the color if you start with a color that is a bit lighter than your brows. I also love that it comes with a spoolie tip. I use it to groom my brows before AND after coloring them in. It blends to give you a much more natural and less "drawn-on" look.
Hourglass has NINE shades – NINE! That's pretty impressive. How many times have you seen a brand carry blonde and brunette shades? There's even an auburn shade, which is great news for redheads. It's surprisingly hard to find red shades (as I found out when I had red hair!). Pictured below are Warm Brunette and Dark Brunette.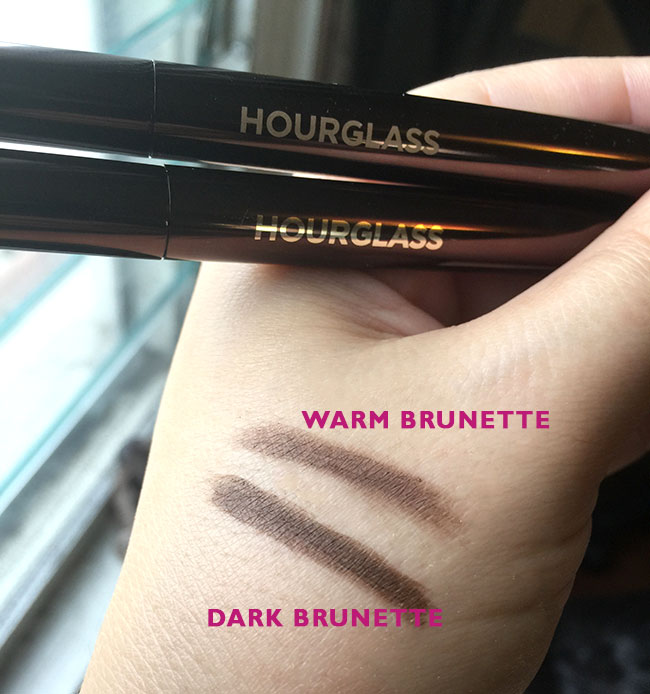 Available in nine shades:
• PLATINUM BLONDE – lightest cool blonde/platinum.
• BLONDE – light to medium neutral blonde.
• WARM BLONDE – dark blonde/strawberry blonde.
• AUBURN – medium to deep red tones.
• SOFT BRUNETTE – light to medium cool brown.
• WARM BRUNETTE – warm medium brown.
• DARK BRUNETTE – deep brown with warm undertones.
• ASH – gray/dark brown with cool undertones.
• NATURAL BLACK – darkest brown to black.
Don't let the $32 price tag scare you. Hourglass is a high quality, luxury brand, and this pencil will last a very long time. A little bit goes a long way!