Tonight's the night; you have a hot date, and are looking to rock a sultry red lipstick. You stop by the store to find something that will drive him crazy, but you're greeted by a thousand shades of red. Never fear, though; follow my tips to find your perfect red lipstick.
If you're lost looking for your best shade, the first thing you need to do is check your skin tone. Are your veins in your wrist more blue based? If so, you have a cooler skin tone; however, if your veins seem more greenish or yellowish, you have a warmer skin tone.
Cool Reds:
For example, if your skin is cool-toned, the perfect shade of red for you is a blue-based red. These shades are flattering because the blue undertones contrast beautifully with the cool or pink shade of skin.
Suggestions:

Warm Reds:
For warm skintones (like mine), I suggest using an orange, brick or tomato shade of red. These shades are flattering to yellow undertones, and makes your skin look brighter and healthier. Be careful – they can make your teeth look yellow – so be sure to use a good whitening toothpaste!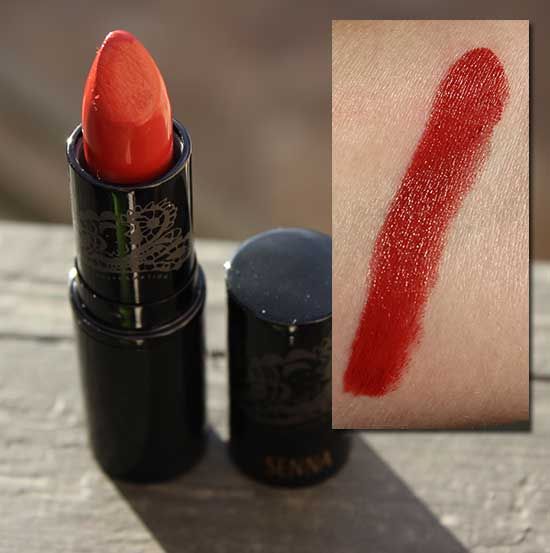 Suggestions:

Neutral Reds:
If you're in-between warm and cool, you might be able to work with a classic neutral red. If you go with a lighter hue, you risk looking washed out, minimizing the boldness red lipstick would otherwise bring.
Suggestions:

For those with grey or silver hair, a little pink provides an ice princess palette that's perfect for occasions where you want to go against the grain.
Finally, when you've found the perfect lipstick in that shade of rouge, my advice is to use a lip scrub (I like Pink & Rosy by Margarita Bloom) and apply lip primer (Too Faced has a great one), which helps to retain moisture and prevents smudging. Then blot off any excess moisture. After applying a neutral lip liner, fill in the entire lip from the center outwards. Finally, seal the lipstick with a small amount of powder, and you're set!
If you have acne or breakouts around your mouth, you may want to avoid the red lipstick until it heals. I have this problem a lot (stupid hormonal acne!) and I've noticed red lips can make the acne look worse.
Everyone can look their best in red lipstick; it's just about matching your skin tone to the right shade, and applying it properly. Now that I've given you the perfect guide to discovering just the right red lipstick, I hope you'll it proudly and look fabulous!