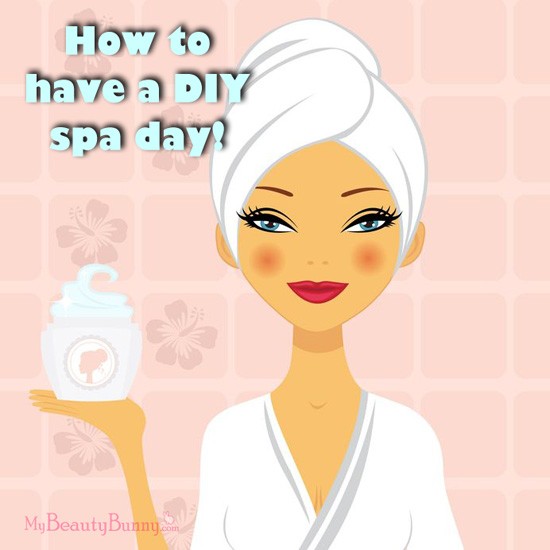 Do you need a day a pamper day for yourself? Maybe you're stressed out from work, overwhelmed with obligations for friends and family, or maybe you just partied a little too hard this weekend (ahem…cough, cough – like I did). Whatever the case may be, sometimes you need to stop, tell everyone else to back off and get some me-time in.
So, here's my 10-step de-stress, detox plan for today. This pamper day is going into action as soon as I finish writing this.
MY AT-HOME PAMPER DAY
Pamper Day Step One – drink as much water as possible. Add slices of orange, lemon and cucumber  to your water pitcher for a refreshing "spa drink." You can also try adding strawberries for a lightly sweet taste.
Pamper Day Step Two – Put on some relaxing music. Maybe it's Beethoven. Maybe it's the sounds of whales mating with harpsichords in the background – hey whatever you're into. I'm not judging you.
Pamper Day Step Three – Lock yourself in the bathroom, get your fluffy robe ready and light some scented candles.
Pamper Day Step Four – Draw a hot bath with some cruelty-free bath salts. I really like Abra Stress Therapy Bath. The natural mineral blend has lavender, chamomile, St. John's Wort, valerian and hops to relax and detox your body. It also has oils (sunflower and olive), but not too much – so I would recommend it for normal, combination or oily skin.
Pamper Day Step Five – Use a body wash and a pouf or loofah to scrub away dead skin. There are a ton of good, cruelty-free body washes out there. You can use a gel to scrub while you're sitting the bath and it will add more bubbles to your bath.
Pamper Day Step Six – Shampoo, condition and then use a high quality hair masque or make my own! Feeling crafty? Create your own DIY vegan hair mask.
Pamper Day Step Seven – Veg out. Do some OMs if you want.
Pamper Day Step Eight – Towel off, but before your skin is completely dry, rub on some body lotion. For the ultimate spa experience, you HAVE to try A Girl's Gotta Spa Energizing Citrus Lotion. It will perk you up and bring you back to the land of the living! It smells like heaven, and it's blended with olive oil, African shea butter and unprocessed natural cocoa butter, which smoothes, hydrates and helps to improve skin elasticity. Powerful essential oils treat the skin and enlighten the senses. It's made without sulfates, phthalates, parabens or animal products (cruelty free and vegan). You can also use a scented or unscented body oil. Whichever kind you use, putting it on when your skin is slightly damp means you'll absorb more moisture.
Pamper Day Step Nine – Use a hydrating serum, followed by a moisturizer or anti-aging cream. If you have acne, I highly recommend looking into a skincare regimen from Emme Diane (holy grail lifesaver for me!). You can use my coupon code BUNNY10 to save some cash.
No matter your skin type, a really good AHA (alpha hydroxy acid) serum or moisturizer is important for exfoliating and renewing your skin. Try Farmacy Honeymoon Glow Night Serum (it has glycolic, lactic, citric, salicylic and fruit acids plus hyaluronic acid for hydration) or Murad Revitalixir Recovery Serum (it has hemp oil, anti-aging peptides, niacinimide, de-puffing caffeine, wild indigo, and paracress to smooth and renew skin).
Daily moisturizer and sunscreen are of course, the best way to avoid wrinkles in the first place. Or, hey – if you're like me, and never venture out into the daylight, maybe you don't need SPF. You'll just become pale and ghostly – which can be considered sexy (as in hot vampires) or just really gross (like Gollum). You be the judge. I'm just kidding – always wear your SPF – you'll thank me when you're older!
Pamper Day Step Ten – Do some yoga stretches, take a nap, paint your nails, read a magazine, watch some trashy TV, sweet talk someone into giving you a massage, or my favorite – all of the above.
Let me know if you end up using the above steps for your own pamper day! Which steps were your favorite?