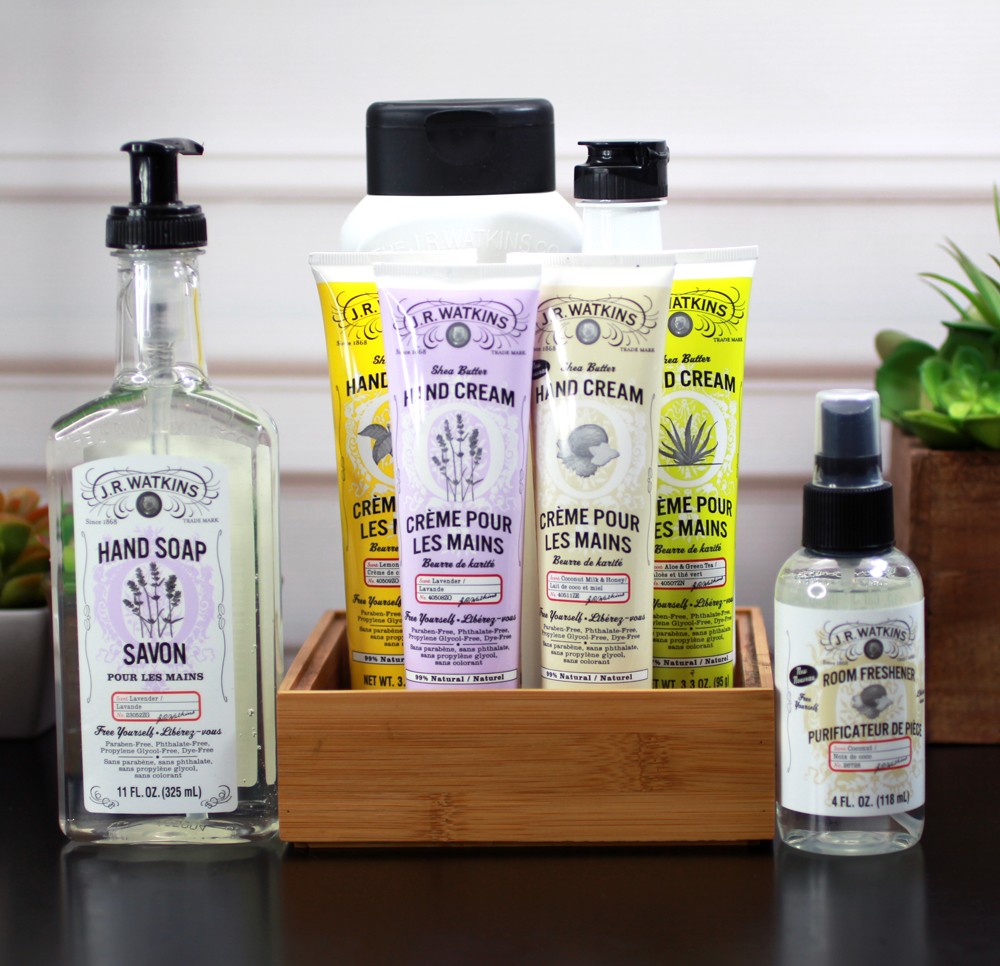 Is J.R. Watkins Cruelty Free?
J.R. Watkins is a brand that has been around for a looooooong time. In fact, they've been around since 1868 when Mr. Watkins himself started selling products door to door in Winona, Minnesota! Luckily, the company has never found the need to test animals in order to sell their extensive line of natural gourmet, home care, health, and bath and body products. The good news is that J. R. Watkins is cruelty free and Leaping Bunny certified! You can easily find their amazing products at stores like Target, Wal Mart, Walgreens, Kroger and other mass retailers.
I remember when I first learned about the J.R. Watkins brand. I was in my early 20s and visiting my BFF from high school, Hala, in her apartment in Jersey City. She has always had an amazing talent for decorating, and her apartment was small but gorgeous. Even her bathroom was cute – decorated with vintage furniture and knick knacks. She even had pretty cleaning supplies, hand soap and dish soap. She told me she only bought J.R. Watkins because they used natural ingredients and the packaging was gorgeous. Ever since then, I've been a fan! I later found out that they also sell bath and body products like hand creams, lotions, room sprays, body oils and scrubs. My last review was from five years ago (wow!) so it's time for an update. J.R. Watkins recently sent me a box of goodies to test out for you. Here are my thoughts!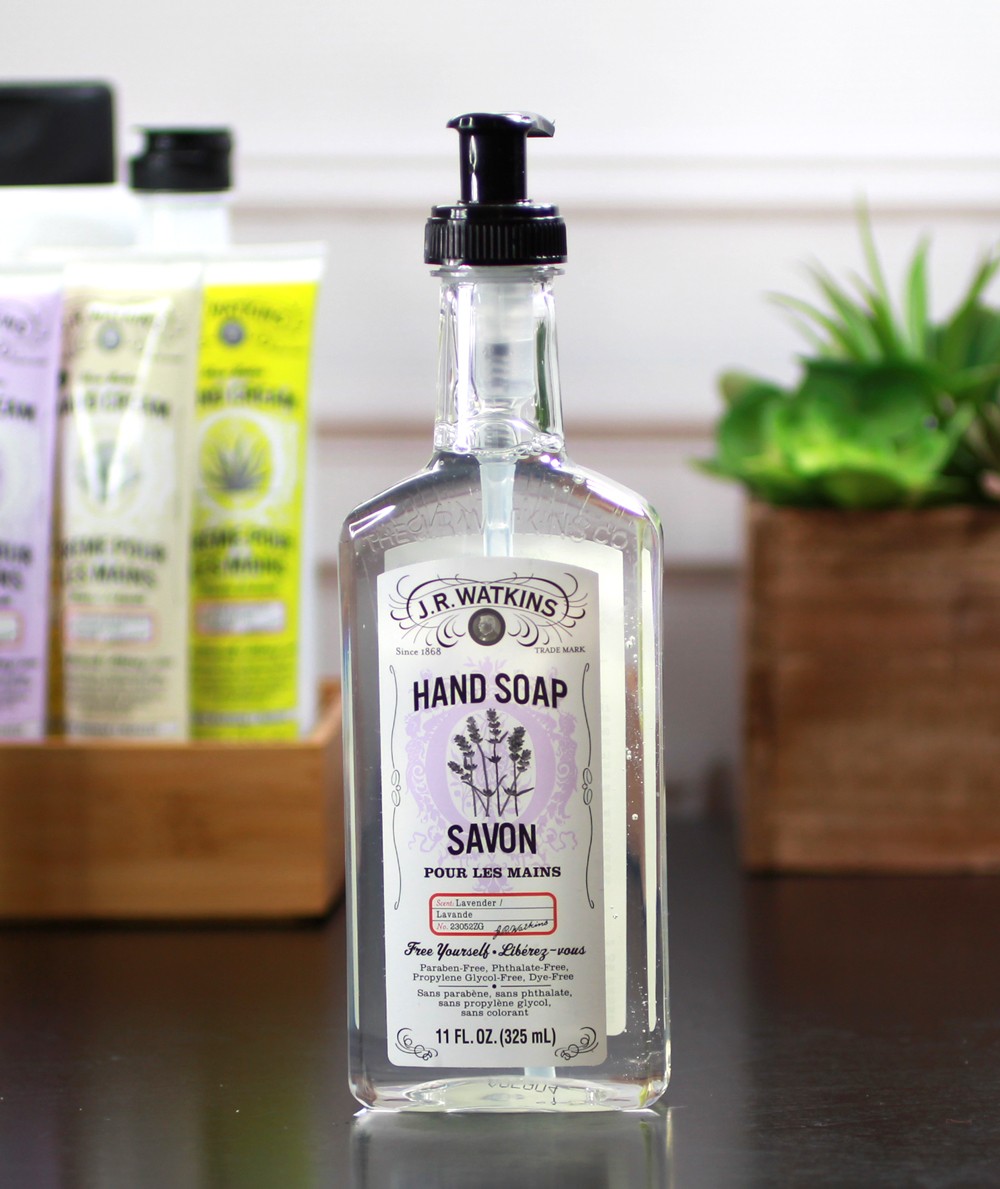 J.R. Watkins hand soap comes in a variety of scents – and I want to try ALL of them! They have: lavender, grapefruit, coconut, aloe and green tea, melon, white tea and bamboo, lemon cream, ocean breeze and vanilla mint. The bottles are tall and elegant, and the formulas clean, and rinse easily, without drying out your skin. They have the foaming bottles (which I have never been a fan of, but some people love) and the regular pumps (shown here). They even have refills, so you can save some money while being a bit more eco-friendly. As with all J.R. Watkins products, there are no parabens, phthalates, propylene glycol or dyes. Here's a list of ingredients they have vowed NOT to use.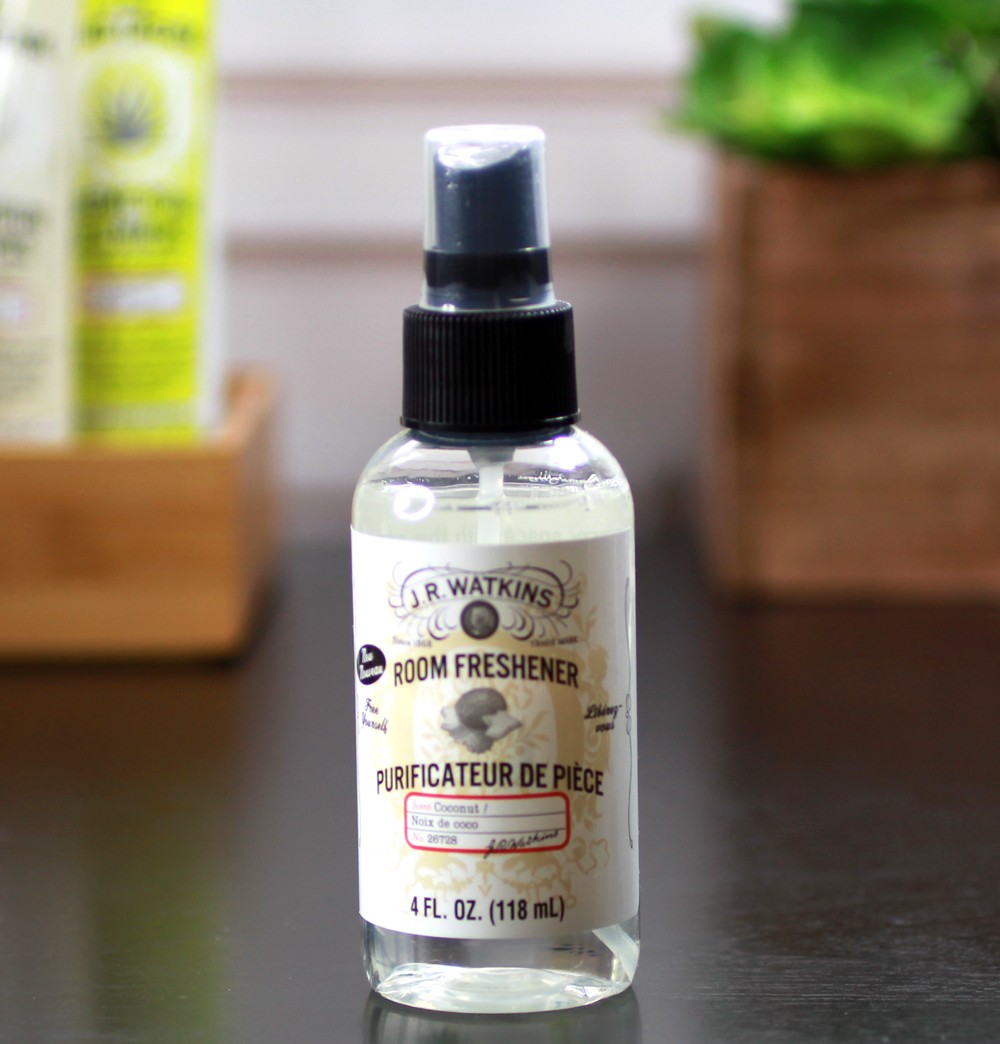 A Room Refresher is something I really need in my life! My fiance and I have two cats and a dog, and it seems like our small LA apartment is always in need of some freshening! I tried the Coconut Room Freshener, and although the scent is nice (Gregg loved it!), it's just not strong enough for our living room needs. I prefer to use this as a pillow mist, to be used at night for a relaxing scent. I haven't tried the other scents, so maybe the others are stronger (I plan to pick up Grapefruit and Lemon to see how those work in my stinky house). I do love that they are made from natural ingredients. The non-cruelty-free stuff that you usually see in the stores (like Glade, etc) is so strong and full of chemicals – not healthy by any means.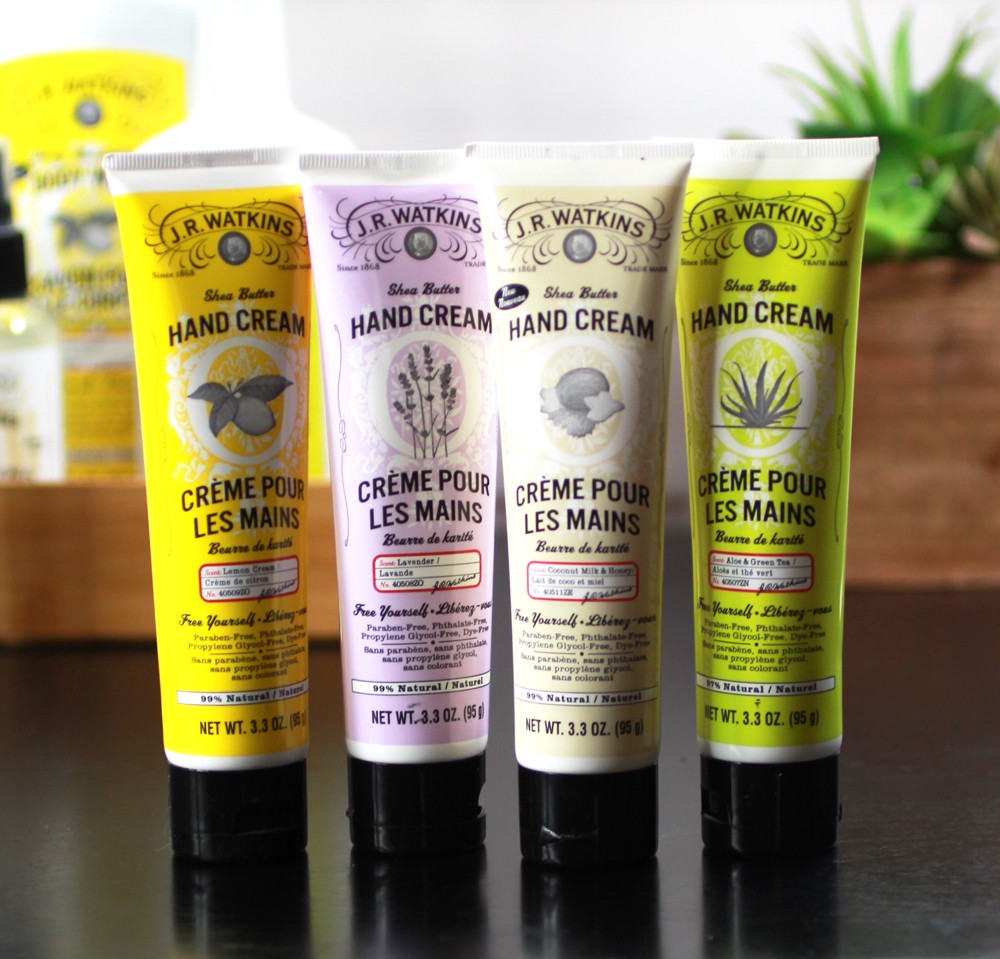 The J.R. Watkins hand cream collection is AMAZING! These are nice, thick, but not greasy creams that I find myself reaching for throughout the day. They're made with shea butter and cocoa butter, and plant oils. I apply hand cream every time I wash my hands, so I always keep one of these by my desk while I'm working. The Lemon Cream scent is my new obsession! I already love citrus scents, but this one actually smells like lemon meringue pie – there's definitely a reason it's called Lemon CREAM. It's so different from other lemon scents out there and I'm just nuts over it! You can also get: coconut milk and honey, lavender, aloe and green tea, grapefruit and pomegranate and acai.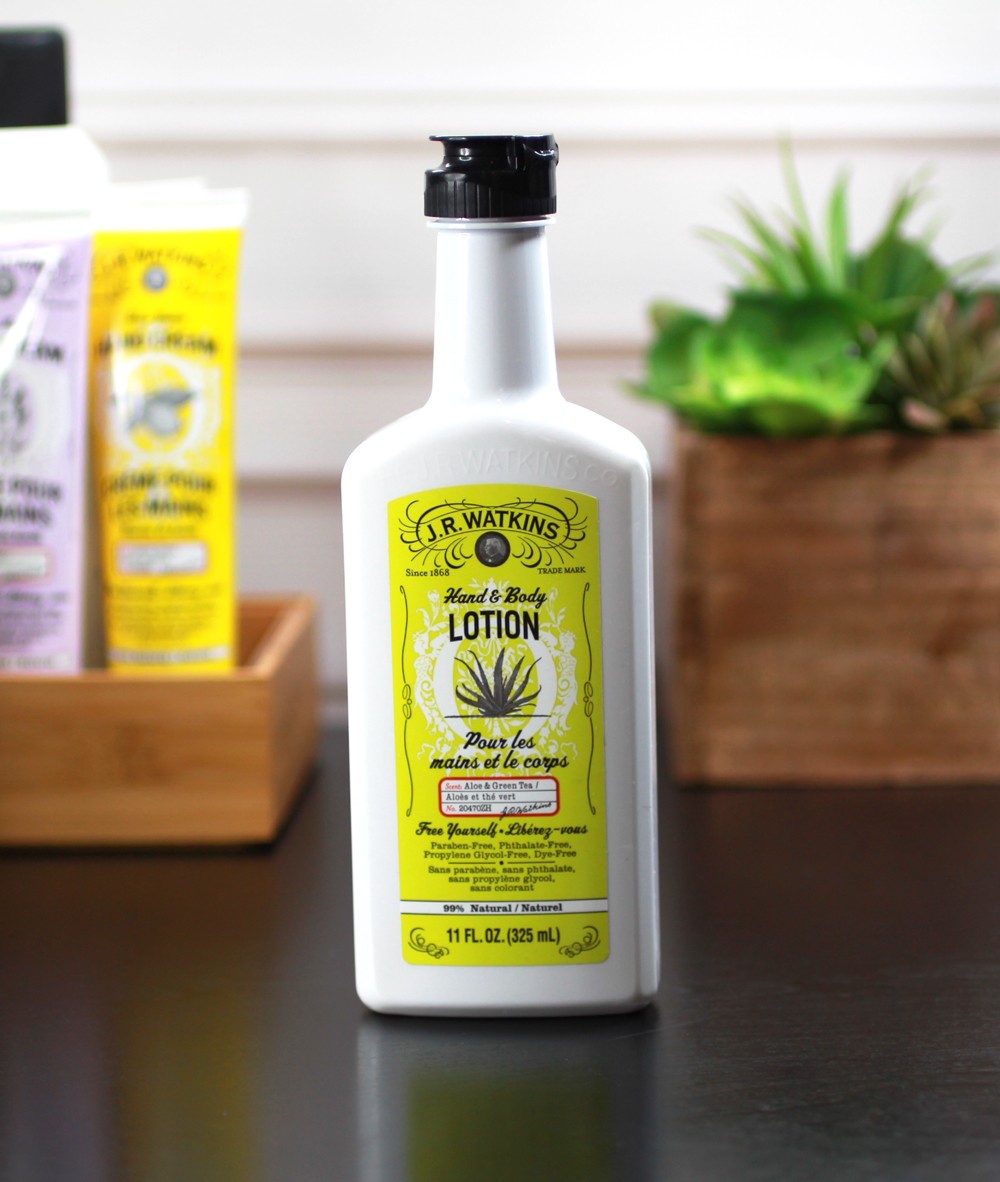 The J.R. Watkins Hand and Body Lotion is great to use on your whole body. It's a fairly thin lotion that is perfect for those who can't stand thick, greasy creams. It's easy to apply and absorbs quickly. I prefer a pump bottle for easy access, but these come in a more travel-friendly squeeze bottle as shown above (the cap is easy to open – no twisting, and it's attached so you won't lose it). The Hand and Body Lotions come in six scents: aloe and green tea, coconut milk and honey, grapefruit, lavender, lemon cream, & pomegranate and acai. Lucky for me, I can get the Daily Moisturizing Lotion in a pump (seriously – what didn't they think of?)! The Daily Moisturizing Lotion comes in the same scents (minus grapefruit and pomegranate/acai), plus coriander and cedar, and a skin calming version with colloidal oatmeal. I think I seriously need to try them all!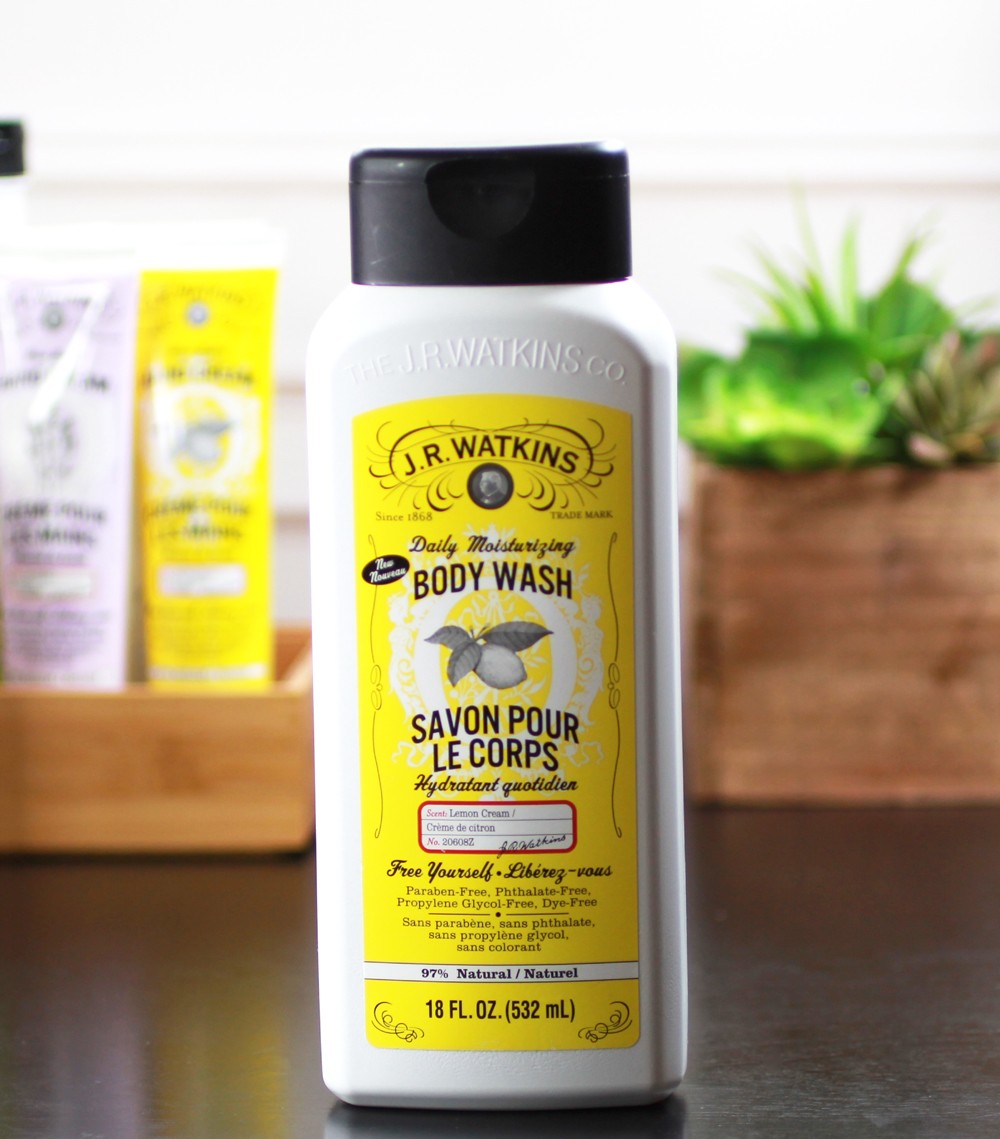 The J.R. Watkins Body Wash comes in VERY generous 18 oz bottles, and if you could see the way Gregg and I go through body wash in this house, you'd understand why I'm so excited about that! I have to say again, how obsessed I am with this Lemon Cream scent – it's just so yummy. You can also get this 97% natural body wash in: coconut milk and honey, lavender, green tea and aloe, coriander and cedar, grapefruit and Bergamot & Oak (for men). The plant-based cleansers in these body washes are strong enough to make you feel clean, but gentle enough to not strip your skin. After using, my skin feels hydrated, but not greasy like with some moisturizing body washes.
Obviously, I'm a big fan of these products. My favorites are the hand cream, body wash, and hand soap. There are SO many other scents to try – I'm going to pick some more up soon. And they also have a ton of other products that are on my wish list. I tried one of their spice blends a long time ago, and loved it, so I've gotta get more of those. Plus the home care products and candles! Lots of good stuff. I truly think this is a cruelty free brand that needs to be on your radar. If you buy some J.R. Watkins goodies, please drop me a line and let me know what you think! I love to hear from you guys!