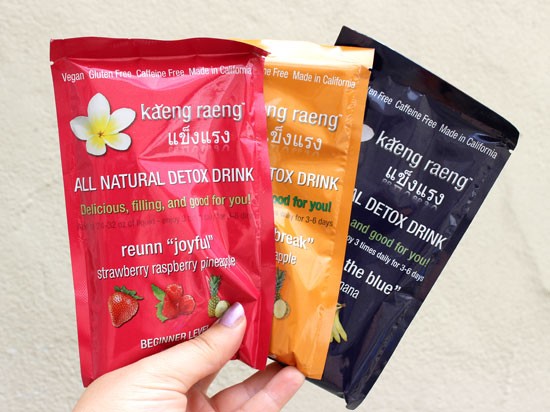 I've been on a health kick lately because I'm tired of feeling bad all the time. Not to bring the room down here, but let me tell you all about my problems! Maybe you can relate. I've had headaches and back/neck pain almost every day for the last 3 years. Yeah that's right – 3 years. I've been controlling it with chiropractic care, massage (as often as I can afford) and lots of over the counter pain relievers. In the last 4 months, the pain has gotten worse, and I've felt sluggish, stressed out and generally bad. I even gained 15 lbs in 4 months. Nooooooooo!
So, in addition to beauty products, I'm going to start writing about some of the health products, services, and supplements I'll be trying. Hopefully, this will help some of you who are dealing with similar health issues.
When I was offered samples of the Kaeng Raeng cleanse, I was immediately intrigued. The name alone sounded mysterious, and the pitch promised to help me lose weight, clear my skin, improve my damaged hair, remove toxins, bolster my immune system and help with digestion.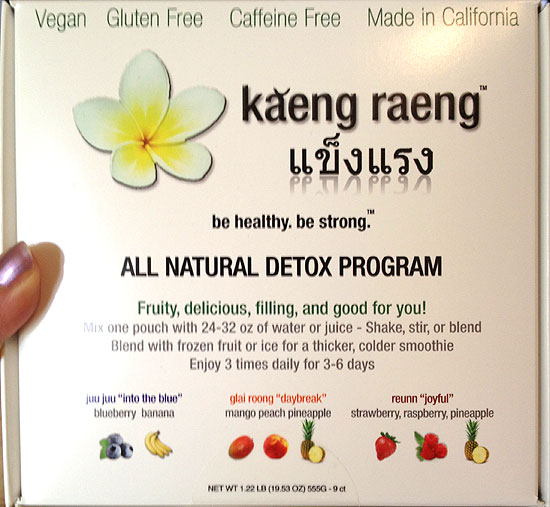 Basically, you drink 3 meal replacement shakes per day (for 3 or 6 days) and supplement your diet with raw fruits and vegetables and a small amount of raw, unsalted nuts. While this sounds great for some people, I am not ready for that type of commitment. Instead, I decided to try the shakes as a healthy supplement to my regular diet. My boyfriend and I are already into making healthy "life shakes", as he calls them, in our VitaMix blender. The cool thing about Kaeng Raeng shakes is that you get all the benefits of a fruit shake, plus protein and probiotics in a convenient, powdered form. You don't need a blender at all. Just mix with water or juice (I used apple juice) and drink! I used a plastic bottle with a lid, added the powder and a small amount of juice, shook it like crazy, added more juice, shook it again, and then boom – done! Ready to drink!
One serving of Kaeng Raeng makes 24-32 fl oz, which is quite a lot. The taste is not bad at all considering the amount of protein powder in it. If you mix it with juice, it tastes pretty good. And there's no added sugar or anything weird in it. If it's not your thing, you can easily mix it into a smoothie and add fresh or frozen fruit.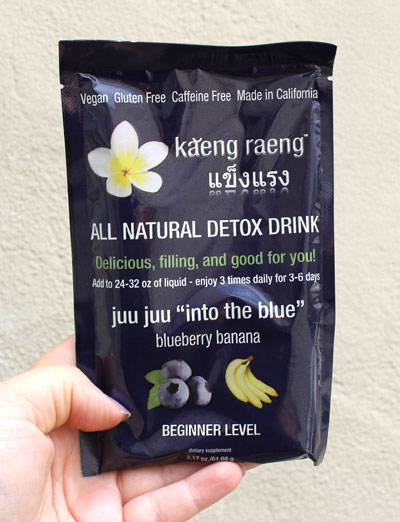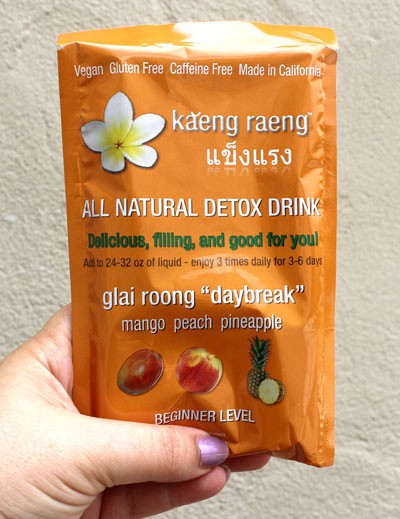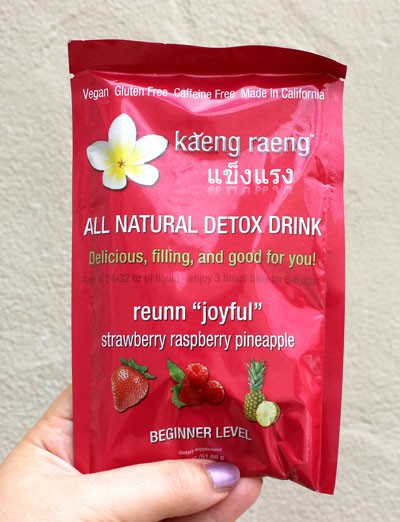 Each packet contains:
-Fewer than 230 calories!
-1 oz of raw, freeze-dried fruit powder — that's the equivalent of 8 oz of fresh fruit per serving! No preservatives, no chemicals, just fruit, straight from the ground, freeze dried for convenience.
-15 grams of lean non-genetically modified soy protein and daily vitamins including B-12
-2 billion CFUs of vegan L. Acidophilus probiotics to bolster your immune system and improve digestion
-Full serving of vegetable fiber (safe for daily use)
-No artificial colors, flavors, or sweeteners
-No caffeine, laxatives, or stimulants
-Vegan – no animal products
-No preservatives or fillers – what you see is what you get!
The Kaeng Raeng cleanse comes in Beginner (like me!), The Veteran (for people who have done a cleanse before) and The Master (regular detox-ers). I'm not entirely sure what the different levels mean, but the Beginner level shakes made me feel great! Some day I may get up the nerve to try the cleanse the way it was intended, but until then, I'd love to hear what you guys think if you have (or will) try it. It's a bit pricy ($69.99 for a 3 day cleanse), but when you consider that there are no fillers – just high quality ingredients, and you won't be spending money at that deli down the street for lunch and on Chinese takeout for dinner, it's not that bad.
Would you try it? Have you tried any other cleanses? Good or bad? Tell me in the comments below!