Laritzy Cruelty Free Beauty Box
Hi Bunnies! I'm back with the October edition of Laritzy's Cruelty Free Beauty Subscription Box!  In case you've missed the past couple months, you might want to also check out July, August and September here after you've read through this review – that way you'll ultimately be hooked on this awesome service. Laritzy gives subscribers a chance to try out 4-5 full or luxury-sized beauty products each month while staying cruelty-free (and vegan). As some of you may know, October is Breast Cancer Awareness Month so for the month of October, the company will be donating 10% of this month's proceeds to Young Survival Coalition! Pretty cool, right?
Let's go ahead and dig into the goods,  I've got some great items to share with you this time around!
Since I have really long hair and tend to stretch out the time between trims it's important that I do what I can to take care of my ends to delay split ends. I absolutely love this leave in conditioner spray because of a few reasons. For one, the mist goes on really fine and covers a large area at once, two, it hasn't weighed my hair down at all, and three, it has a lemon- clean scent to it.  Formulated with all the good stuff like jojoba, grapeseed, apricot and primrose oil, to make combing a cinch and a bit of protection before blow drying my hair. I received the 2 oz size which unfortunately is going to go fast for me since I like to use it often, but at a decent price I can see the possibility of repurchase down the road. 2 oz retails for approx. $13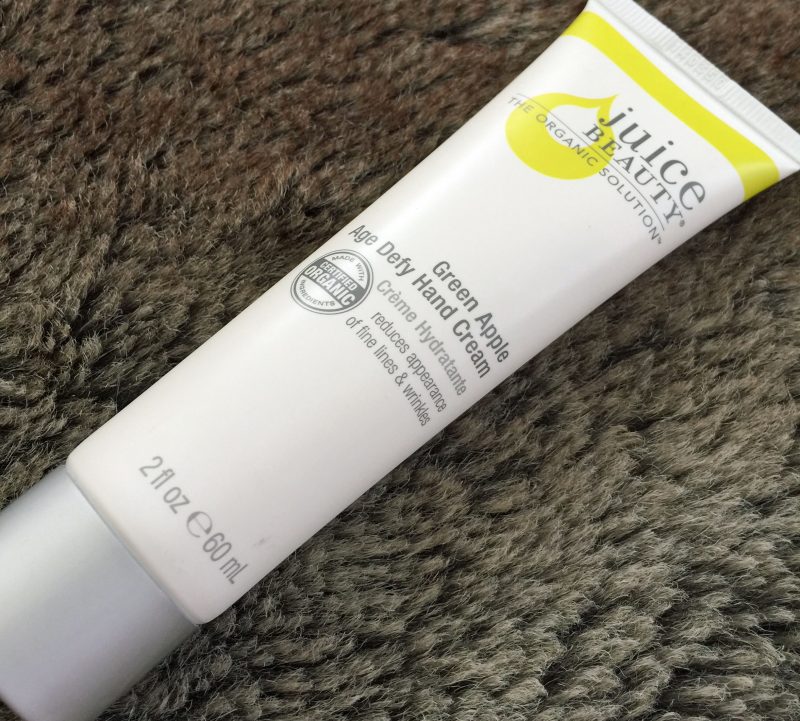 Green Apple Age Defy Hand Cream – Juice Beauty
I've been a fan of this brand for its apple peel product, but never tried any of their hand stuff as of yet. Love that this formula uses certified organic ingredients and is known to use vitamin C and Malic acid (from apples) to fight the signs of ages such as wrinkles or discoloration while aloe and shea butter soothes. I'd say this is a mid-weight cream, not heavy, and not thin and rubs in easily without leaving behind a greasy feel. I plan to keep this tube on my office desk for a quick application here and there.  2 oz retails for approx. $12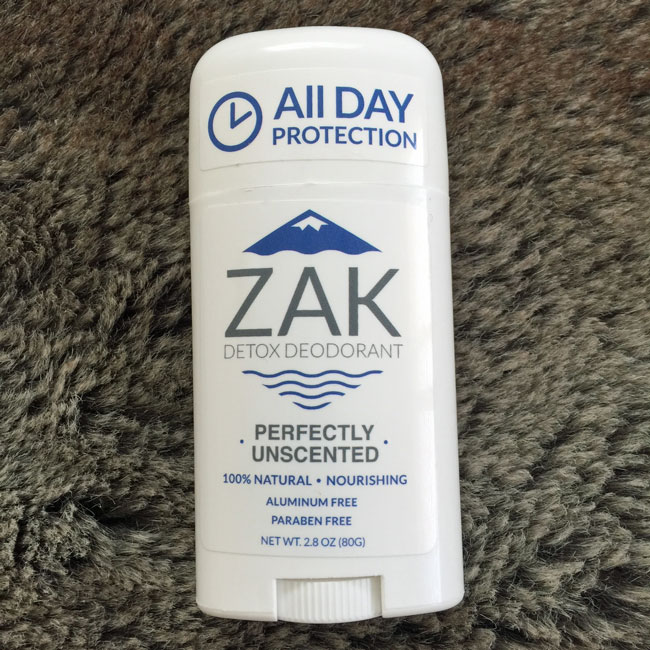 Unscented All natural Detox Deodorant – ZAK Body
This was the product I was MOST interested in testing out from the box as I frequently rely on aluminum-free deodorants and was curious how this would stack up to the competition. I do give it a thumbs up because it DID work for me as I walked through Fashion Island one afternoon in the hot sun and didn't come home smelling like a little kid that's been on the playground all day. it also worked well for my afternoon walks in the neighborhood as well! I just can't comment on it's 24 hour protection, that something I'm not sure any deodorant product can't successfully do as of yet.  I got the unscented but they do have other version with scent, and all use baking soda and earth clays to absorb and neutralize toxins and funk before they become an embarrassing B.O problem. My only negative on this product is that I wish it went on smoother. Maybe my pits became soft, delicate flowers in pregnancy but I have trouble getting it to glide on smoothly. I'll still use it because it works, but that would be only suggestion for change with this product, otherwise, SOLD!  A full size stick will cost you $12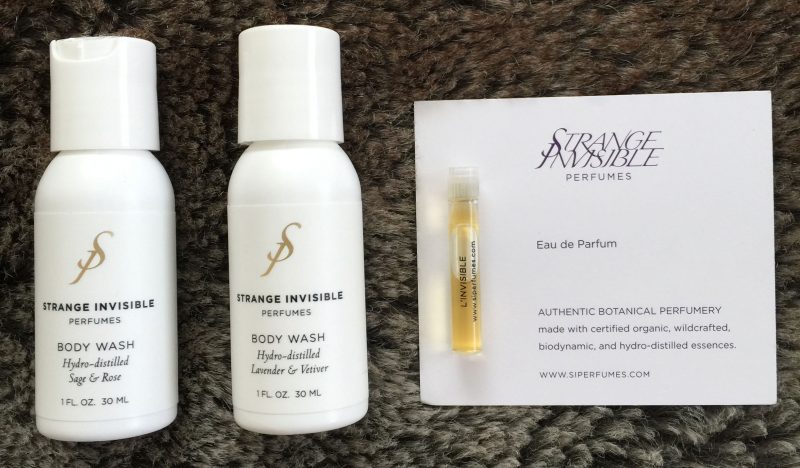 Body Wash and Parfum – Strange Invisible
Up until now I have never heard of Strange Invisible, but any scented body wash is something I'm always into exploring. Strange Invisible uses botanical fragrances that are wildcrafted and certified organic and will not cause any type of photosensitivity of the skin when it's blended with its short list of pure ingredients. I actually got TWO different body washes to sample along with a vial of their L'invisible perfume. One body was was Lavender & Vetiver which I found to be lighter than the second which was Sage and Rose. I'm terrible at describing scents but I'll let you know that the Sage rose was my favorite of the two, while the perfume was a hit with the husband.  I'm not sure I'd be able to ever afford the full size of the perfume so I will make this little vial last by only using little dabs on special occasions. Full Size perfume $265. Full size body wash $45.
Overall I am very pleased with everything I got in the October box, and love that all of these are safe and healthy for me to use while pregnant. If you'd like to find out more about LaRitzy, you should definitely visit their website and then be sure to follow them on their social media pages:  Facebook, Instagram, or Twitter! P.S I highly suggest their Instagram so you get to see what's to come in the future boxes, it will help you decide to take the plunge into the service or not–but I really think you'll go for it once you see it!