Vegan Beauty Box
Hi Bunnies! I'm always so excited to share with you my finds in the monthly beauty box from Laritzy. There is always a nice assortment of fun products that are full sized or at least luxury sample sized, and you can choose from two different subscription options. There is the LaMini box which holds 2-3 products, or the full sized box which gives you 4-5 to play with. Best of all the products are all cruelty free and vegan! In this month's box we even got a soon-to-be-released product and a custom blend made special for Laritzy lovers. Let's take a look at the goodies and find out which was my fave this month.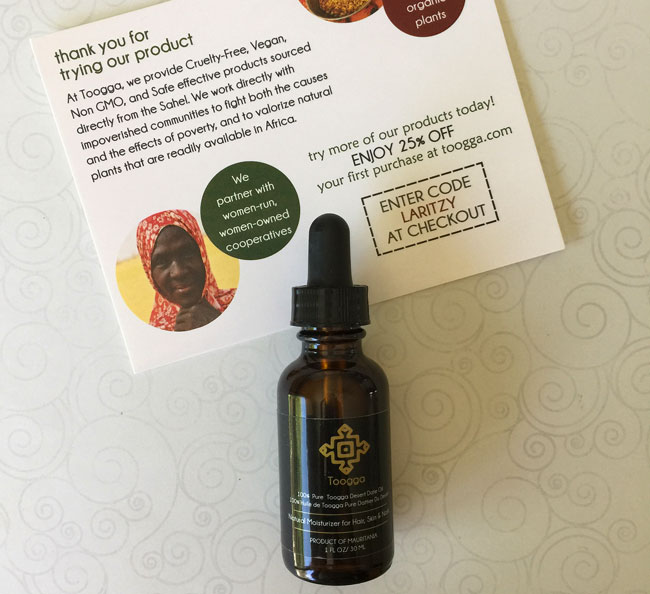 Toogga Organic Desert Date Oil (for face, body and hair) 1 fl. oz  Retail value $19
I love multipurpose oils because it can really cut down on the bathroom clutter while taking care of a few things at once. It was only recently in the past couple years I started to use them for more than just my hair and found that oils really can work for all skin types depending on the oil blend that's used. Toogga's Organic Desert Date Oil is a scent free, antioxidant packed cold pressed oil that absorbs quickly into the skin when just a few drops are used. I love using oils on dry spots like my elbows, feet, and hands, while occasionally on my forehead. I also can use it on my hair for some added split-end protection!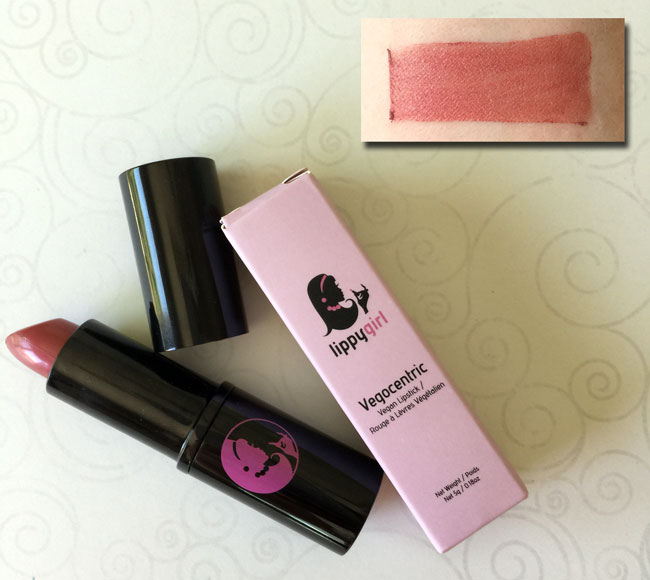 LippyGirl Vegocentric Organic Lipstick "Rosie Posie" Retail value $23CAD ~ $18 USD
In last month's box we got LippyGirl's lip gloss and I loved how it kept my always chapped lips feeling soft and looking good. Now, I got a chance to try one of their lipsticks in the color Rosie Posie which looks like a terra cotta red for me. The formula is moisturizing and pigmented, and is housed in a completely recyclable aluminum tube casing to be totally eco- friendly as well! The line has 13 colors to choose from, with Schmoopy and Son Of A Brick calling my name.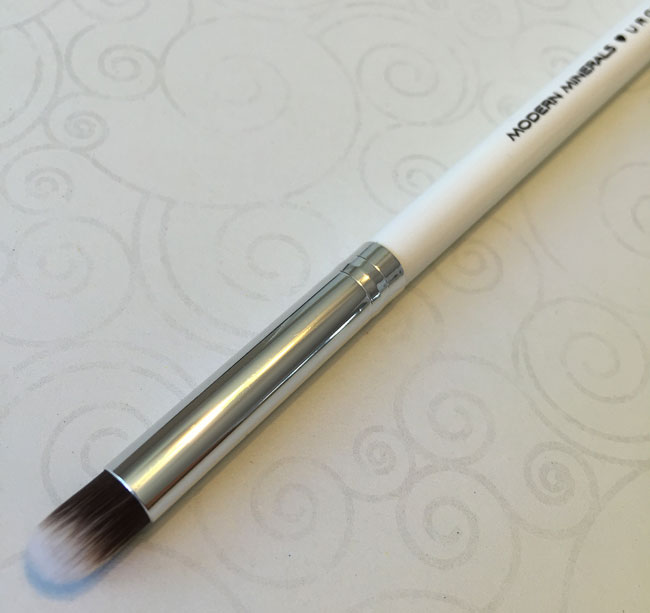 Modern Minerals Eyeshadow Brush Retail value $15
Who doesn't love a good, soft makeup brush? I find that this type of brush works best for me adding crease color and brow highlights. The fibers are stiff, but comfortable and deposit color with ease. It never hurts to have a couple of these brushes on hand when you use them for light and dark colors.

Leo & Goa Pearlies Retail value $5
I've heard of oil pulling but have never tried it before myself. Leo & Goa are a soon to launch brand that offers single serving packets of organic coconut oil blended with essential oils to cleanse the mouth and brighten the teeth. It will not bleach them, but is thought to draw impurities from between the teeth and gums by having bacteria bind with the oil during the 15 minute swishing session and then spitting it out. Fifteen minutes is a long time to swish in my opinion, but my mouth did feel pretty darn clean. Leo & Goa haven't opened up shop yet, but you can sign up for updates at the website so you know when you can check them out!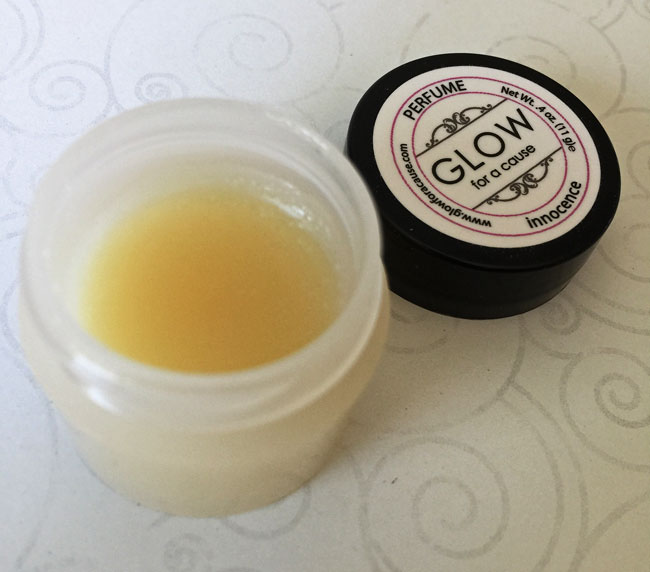 Glow For A Cause Solid Perfume Retail value $16
I saved my favorite for last! This solid perfume was made special for the Laritzy box and I'm totally loving the scent called Innocence. The website describes the scent as a blend of bergamont, jasmine, sandalwood and vanilla…but in my mind it reminds me of vanilla and colashampagne (anyone else a fan?). The sweet feminine scent can be dabbed on everywhere and even paired with a roll on version if you want to amp up the scent. I love it, and love that the brand donates 5% of each sale to a charity of your choice (choices are listed on the website).
I'd say this entire box was a winner in my book, with the solid perfume taking the cake. Want to find out more about this awesome subscription service?  Be sure to visit them on their website for specific details, but definitely stop by their Instagram or Facebook for sneak peeks of what future month boxes will hold! There is currently a waitlist for the awesome subbie box but My Beauty Bunny readers can bypass that list by using the passcode : firstinline on their website! Don't wait, go now!