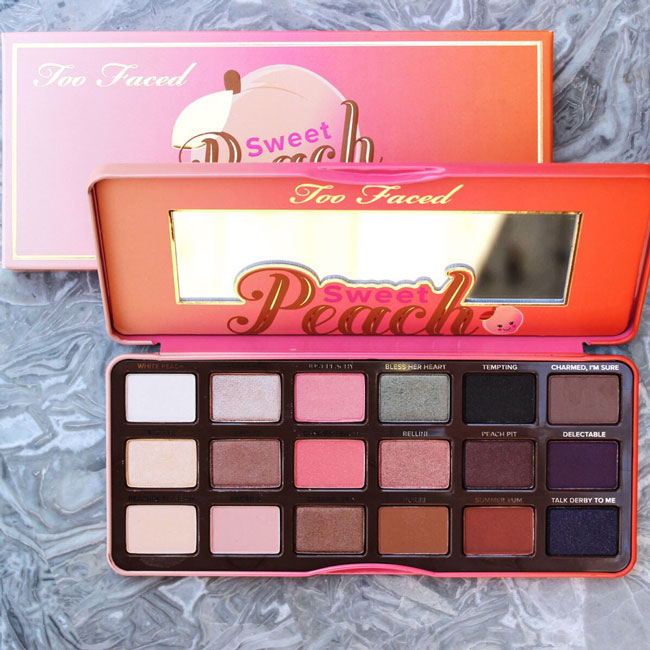 Ah so many cruelty free favorites this spring! The hits just keep on coming! I've got all kinds of new faves to share with you, and I'd love to hear your opinions in the comments below. Or, if you have some favorites that you want me to test out, let me know!
First – the coveted Too Faced Sweet Peach Palette. Wow – this has been a runaway hit. It's been in and out of stock so many times because the demand is so high. This has made some people angry, which I understand, but remember guys – it's just makeup! I have been interested in this palette ever since the news leaked that it was coming out (months ago), and I got lucky because I happened to see a tip from a fellow blogger that they were in stock at ULTA, so I logged on and got one right away. I know some people were not so lucky. Hopefully Too Faced will get new stock in soon.
Some people are saying this palette is not worth the hype. I think it is amazing! Would I pay $500 for one on eBay? Heck no (and you shouldn't buy re-sold makeup either)! But, if you can get one, it's really a great palette. I love the peachy and gold shades (I am pale with yellow undertones, so it's great for me). I didn't think I'd like the purples, but they actually work really well with the peachy shades. I have been using them as eyeliners for the most part.
I LOVE the peach scent. I have a VERY strong sense of smell, and this doesn't bother me at all. In fact – it's perfect because it's a lovely scent that I'm only applying to my eyelids (not all over my body like a scented moisturizer), so it's just enough. I have heard some complaints that the scent is too strong. I don't know if this varies from batch to batch or is just a matter of personal preference, but I love it. All in all, I'd give this one an A.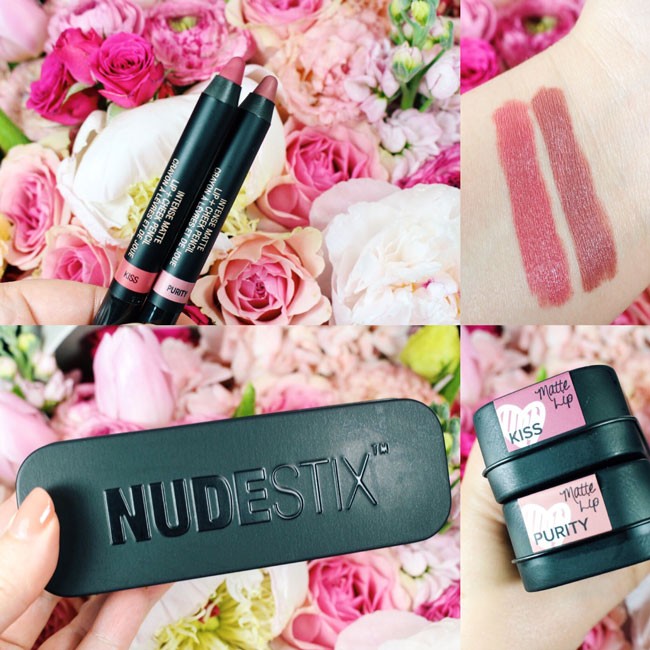 I received two of the NudeStix Intense Matte Lip + Cheek Pencils to test drive. I'm not a fan of mattes that dry out my lips, so I loved the NudeStix mattes! They are moisturizing but have great staying power. I tried Kiss and Purity. Both are described as nude shades, but on my pale skin, they are quite dark. They are very pretty, super easy to apply, and highly pigmented. A little much for every day use on me (I've been toning it down lately with my lip colors – maybe I'm getting old – ha!). I'd definitely love to try some of the lighter shades. They come in cute tins with interior mirrors.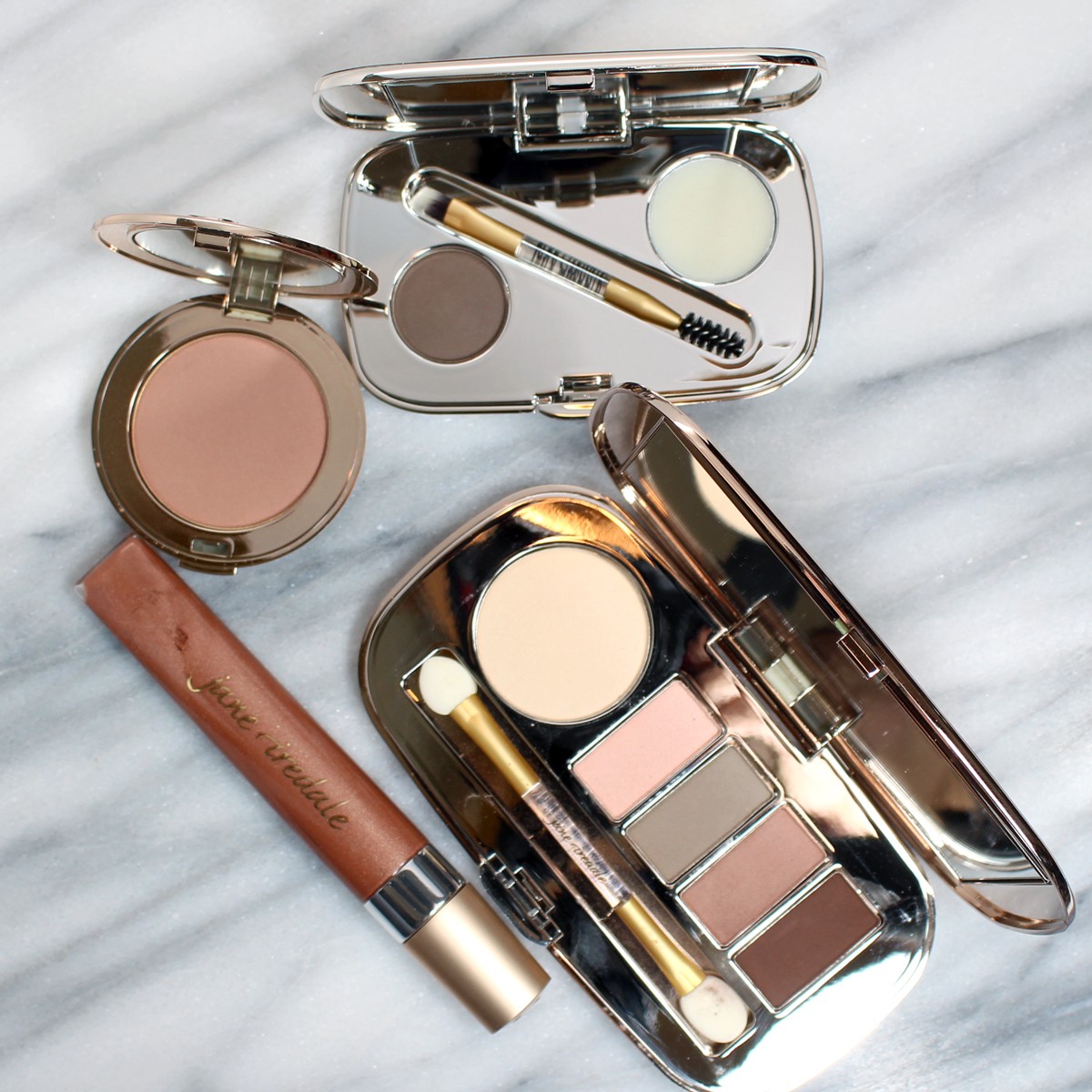 The Jane Iredale Spring Collection is all about showing off your natural beauty. It's a "no makeup" makeup look, which is perfect for every day. I am not a lipgloss girl, but the Puregloss Lip Gloss in White Tea (a caramel shade) was really nice (not sticky). It's very hydrating, vegan and gluten free. The Naturally Matte Eye Shadow Kit is a great neutral palette that (in my opinion) will be perfect for pale to medium skin tones. I think both warm and cool tones will like it. It comes in a gorgeous, sleek, gold mirrored palette. The GreatShape Eyebrow Kit comes in Brunette and Blonde tones. It has one powder shade, a wax and a brush with spoolie. Great for travel, although, I prefer a more defined brush for everyday brow makeup.
My FAVORITE product from this collection is the PurePressed Powder Blush in Flawless. Wow – this is a perfect color for me. The peachy pink brown is light and doesn't make me look like I have a skin condition (like many blushes seem to do on me!). For my pale skin – this is somewhere between a light bronzer and a blush in one. I just love it. I use it as eyeshadow too. Definitely a keeper!
Ready to switch to a lighter spring scent? You must try R Perfume Oil! These are signature fragrances from the gorgeous Rosa Gamazo Robbins, a journalist living in Los Angeles. She was born in Madrid, Spain, and her two perfume oils are floral recreations of her memories of the world she grew up in.
Gardenia Bliss is made with a combination of Ylang Ylang, gardenia, and bergamot notes. Tuberose Breeze is made with a combination of Tuberose, bergamot and lemon notes. They are both floral, but not overly so. Very elegant. My favorite is Tuberose Breeze, which has a slightly darker feel than Gardenia Bliss.
R Perfume oil is the perfect alternative for those who love perfume but dislike the drying effect of alcohol. The carrier base is made of jojoba oil which contains emollient properties. This perfume oil does not contain parabens, and most importantly is cruelty-free. Rosa is a passionate animal-lover and animal and human rights advocate as well as an ardent supporter of environmental causes. R Perfume is a cruelty free product. Rosa says, "I believe animals should be loved and cherished not tested on!"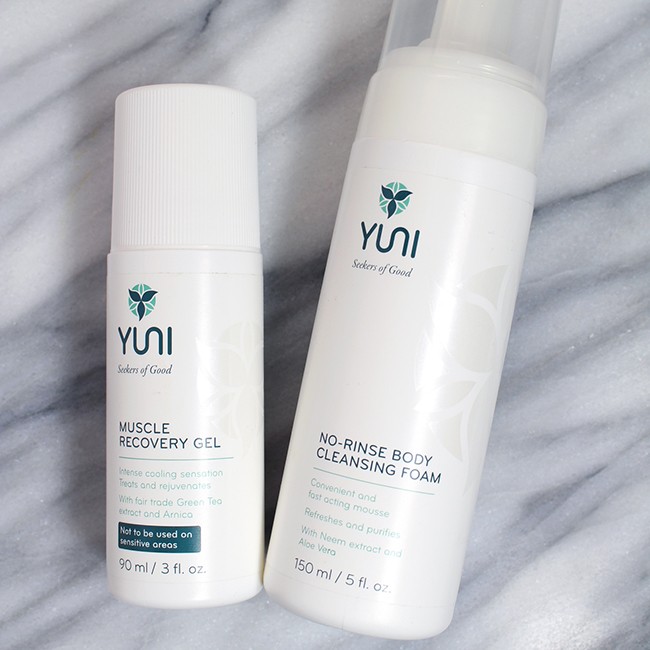 Yuni Beauty is perfect for yoga lovers and crossfit buffs alike. The Muscle Recovery Gel is a roll-on (perfect for not getting it all over your hands when applying) and makes a great natural, cruelty-free alternative to Icy Hot. It's made with fair trade green tea and arnica. I use it for my back and shoulder aches, and it even comes in handy to cool me off when it's super hot outside! The No-Rinse Body Foam is perfect for cleaning up after a workout session, when you don't have time to get to a shower. It contains neem extract (a natural anti-bacterial) and aloe vera (to soothe skin – especially if you're in the sun).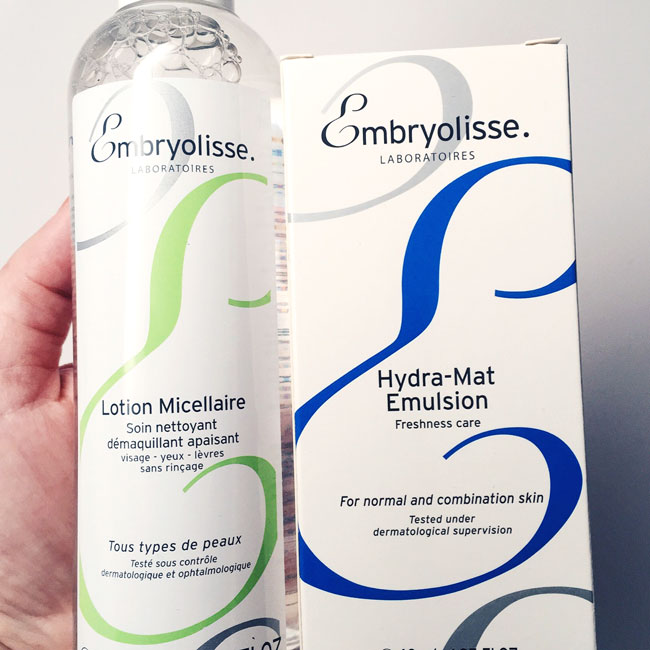 Embryolisse is a French skincare brand that seems to be every makeup artist's obsession! The Lait-Creme Concentrate,, which I've used before gives a great matte foundation – a primer and moisturizer in one. But, if you have oily skin (like me), hold the phone! The new Hydra-Mat Emulsion is even better! It gives you an even more matte look with cornstarch to absorb oils throughout the day. I was a little worried about the scent at first (it smells good but I don't like scents in skincare products), but I have to say, my skin was just fine. No irritation whatsoever. I'm obsessed, and I may need to buy a new tube soon. I got a sample at The Makeup Show LA, and I'm hooked! I also bought a bottle of Lotion Micellaire because I LOVE micellar waters to remove makeup without drying out my skin. All products are paraben free and not tested on animals.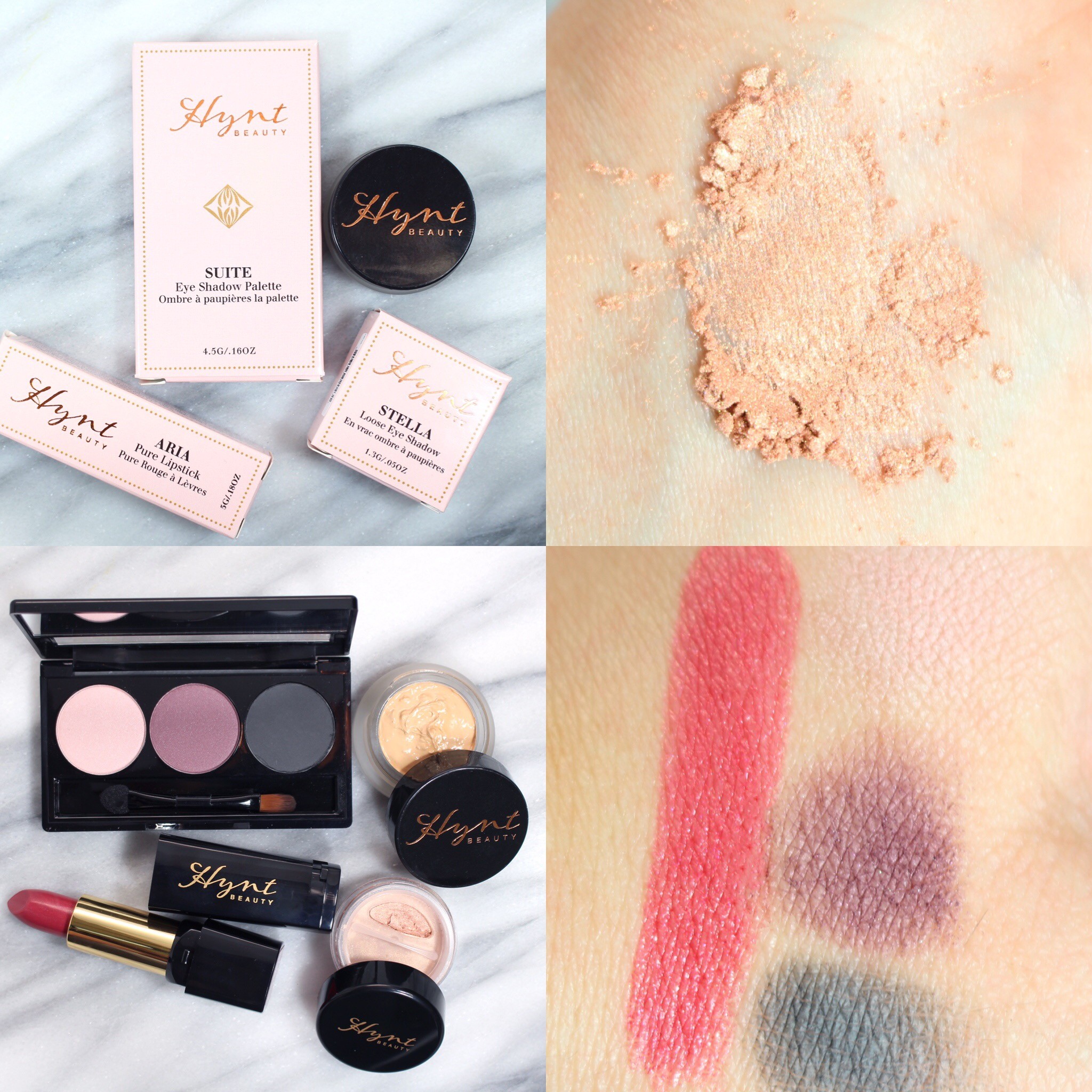 And last, but certainly not least, I'm really enjoying these cosmetics from natural, non-irritating, cruelty free, mineral-based, luxe makeup line, Hynt Beauty. The products are great and the packaging is adorable! The concealer was too thick for me, but I love the other products. The shades are rich and smooth. I don't usually like loose pigments, but the Stella loose eyeshadow in Seashell Pink is to DIE FOR! It's a gorgeous peachy pink shimmer that I want to bathe in! Just gorgeous. Hynt is FREE of Parabens, Nano Particles, Petrochemicals, Artificial Preservatives, Gluten, and all products are PETA-certified Vegan (except for the mascara, which is clearly identified) so there is no wondering or double checking, ever.
So tell me – which spring products are you loving? Which are you dying to try? Do you have any new products that you recommend? Tell me in the comments below. Cheers to spring!