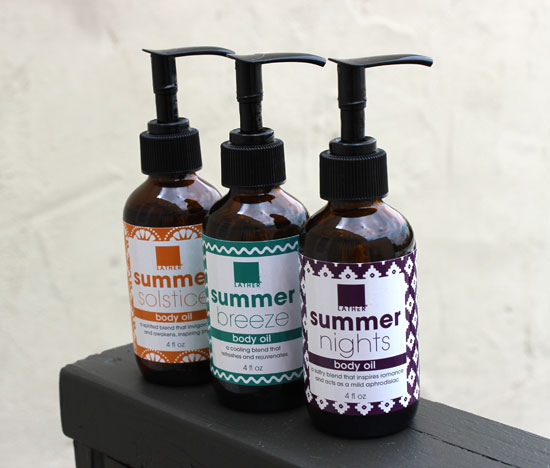 Honestly, when the temperature heats up, oils are not the first thing I think of. However, when LATHER sent me their new Summer Body Oils, I was pleasantly surprised. First of all – they all smell earthy-tropical-sexy. LATHER doesn't mess around with crappy, synthetic scents. They use only natural essential oils that smell legit. I love them all, but my favorite is Summer Nights.
They go on smooth and are easy to apply. The oils include safflower seed oil, which acts as a protective barrier to prevent water loss; sesame seed oil, a natural antibacterial and anti-inflammatory soother; grape seed oil, which is great for dry, chapped skin; plus emollient avocado oil, sweet almond oil, and Vitamin E, which can help heal scars and stretch marks.
I love the pumps too – they make it super easy to get the oil out without making a mess!
Summer Nights – A rich moisturizing oil that delivers soft, supple skin, and includes a sultry, romantic blend of jasmine, neroli, frankincense, lavender, and coriander essential oils.
Summer Solstice – A spirited blend of jasmine, blood orange, and bergamot invigorates and awakens, while the rich moisturizing oil delivers soft, supple skin.
Summer Breeze – A rich moisturizing oil that delivers soft, supple skin, and rejuvenates with a cooling blend of lemon, lavender, juniper, and neroli.
These oils are perfect for that sexy summer massage with the hot pool boy at the cabana…or the "my feet hurt so I'm going to beg my boyfriend/husband for a foot massage while we sit in front of the TV." Whichever angle you're working with, respect!