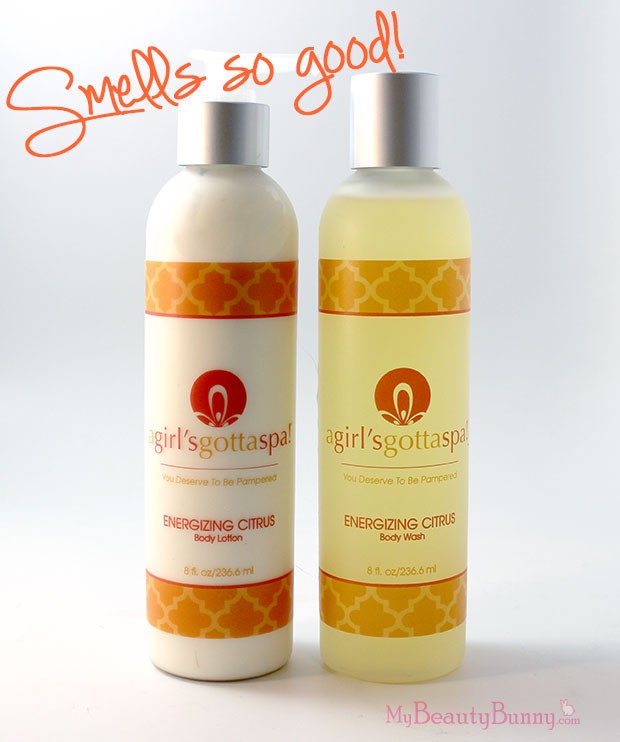 Question of the Week: Which shower gels/body washes/soaps are currently in your shower?
Answer: I love bath washes! They are a necessity, but having a nice body wash is always a little daily luxury. Currently there are three cruelty free body washes in my shower: Tom's of Main Daily Moisture Body Wash in Citrus Berry which is a great everyday cleanser that's kind to my skin, 100% Pure's Coconut Shower Gel which is perfectly scented and always relaxes me, and finally, from my fabulous beauty blogging friend A Girl's Gotta Spa Energizing Citrus Body Wash for when I need some pep in my step! Both the Body Wash and matching Body Lotion (above) are bursting with a lively citrus scent!
Readers – What body washes are currently in your shower?
Please note: not all Lipstick League posts are cruelty free.
Prime Beauty – is amazed at the quality and performance of the Covergirl truNaked Shadow Palettes, not to mention the Oh Sugar Lip Balms!
we heart this – To quote him on Project Runway, the MAC Zac Posen collection makes Stef say "Brava!"
Beautygeeks -loves how a wash of fun liner kicks neutral makeup into Spring. Also: whaddya think of Maybelline's new millennial-friendly tagline?
Beauty Junkies Unite – You don't need an Instagram filter to glow! See how well Laura Geller's new Filter Finish Baked Setting Powder performs for Amber.
Blushing Noir – Making sparse eyebrows look fabulous is no easy task! Check out the tips & products Brooke uses to make her brows WOW!
Clumps of Mascara – I finally found a mascara that has rocked my world. It's far from cheap but it's woooonderful!
EauMG – wants to introduce you to indie perfume brands. This month she focusses on a brand with a cult-following located in the rolling hills of California's wine country.
Gouldylox – This week, Makeup Wars determines the best highlighters for right now. Did your favorite make the list or should you update to something less shiny? We've got the answers!
My Beauty Bunny – We are already dreaming of summer and the beach after getting a look at the latest from tarte! Check out our Tarte Rainforest of the Sea Tutorial and Review for all the details!
My Newest Addiction – Laura shares how she stays Feeling Beautiphil with staples from Cetaphil! There is also a pretty fabulous giveaway for a $100 visa gift card!
Nouveau Cheap – I'm all about affordable beauty hacks, so I put these silicone kitchenware products from the dollar store to the test (for cleaning makeup brushes).
Olive & Ivy – How stunning is this makeup look featuring Charlotte Tilbury's The Vintage Vamp eyeshadow palette?! I'm in absolute love!
Phyrra – Looking for ways to make your blue eyes pop or do you love wearing orange based eyeshadows? Then you need to see the Too Faced Peanut Butter and Jelly Palette!
(Wondering what the Lipstick League is? Find out here.)
Prime Beauty is Currently Craving: the new Charlotte Tilbury Magic Foundation. I need a little magic in my life!