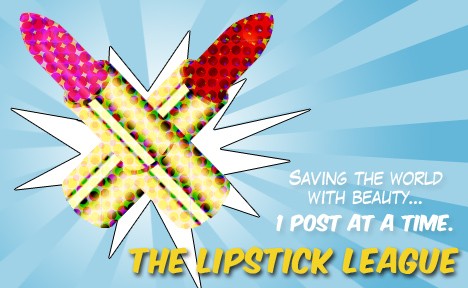 Question of the Week – Do you ever fall into a beauty rut? If so, what types of things help to pull you out of it?
Answer – Sometimes I get into the habit of using the same shades of makeup over and over. Luckily, the time soon comes when I need to try new colors and products because I'm testing them out for the blog. So, that opens my eyes to new things, that I may not have tried on my own!
Readers – do you ever feel like you're in a beauty rut? Same ole, same ole? What do you do to get out of it?
Please Note: Not all Lipstick League posts are cruelty free.
Prime Beauty – has stars in her eyes after reviewing the stunning Dior 5 Colour Eyeshadow Palette in Constellation…satin stars, shimmer stars, purple stars…oh my.
Phyrra – shares her Makeup Wars Favorite Hair Tools. Find out her must have items!
we heart this – want you to know your skin CAN handle the truth. Ole Henriksen's Pure Truth Youth Activating Oil to be exact.
Beauty Junkies Unite – gives you an early peek at the newest member of the Benefit blush family, Rockateur.
Clumps of Mascara – is modeling a sweet pink nail polish with her baby girl.
EauMG – tries the juiciest, ripest peach in the 'fume world, a new limited edition perfume by Providence Perfume Co.
Lipglossiping – explores 5 reasons why your hairdresser hates your guts! Are you guilty as charged?
My Beauty Bunny – This week I revved up my lips with Too Faced's Lip Injection Color Bombs. Check out the swatches of the six new shades of this hydrating and plumping lippie.
Nouveau Cheap – "Revolutionary" is a strong word, but what if I told you that you could combine two manicure steps into one and achieve a really cool nail look at the same time? Meet the new Orly Matte FX Matte Flakie Top Coats.