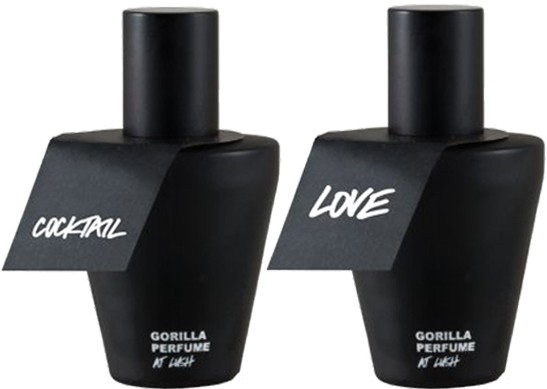 LUSH's Gorilla Perfume Exclusives are the cruelty free, natural girl's approach to perfume! Made with essential oils, each Gorilla Perfume works specifically with your skin's own oils to make you smell uniquely you. I loved the way that these scents smelled really natural instead of synthetic or too much like overly strong perfume.
If you aren't familiar with essential oils, their scent tends to blend rather than mask. These scents are sort of what you'd expect to find in the beauty drawer of a yoga teacher, massage therapist or meditation leader. I felt very earthy wearing them and I'm interested in smelling the other perfumes in their twelve scent product line.
Already obsessed with LUSH's Karma scent, I think these Gorilla Perfume Exclusives have the potential to be just as addictive because of their layering of fragrant notes in each one. Love smelled feminine and soft minus the over powdery finish that most girly fragrances have. It was deliciously romantic. Cocktail was strong with citrus notes and almost smelled like wine (my current favorite) and 1,000 Kisses Deep was somewhere between the two.
Perfect for the beauty lover for the holidays, you can't go wrong with LUSH products. They are unique and pampering without the cheesy packaging. Strongly against animal testing, LUSH offers a variety of natural ingredients within their products, many of which are vegan.