You guys know how much I love LUSH – the company who has actively taken a stand against animal testing! Well, I've been excited to check out their new ALL vegan color cosmetics line – Emotional Brilliance. In typical LUSH tradition, the makeup comes in unique containers that give you the "I made this in my kitchen" feeling.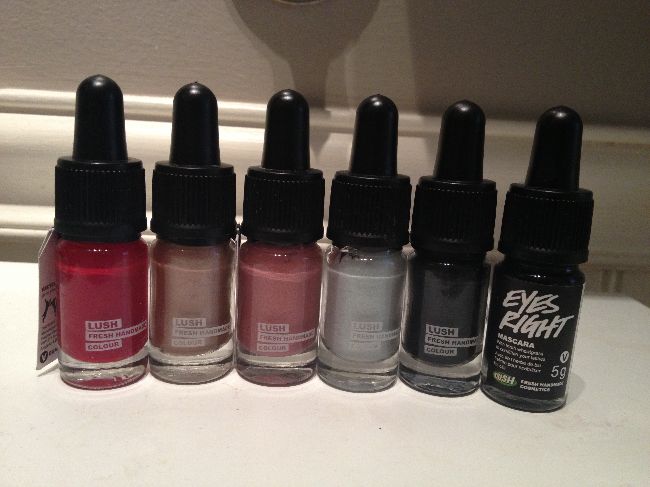 I tried the cream eyeshadows in Sophisticated (taupe) and Focus (silver) – both pictured with and without Too Faced Shadow Insurance primer. I was impressed with how they managed to be so heavily pigmented but so easy to blend into my skin. They are made with a rose petal infusion, almond oil and jojoba oil to baby your skin.
The lipsticks (Perspective – sparkly pink and Decisive – a bold red) come in the same kind of packaging – not exactly purse-friendly. But, I really liked the creamy formulas and was impressed with their staying power (I had trouble getting the Decisive swatch to come off my arm!). I swatched Perspective on a primer in the pics because I actually thought it was an eyeshadow at first. The beauty of these products is that you can actually use them for eyeshadow, lipstick or blush.
The eyeliner comes with a thin brush (in the cap), but I had better luck using my own (firmer) eyeliner brush. It was kind of hard to get a straight line with the built-in brush. I would actually recommend using your own brushes for most of the LUSH cosmetics. Independent (black eyeliner) stays on very well – even without primer.
The Eyes Right mascara is a healthy smudge-free mascara that is actually made with wheatgrass to nourish your lashes! The bottle holds a LOT more mascara than the average mascara tube, but you are supposed to use it up within 3 months of opening (because LUSH doesn't like to use a lot of preservatives). So, make sure you use it daily!
Have you tried any LUSH cosmetics yet? What did you think?
Jen