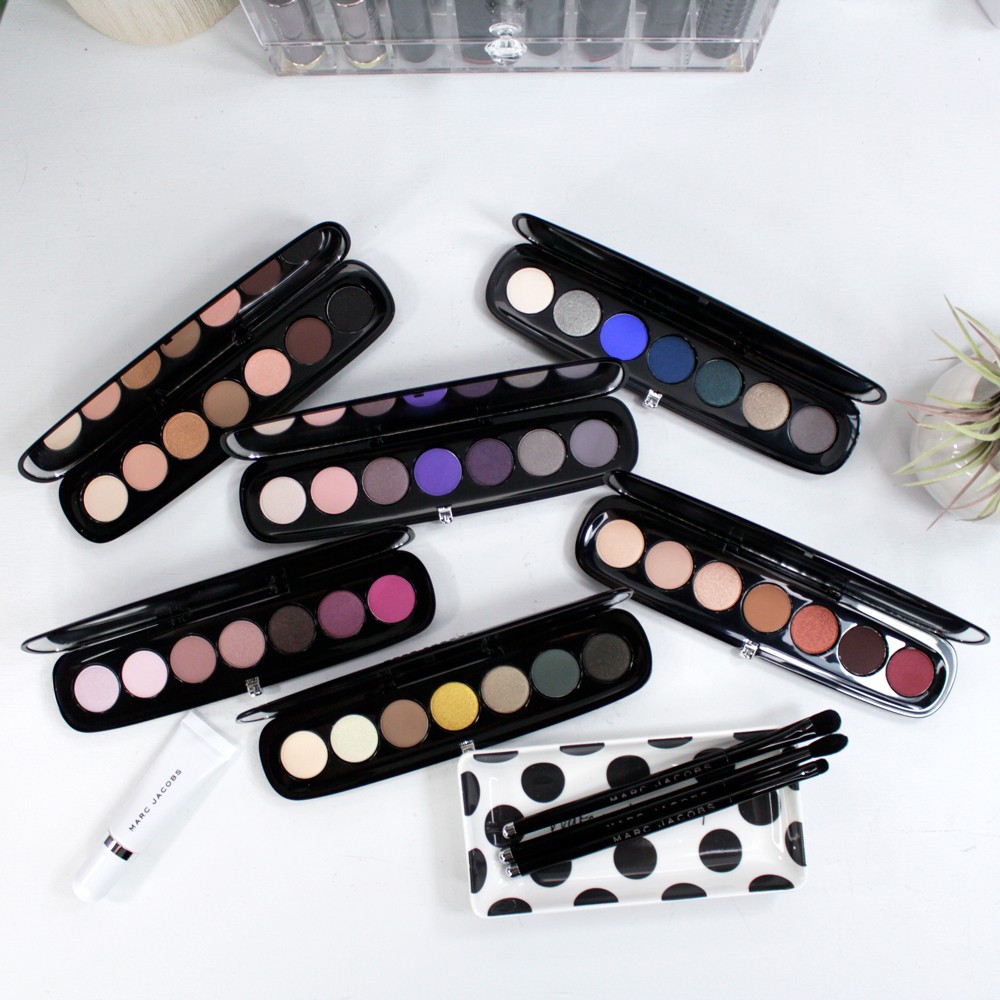 Marc Jacobs Beauty Eye-Conic Eyeshadow Palettes Review and Swatches
There really aren't any couture beauty brands that are cruelty free. Except for one – Marc Jacobs Beauty! There are lots of high-end cruelty free makeup brands, sure, but all of the other fashion houses test on animals. Just to be VERY clear – Marc Jacobs Beauty is cruelty free (owned by Kendo), not sold in China, and doesn't use third parties to test ingredients or the finished products. But Marc Jacobs fragrances is owned by an entirely separate company (Coty) and is NOT cruelty free. For the longest time, I thought Marc Jacobs Beauty wasn't cruelty free, but now that I have confirmed their status, I was excited to try them out for the first time!
They sent me all of their new Eye-Conic eyeshadow palettes to test drive. These colors were inspired by the runways, and each has its own vibe. Each one has shades with four finishes: velvet, satin, silk, and lamé. For our purposes, I'll call them mattes and metallics because I personally can't see much of a difference. I've swatched these for you, so you can see how they look on skin. I noticed that some had amazing pigment and blended easily, while others were a little patchy (most of the mattes were patchy and harder to blend). Most of the colors seemed to be on the more tame, office-friendly side, with a few notable BOLD colors in the mix. The metallics are stand-outs and they're so good, I'd buy the palettes just to get my hands on them.
According to Marc Jacobs, if you read the shade names from left to right you get a short poem (ohhh very clever!). The super slim, seven-shadow palettes were supposedly inspired by the rearview mirror of a car! I can see that. They are very chic, and perfect for slipping into your travel bag.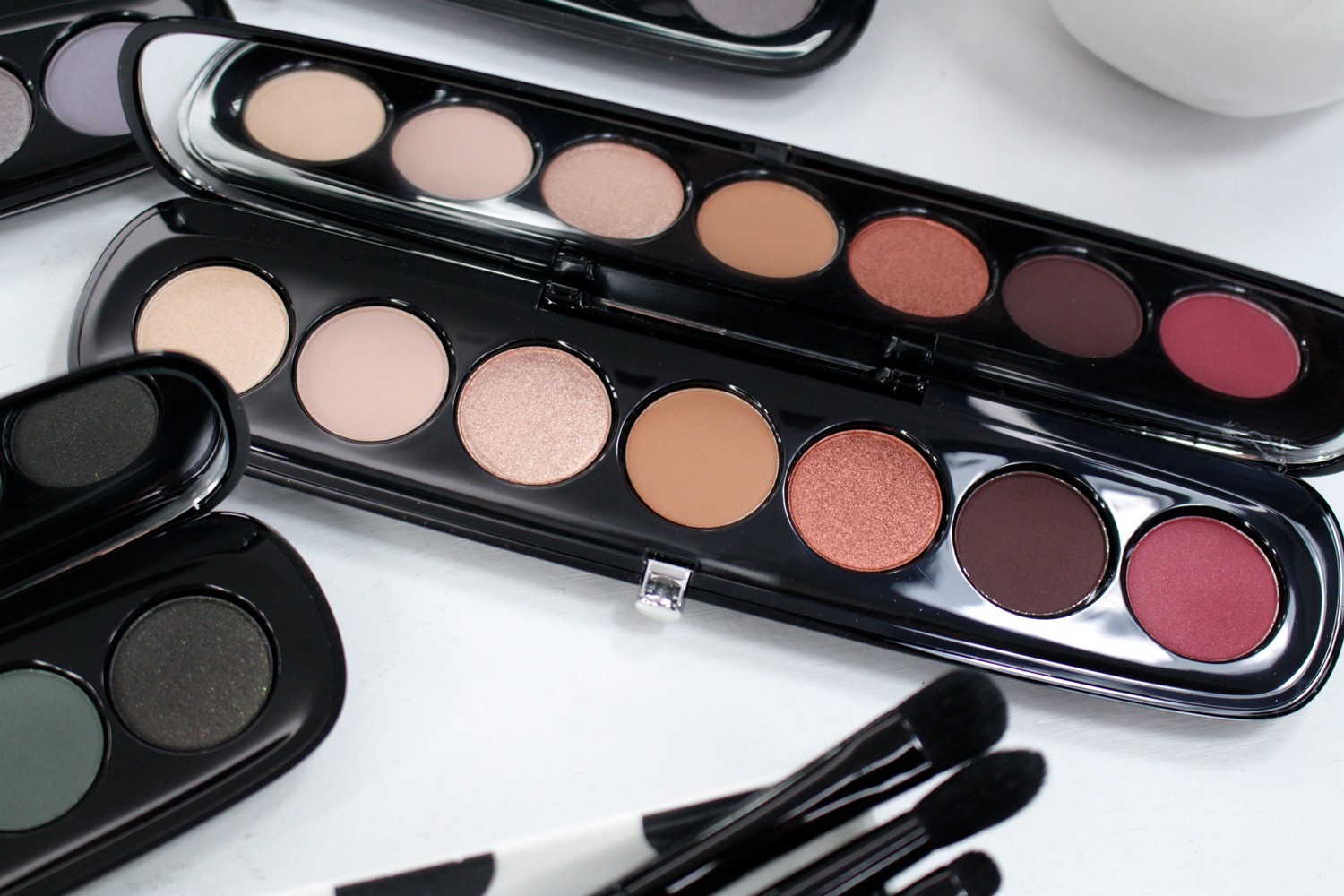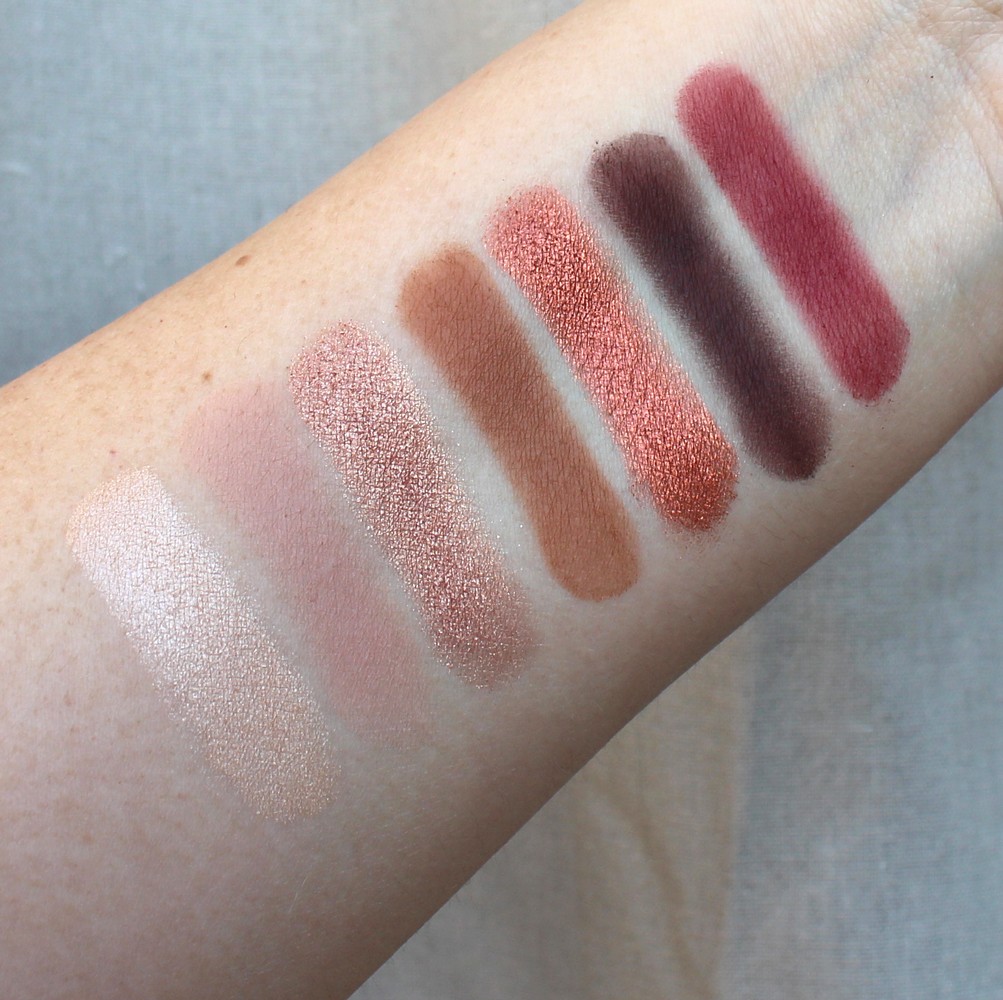 Let's start with my absolute favorite. I am obsessed, obsessed, obsessed with Scandalust – the warm browns and copper shades are SO good you guys. I have been searching for that exact shade of copper for YEARS and finally I have found it! It's reminiscent of a color I used to wear in college that I LOVED!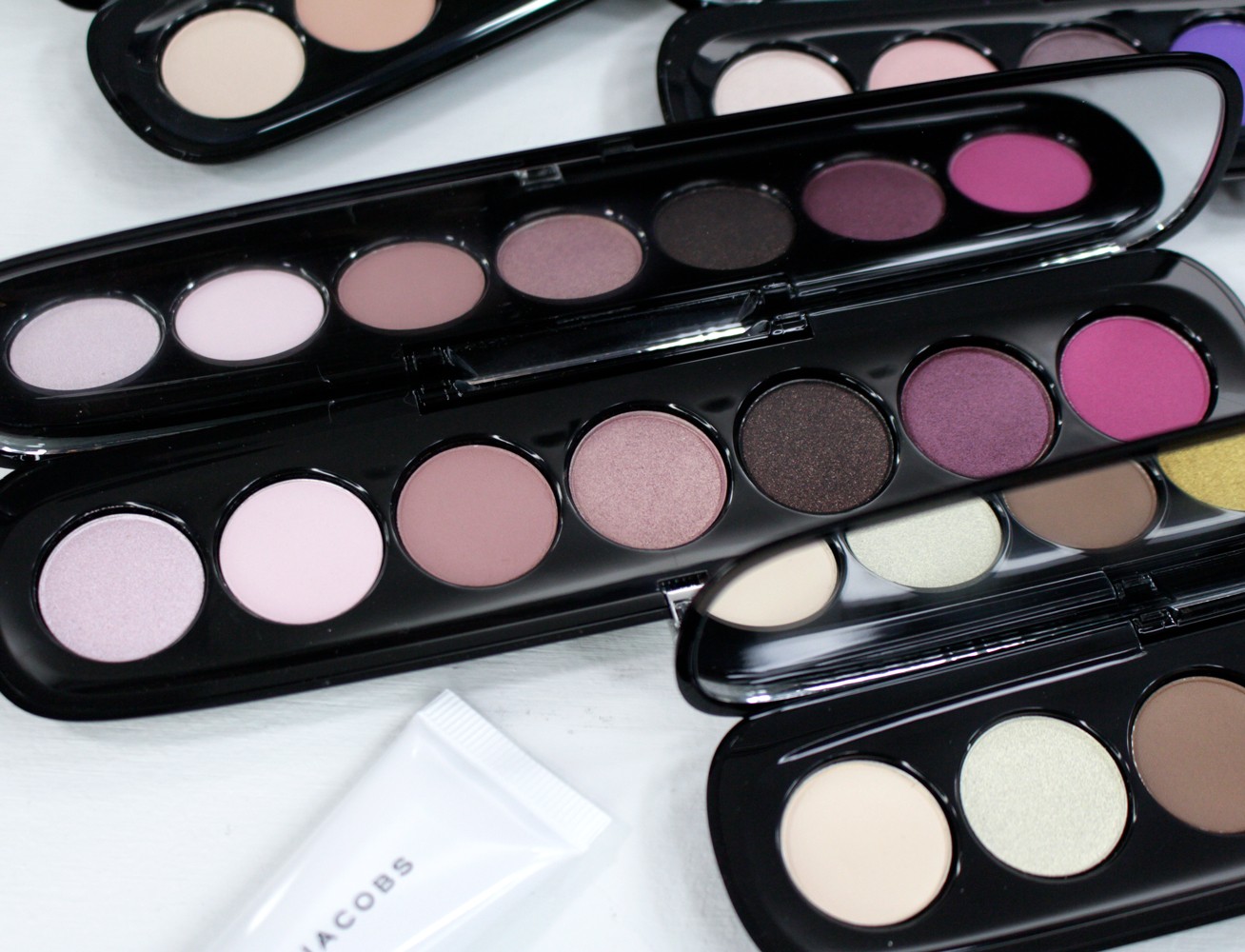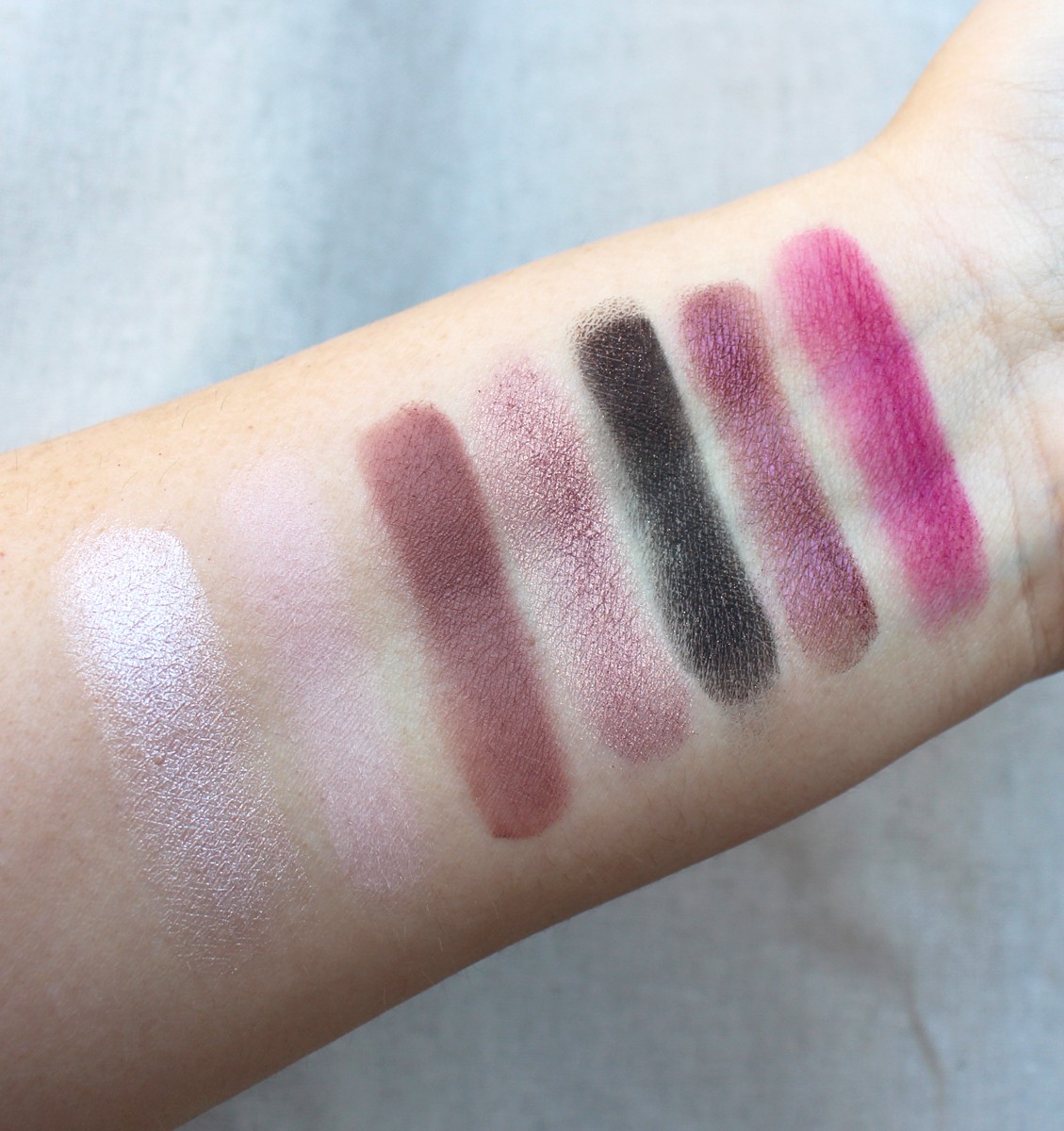 Provcouture is my second favorite of the bunch. I like the dusty mauve, plum and rose gold/plum metallic. The lavender frosty metallic shade is perfect as a highlight. The pale pink is a good mixer, the magenta gives you a nice pop of color, and the black lets you smoke everything out (or use as eyeliner). All in all a good shade mix.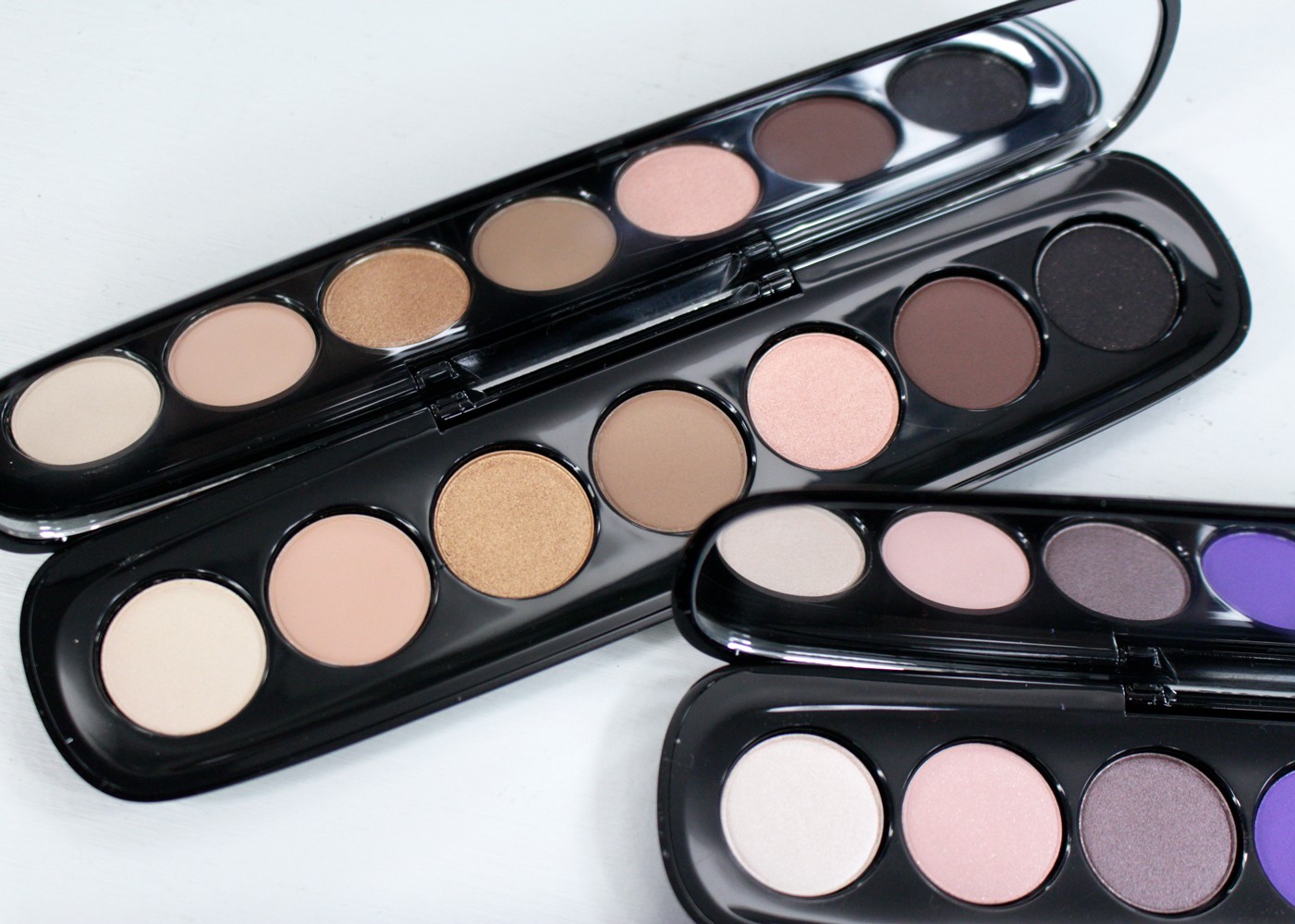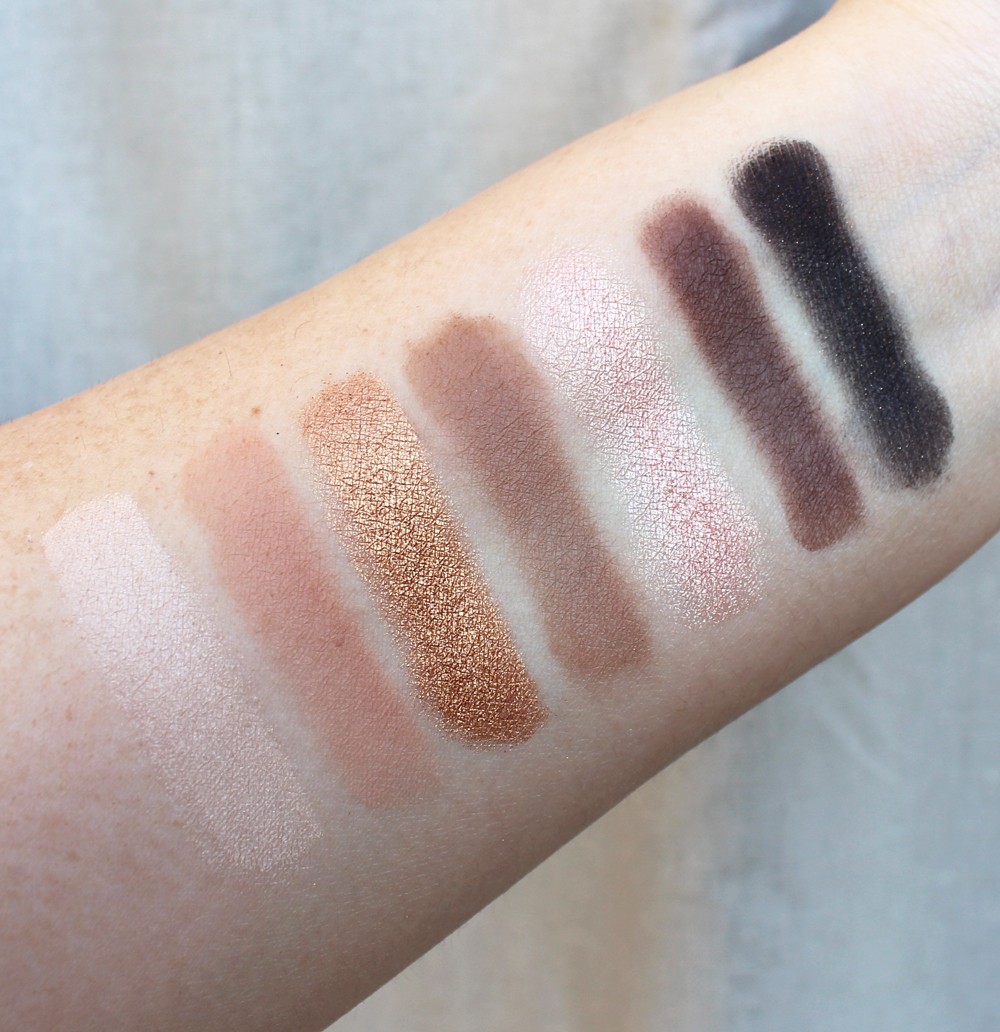 Glambition is a good neutral palette for everyday eye makeup. You can use it for a subtle contour of the eye, or you can smoke it out with the dark brown and black. The metallic gold is a really pretty accent shade and the pink metallic shade makes a great highlight.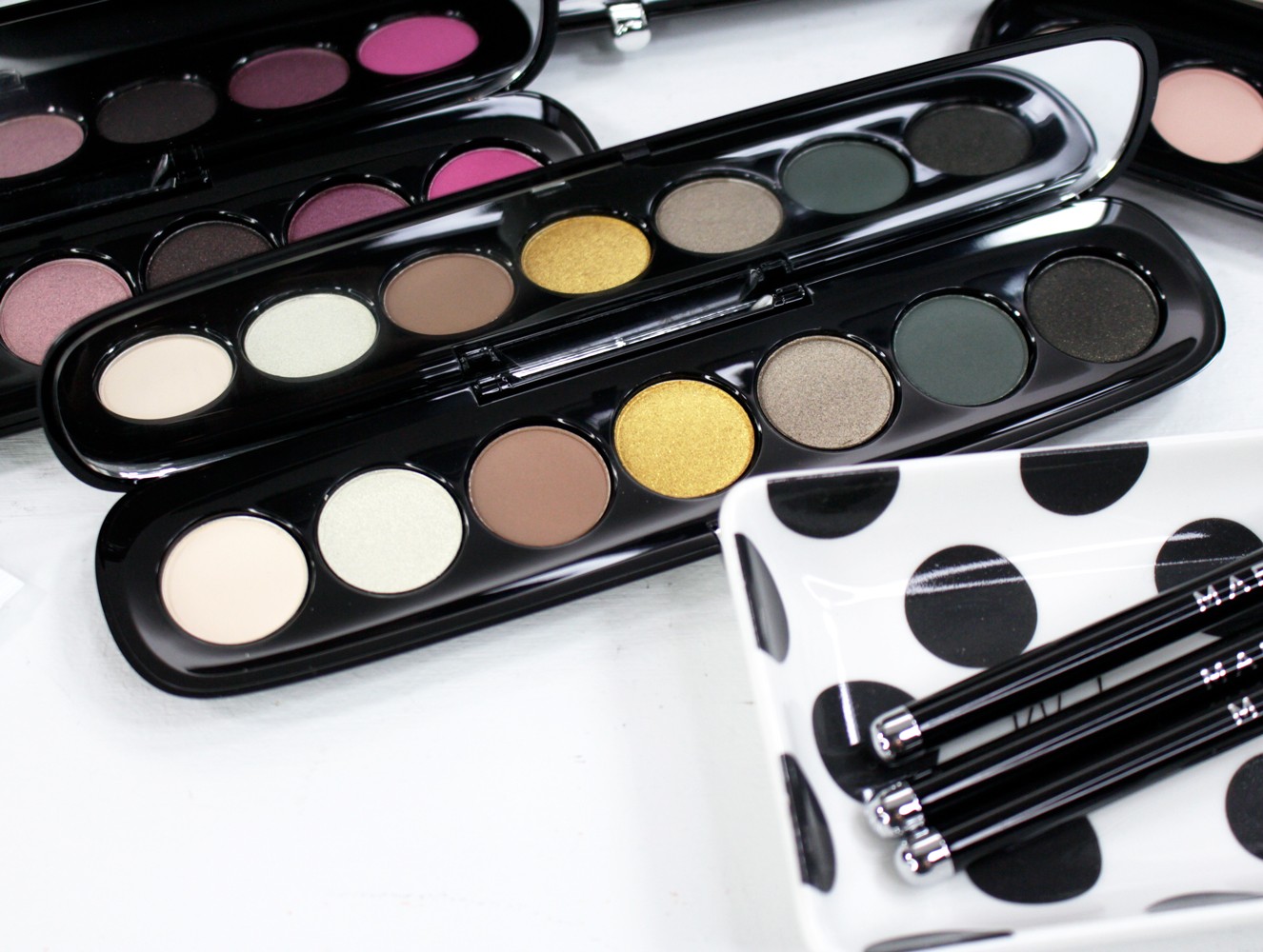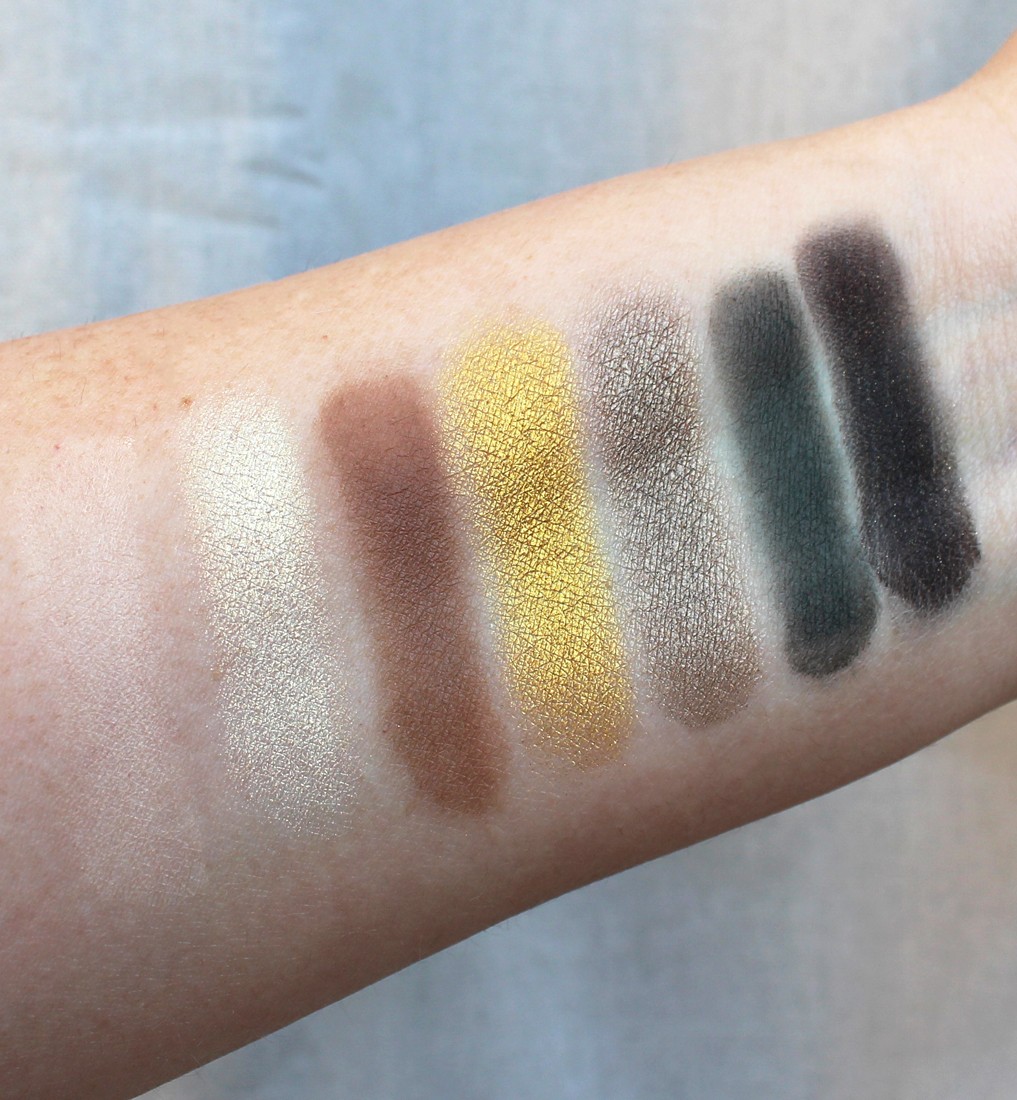 Edgitorial is my least favorite of the bunch. The colors are probably great for someone's skin tone – just not mine! I tend to stay away from cool colors most of the time. And I never do greens or yellows (gold is okay – but not a super yellow gold like this one). I think this might be really pretty on someone with darker skin and red or olive undertones. You may also be wondering why I only swatched six of the seven shades. Well – the first shade is there – I promise – it's just the exact same color as my skin!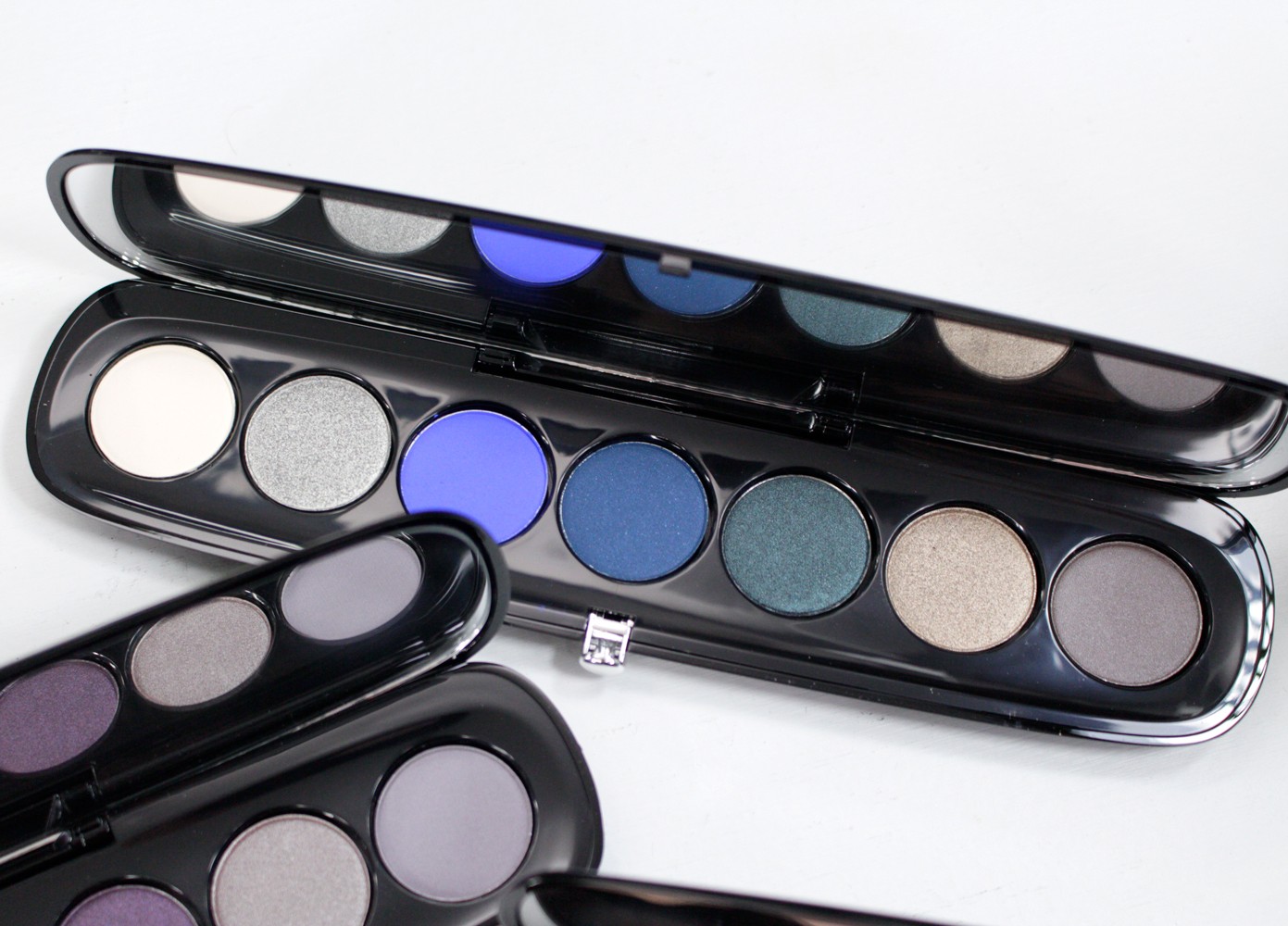 Smartorial is a cool-toned palette with a neutral, metallic silver, bright baby blue, blue green matte, blue green metallic, muddy gold metallic and a greige metallic. Same as the last one, the first shade is there but hardly noticeable because it's the same color as my skin.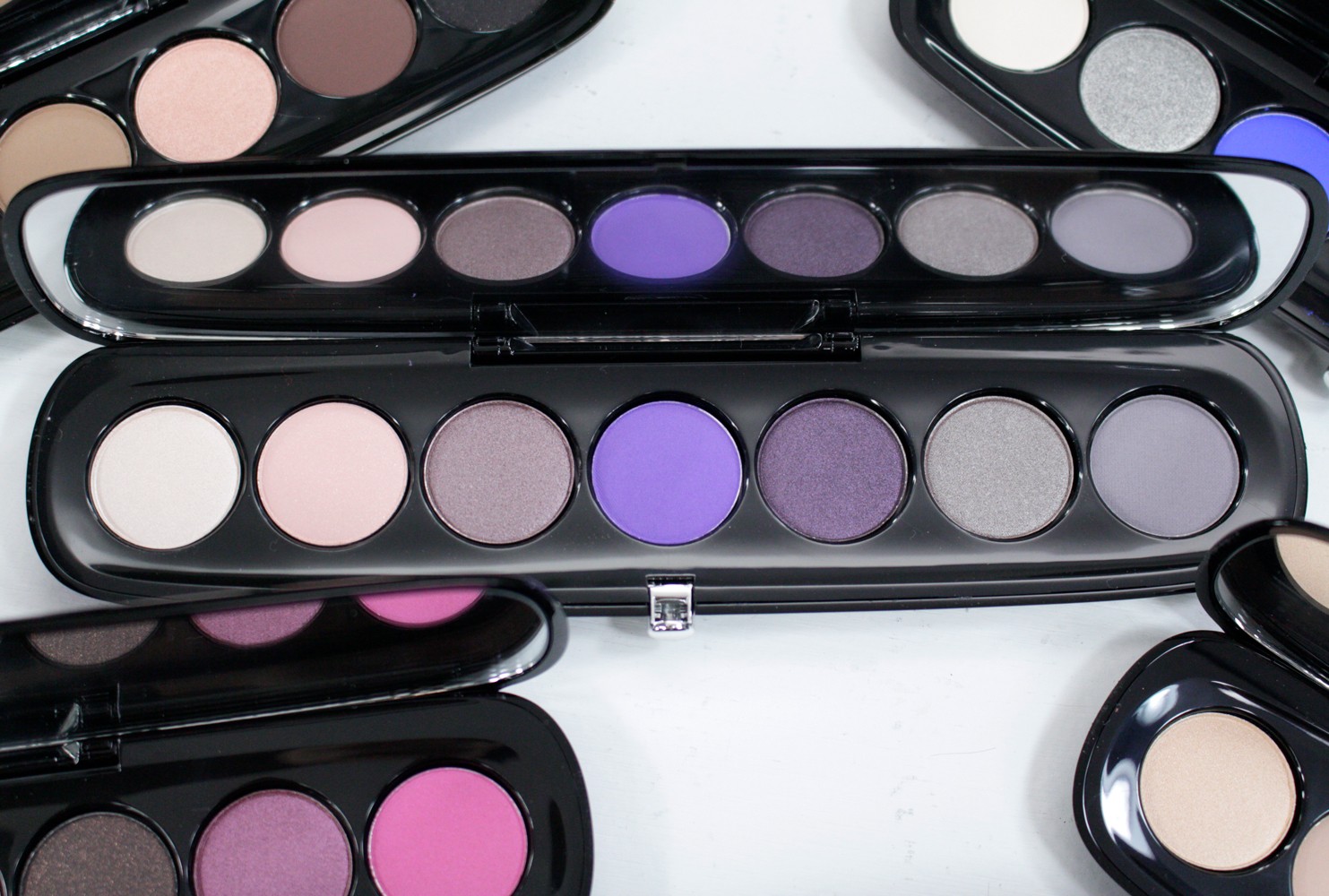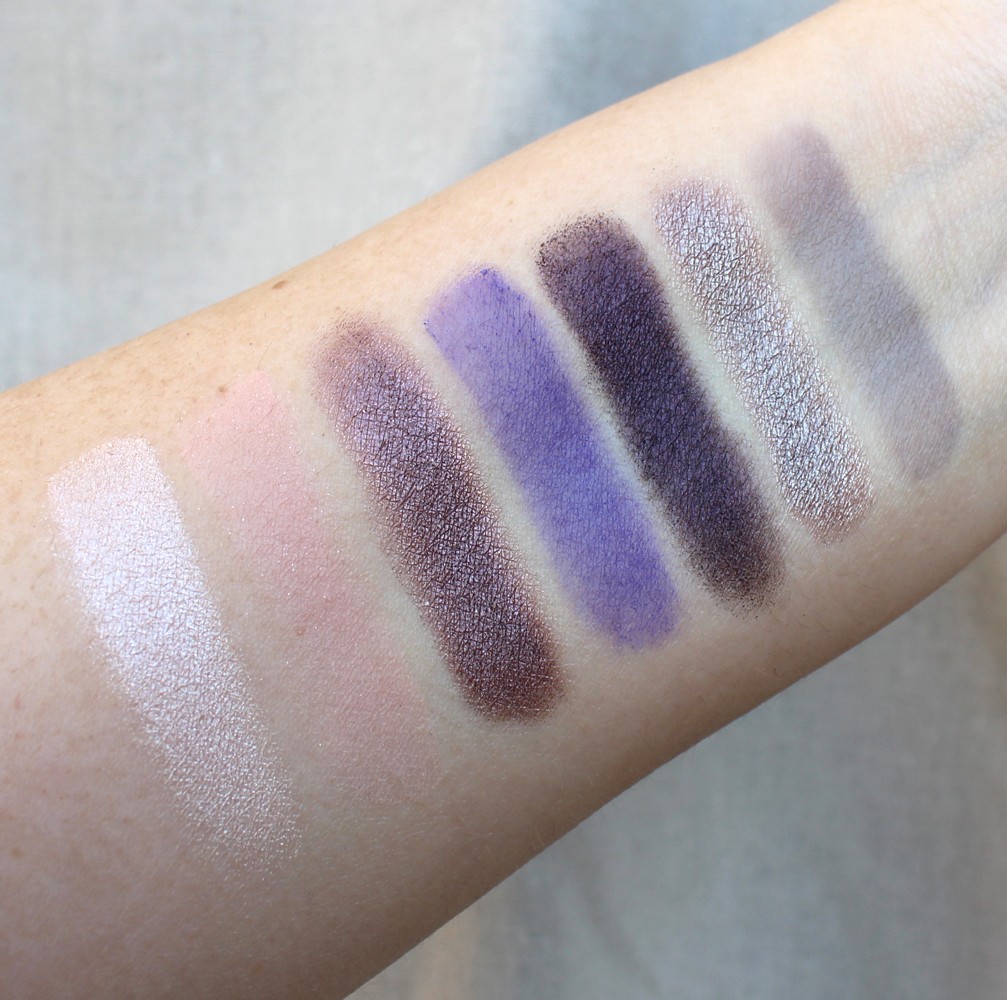 Frivoluxe is a cool toned purple palette. The cool purple metallic has a surprising burst of rose gold shimmer, which I really like. The greige matte and metallic are really pretty and can work on many different skin tones. The shimmery white frost makes a perfect highlight.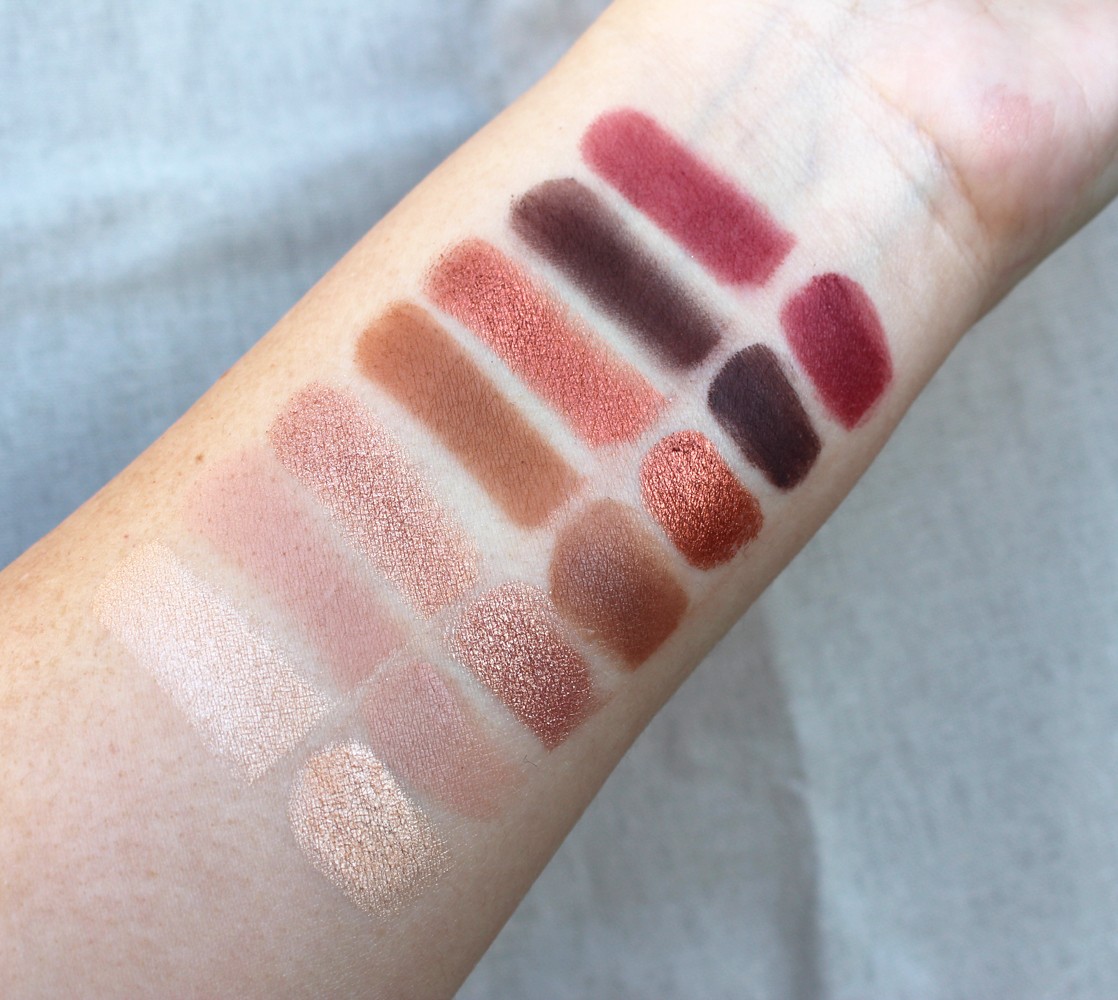 The shadows can be kicked up a notch if you apply them wet. Here I swatched the Scandalust palette dry and wet so you can see the difference (smaller swatches are wet).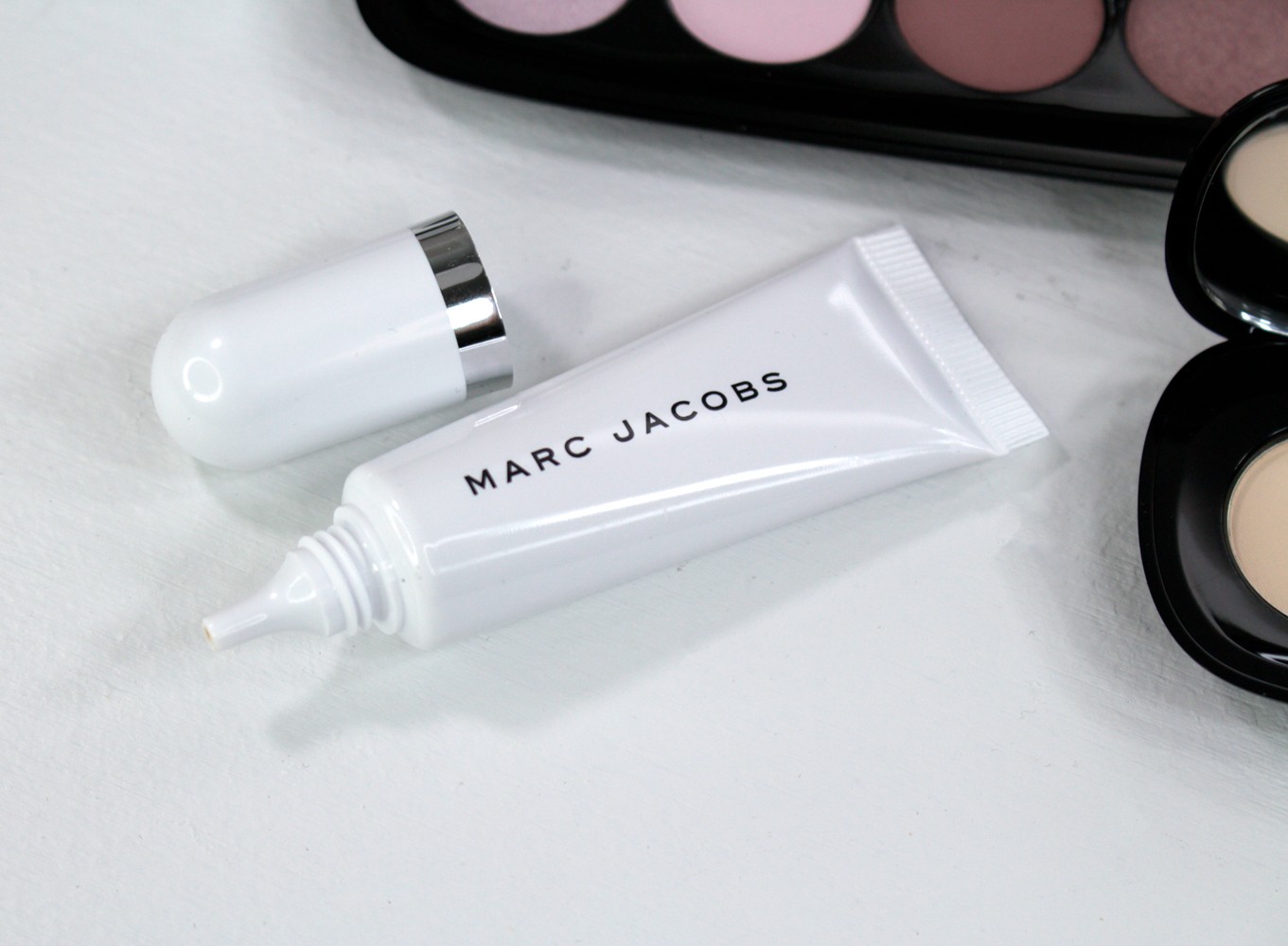 I also tried the Marc Jacobs Beauty Under(Cover) Perfecting Coconut Eye Primer, and unless I did something very wrong, I'm going to have to tell you to skip this one. I applied with my fingertip and buffed it out with a brush. It's a lightly tinted cream primer. I found that it caused the color to REALLY stick, which sounds good, but it made it impossible to blend! It made the shadows much more bold, but also really patchy. It's possible I put too much, or there's some kind of user error here, but since I already know the UD primer works, I'm going to stick with that!