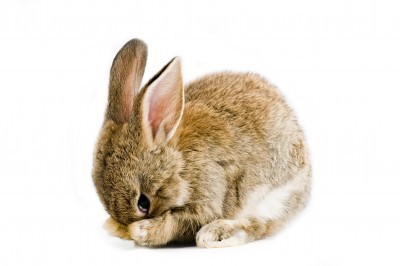 Leaping Bunny debunks common myths about animal testing:
If a product says "Cruelty-Free" or has a bunny on it, that means it hasn't been tested on animals.
This is simply not true as the devil is often in the details. Designation as "cruelty-free" or "not tested on animals," or even the image of a bunny on a label may only refer to the finished product, when in fact, most animal testing occurs at the ingredient level. Furthermore, while a company may claim, "We do not test on animals," it could still contract other companies to do the testing. The only way to be 100% certain a company is cruelty-free is to buy products from companies that have been certified by the Leaping Bunny Program, which requires that no new animal testing be used in any phase of product development by the company, its laboratories, or ingredient suppliers.
The law requires animal testing to be conducted on personal care and cosmetics products.
100% false. Neither the U.S. Food and Drug Administration (FDA) nor the U.S. Consumer Product Safety Commission require animal testing for cosmetics or household products. There are sufficient existing safety data as well as in vitro alternatives to make animal testing for these products obsolete. While it is true that virtually every ingredient, even water, has been tested on animals in the past, we can help prevent future animal testing.
If a product isn't tested on animals, it might not be safe for humans.
Not so! There are many reliable alternatives to using animals available, including cell and tissue cultures and sophisticated computer and mathematical models. Companies can also formulate products using ingredients already determined to be safe. Cruelty-free companies can use a combination of methods to ensure safety, such as employing in vitro tests and/or conducting clinical studies on humans.
It's hard to find products that really are cruelty free.
Quite the contrary! More and more companies are joining the Leaping Bunny Program each month. We now boast over 300 companies including well-known brands such as Mary Kay, Method, Tom's Maine and Urban Decay (Editor's Note: Tom's of Maine operates independently & are cruelty free, but is owned by Colgate, a non-animal-friendly company.). Remember to use our pocket-sized Compassionate Shopping Guide as a resource or download the FREE Leaping Bunny iPhone app from iTunes to have your shopping guide right on your iPhone or iPod!
And, if you want to help without spending a dime, please take a second to sign the Leaping Bunny pledge. It tells lawmakers and businesses that we are serious about cruelty free products!
Copyright 2010 CCIC – Leaping Bunny