Sad update – June 2017 – NARS is no longer cruelty free – the company has decided to sell in China, a country that requires animal testing. Click here for details.
NARS Radiant Creme Foundation has become my latest obsession. It's a creamy formula that dries to a powder finish. It seriously goes on like a dream! The foundation provides weightless medium buildable coverage, skin feels soft and comfortable with moisture levels boosted by 80% after 12 hours, helping to reduce the appearance of fine lines and wrinkles and enhancing your glow.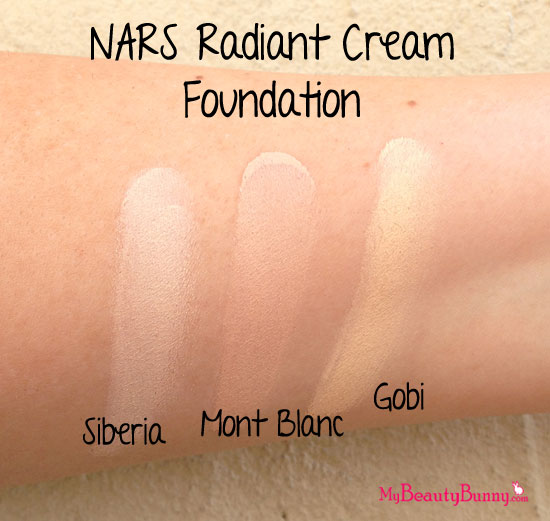 I tried Siberia (the lightest), Mont Blanc (light with pink undertones) and Gobi (light with yellow undertones), and I think Mont Blanc worked best for me. Even though I have neutral undertones leaning toward yellow, the Gobi was just slightly TOO yellow for me. All three worked though and I felt comfortable wearing all of them. I think the way this foundation blends is just amazing. Even if the color is not exact, it still works (which makes buying online less of a risk).
I use my beauty blender instead of the sponge for easier application. But, the compact is nice if you're carrying it around in your purse (or for travel). You can even apply with a wet brush or sponge to get a slightly different level of coverage.
NARS Test Results:
90% noticed their skin looked brighter and more radiant
95% felt their skin was smoother
93% felt the appearance of dry skin was improved
Beginning at 12PM EST from Monday, September 9, through September 28, NARS Cosmetics will be promoting "20 Shades in 20 Days," an initiative where 100 lucky Facebook fans in the United States will have the opportunity to receive a generous, hand-crafted sample of a specific shade highlighted during the day of sign-up.
In addition to the day's shade, each winner will receive a Marketing bulletin providing education about the product, a deluxe sample of PRO-PRIME Pore Refining Primer, and an additional "surprise and delight" that will help them to find their perfect tone. All samples are also hand-numbered, giving the packages an exclusive, personal touch.
Be sure to click over to the NARS Cosmetics Facebook page on Monday at 12PM EST to partake in this exciting opportunity!