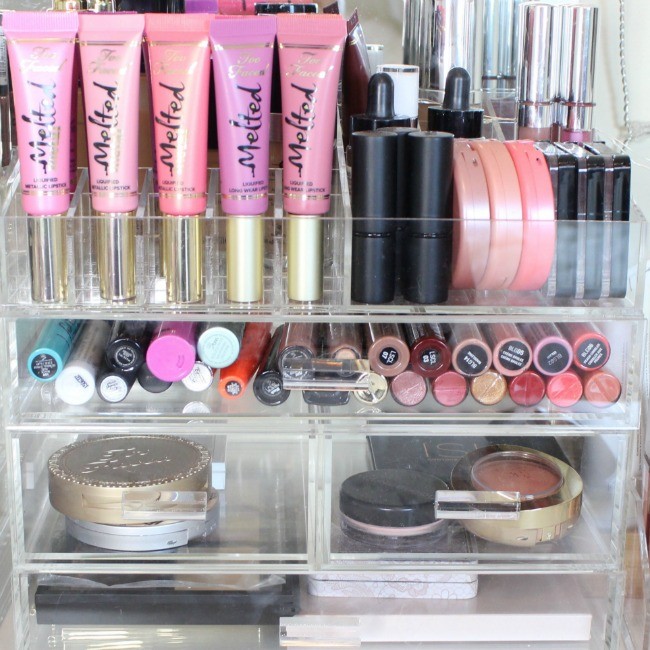 Thursdays with Cheeky Rox: How I Organize My Makeup With Organizta!
As a youtuber and beauty blogger, I've accumulated A LOT of makeup products. I can't just chuck everything into a makeup bag like I did prior to my beauty-review based career. For a while, I was having trouble organizing my makeup because there's just so much of it now! I'd always misplace products and find myself spending way too long looking for specific items in my makeup stash. Now, I use my cruelty-free Organizta Acrylic Cosmetic Organizer and my ever-growing makeup collection is more organized than ever!
The Organizta organizer is a premium, hand-crafted, UV coated acrylic organizer that stores tons of makeup. I like to store my favorite products in my Organizta organizer for quick organization and access since I know I'll be reaching for them often. It sits right on top of my desk and I love that I can see everything through the acrylic – plus it makes a great desk decoration! 😉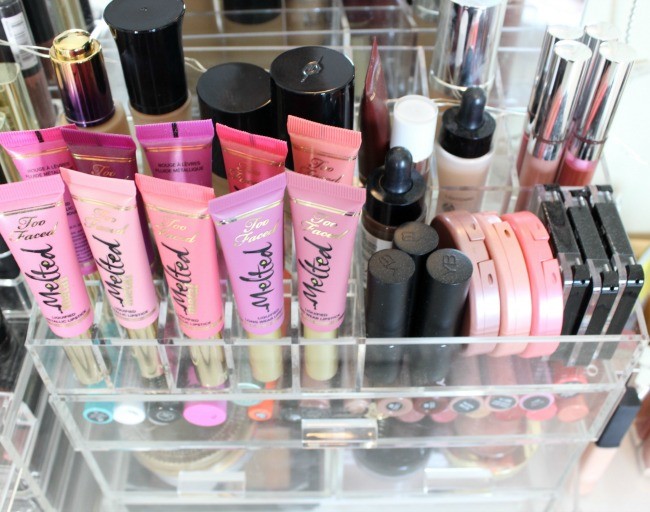 With Organizta there's a place for everything, and everything is in its place! The top section of the organizer is equipped with slots for 10 lipsticks/lipglosses along with several other compartments where I keep foundation bottles, blushes, bronzers, etc. You can even store your makeup brushes, eye lash curlers, nail polishes – basically anything beauty related – in this top section. I even had extra compartments at the back that I left free in case I wanted to add any more products in the future. I love how much storage space you get with this organizer!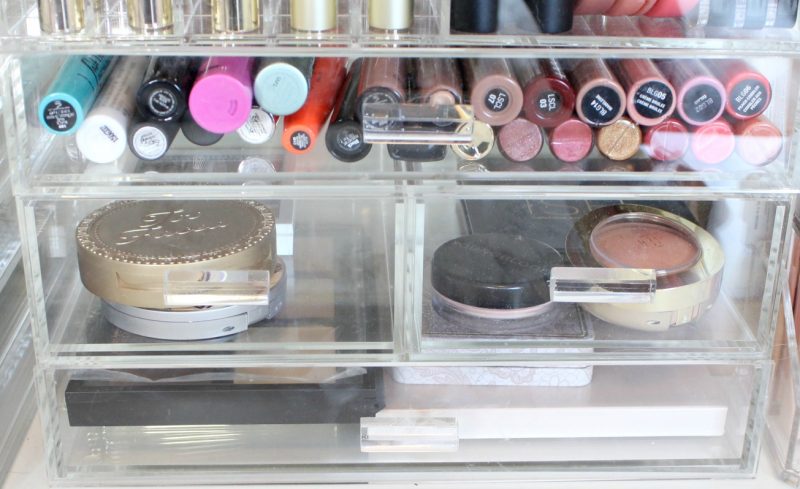 The Organizta Acrylic Cosmetic Organizer has four drawers in the bottom section. There are two large drawers and two half-size drawers. I love keeping my mascaras and lip glosses in the top drawer because the acrylic makes it easy to see specific brands/shade names. This makes it super convenient for me to spot the product I'm looking for. The two smaller drawers are the perfect size for me to keep my favorite blushes and bronzers. Again, I love being able to see the products through the drawers – it's so easy for me to find what I'm looking for! I use the bottom drawer to hold my larger makeup palettes. This is where I store my everyday eyeshadow, contour, and highlighting palettes!
The wonderful thing about the Organizta Acrylic Cosmetic Organizer is that you can organize everything and anything just the way you like! The compartments are quite versatile and suitably sized for a multitude of products. I love the way I've organized my makeup collection using the Organizta Acrylic Cosmetic Organizer and I know you will too! This is a game changer if you have a growing makeup collection like I do 😉