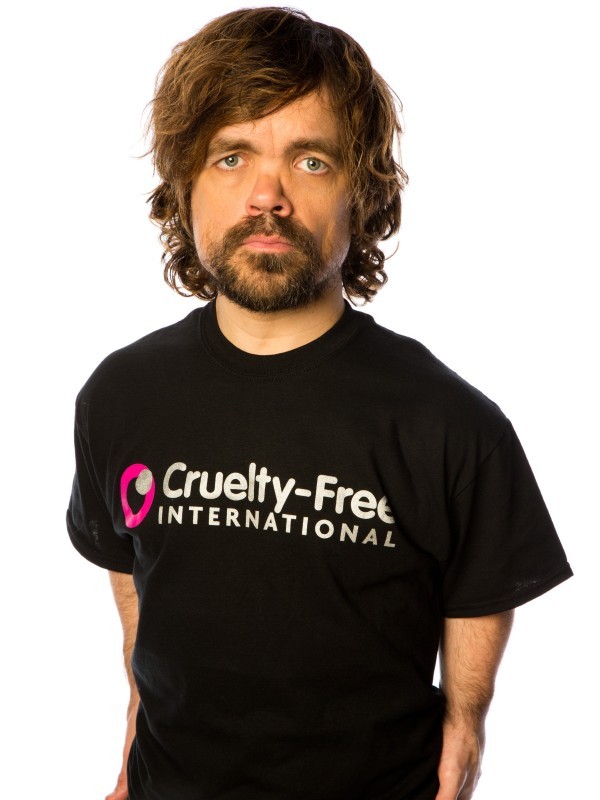 The award-winning actor, Peter Dinklage, has become a global ambassador for Cruelty Free International!
With the new EU ban on the import and sale of new animal tested cosmetics, Peter Dinklage is now joining in the call to the US to end cosmetics tests on animals.
Peter Dinklage, known for his show-stealing role as Tyrion Lannister in Game of Thrones states: "I am so pleased to support Cruelty Free International and be part of the global campaign to end cosmetics tests on animals. It is unacceptable that animals continue to suffer around the world, including the United States of America, for the sake of beauty. I appeal to the USA to follow the European Union's lead and end animal testing for cosmetics."
Peter posed in a Cruelty Free International t-shirt to raise awareness of the continued cruel use of animals to test everyday beauty products and toiletries from soap to toothpaste.
Shockingly, over 80% of the world – including the US – still allows animals to be used in unnecessary and cruel experiments for beauty products. Find out more about Cruelty Free International campaign in the USA.
Here are three easy things you can do to help:
• Sign and share the global pledge to end animal testing for cosmetics in the US and worldwide.
• Join the Cruelty Free International community on Facebook and Twitter to stay up to date with the latest news about the campaign.
• Give a gift to help end animal testing for cosmetics forever.
With your support Cruelty Free International will take their message to decision-makers in the US and around the globe to end this unnecessary animal suffering.