Veganlicious Mondays: Purminerals Vegan Lengthening Mascara Review
Mascara is one arena where cruelty free cosmetics have REALLY come into their own. There is a huge variety, from natural looks to formulas for va-va-voluminous lashes. There is, quite literally, something for everyone.
Pürminerals is one cruelty free staple that offers a number of different mascara options. For the record, they also offer an entire line of face, eye, and lip makeup in addition to an equally varied line of skincare. They are ALWAYS cruelty-free, and also work hard to make their products more environmentally responsible than most. Their products are available online as well as at stores such as Kohl's and ULTA.
I tried out the Big Look Lengthening Mascara (the non-waterproof variety) which is happily vegan!

While the mascara comes in a pink tube, don't be alarmed! It's regular black underneath (pretty cool illusion they played on us though!) The wand has a slightly flexible, plastic brush, with small bristles. A coat or two was plenty to achieve a simple, natural look. However, applying a few more coats gave me the volume that I love. It didn't scream "I'm going out clubbing," but was in that perfect middle range of everyday/still want to look great and maybe a bit dramatic. This would really be a great, everyday, go-to mascara. (Check out the before and after pictures – for the sake of review purity, I'm not wearing any other makeup.)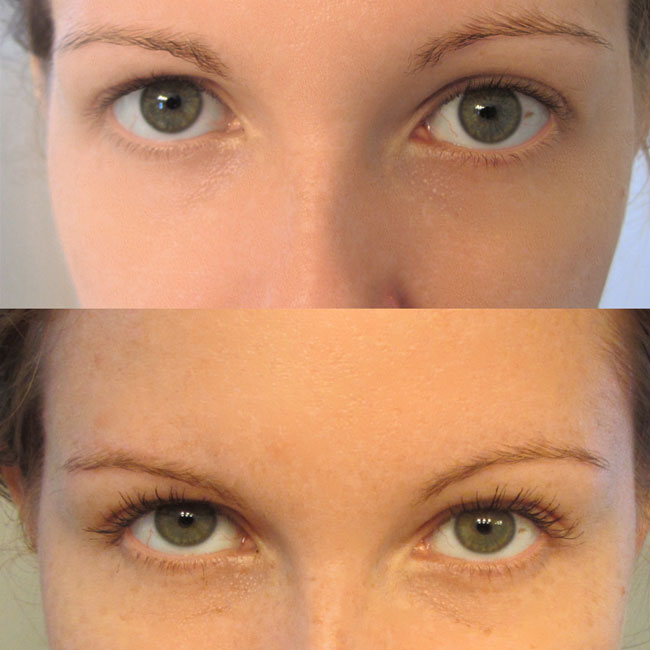 This mascara is fortified with argan oil, a miracle moisturizing oil popping up everything from hair conditioner to…well…mascara! The oil will protect and nourish your lashes, helping them grow longer naturally. And for those of you prone to getting caught in the rain and/or fits of emotion, please note that this mascara also comes in a waterproof formula (please note that the waterproof formula is NOT vegan.)
If you want to REALLY apply it on thick, I suggest having an eyelash comb nearby. The mascara wasn't clumpy at all compared to others I've used, but you don't want things to get out of hand. The look lasted all day, and washed off easily in the shower without any special (and expensive) remover.
So the next time you want to get your way…try a few coats of Big Look Lengthening Mascara and then bat those beautiful baby blues/greens/browns!
To find out more about Pürminerals, visit their website, or Facebook page!