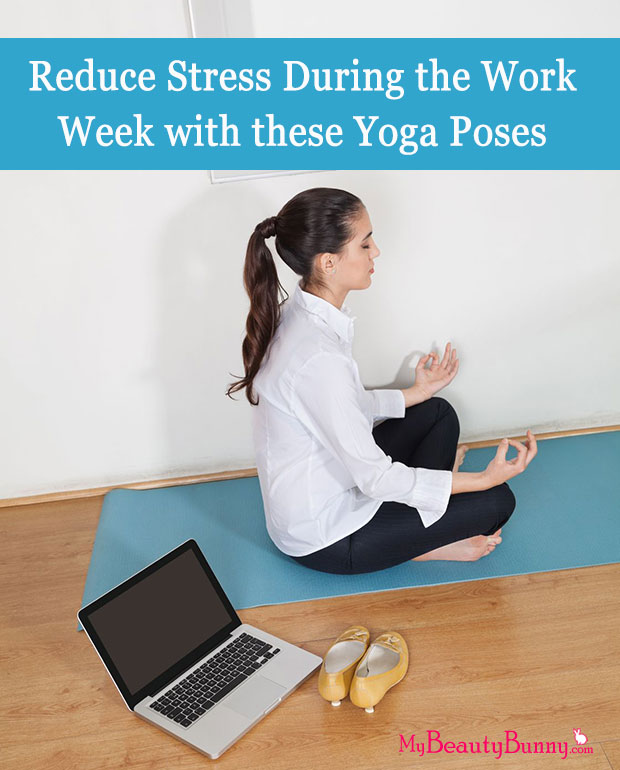 The work week can get hectic and stressful, but with a few simple yoga moves, you can reduce stress and enjoy greater health. As an added benefit, you'll sleep better, feel better, gain flexibility, improve muscle tone and improve confidence. The actual poses will help to relieve tension in specific parts of the body while the concentration on breathing will bring a sense of calm and peacefulness.
Child's Pose – This resting posture can help quiet the mind and reduce stress while stretching the back. Simply kneel on your yoga mat or towel, resting your bottom on the back of your legs and bring your body forward, stretching your arms out above your head. Rest palms, face down on the floor.
Bridge Pose – This pose gently stretches the legs and back while alleviating tension, anxiety, fatigue and stress. Lie on your back. Then, bring your knees up so your feet are resting flat on the floor. Gently raise your hips, leaving shoulders on the floor. Keep body in a straight line. Bend forearms up at a 90 degree angle. Chin should rest on your chest.
Standing Forward Bend – This pose is frequently used as a transition between poses, but it also provides numerous benefits when used on its own as a pose. This pose stretches the hips, hamstrings and thighs while relieving stress and fatigue. Stand straight with hands above your head. Bend forward and rest hands, palms down, on the floor. For a more relaxed pose, slightly bend your knees.
Extended Triangle Pose – This is a pose that offers exceptional stress relieving benefits. It's one of yoga's foundational postures and provides an effective stretch for the entire body. From a standing position, with feet about shoulder width apart, extend both arms out to either side of your body. Gently lean to one side, keeping arms apart, and rest the back of your downward hand against the inside of your knee. Your opposite hand should be facing upwards at a 90 degree angle from the floor. Turn your head to look at your fingertips. Hold pose, then repeat on other side.
Savasana – Most yoga sessions end with several minutes in Savasana (AKA Corpse Pose). This pose allows you to put your body completely at rest, emphasizing total relaxation. This relaxation pose encourages calm and quiet for excellent stress relief. Lie flat on your back, feet together and arms at your side. Focus on the rise and fall of your breath and just relax. It might be harder than you think, but once you master the art of relaxation, this pose can bring wonderful stress relief.
There are many yoga poses that can help manage stress, anxiety and fatigue. Get started with these poses and you'll soon be able to begin incorporating some more advanced poses. Most experts recommend yoga as a great way to relieve stress and improve overall health and wellness. And try to remember to breathe deeply while you're working. A few deep breaths can relax your nervous system and reduce anxiety.