Fight The Signs of Aging with SheaMoisture
Being the SheaMoisture super fan that I am, I decided to sample a few of their skincare products from the Superfruit Complex line since I've already loved several of their bath and body products. I'm in my mid-thirties, so my skin already shows some signs of aging with fine lines, some hyperpigmentation and freckles from my summer sunkissed past. When I was in my twenties, my biggest issue was acne, but that got traded for uneven skin tone and spotting as I entered my thirties. Yay. Did I mention I'm a new mom too? So on top of all those beautiful attributes, I've got that "tired eye" look more often than I'd like. Yay for being an adult!
SheaMoisture has been a major go to brand for all my bath and body needs, and same for my new baby. It's gentle, healthy and effective. No parabens, no sulfates, and natural, organic ingredients are used whenever possible. All things I want in a skincare line.
The SheaMoisture SuperFruit Complex line focuses on being an antioxidant rich set of products that help keep skin youthful by keeping it moisturized, smooth and nourished. Shea butter and Mango butter keep skin moisturized while red raspberry, goji, acai and guava extracts fight free radicals and renew the skin.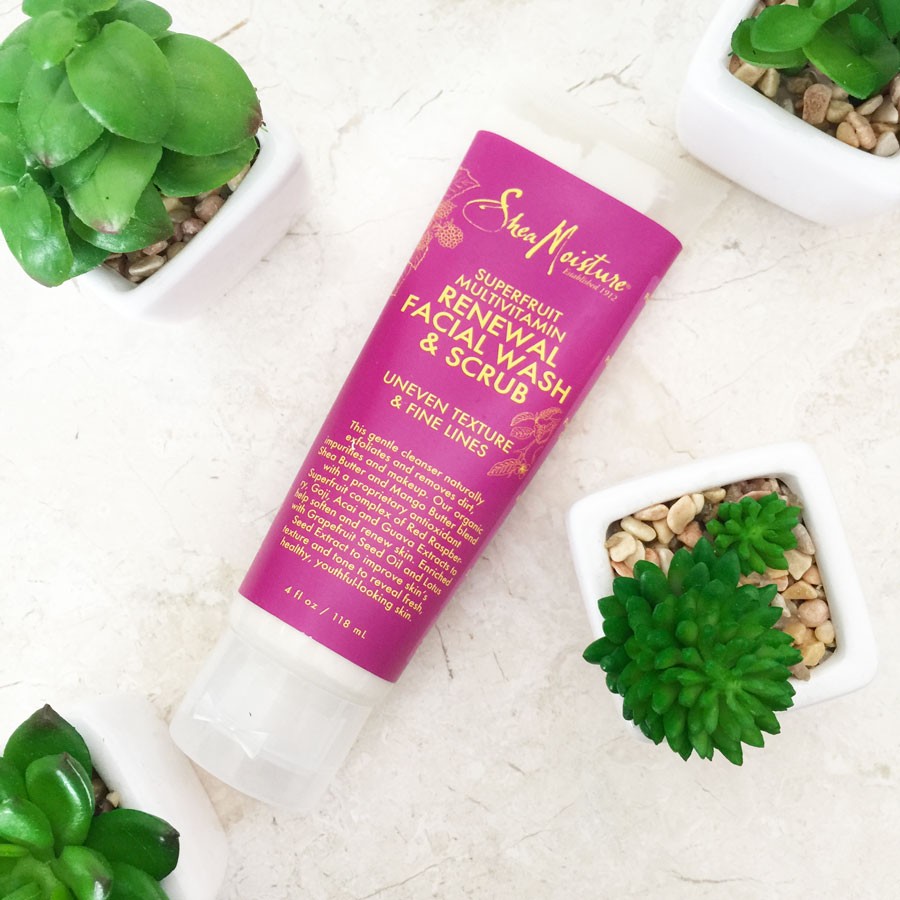 I usually wash my face in the shower or do any scrubs that I have on hand. The SheaMoisture Superfruit Renewal Face Wash & Scrub gently cleans and softens at the same time. I feel like this scrub uses jojoba granules to exfoliate but I don't see it in the ingredient list, I'm not quite sure what the exfoliant is in this product but I do know my skin feels ultra soft and clean after using it.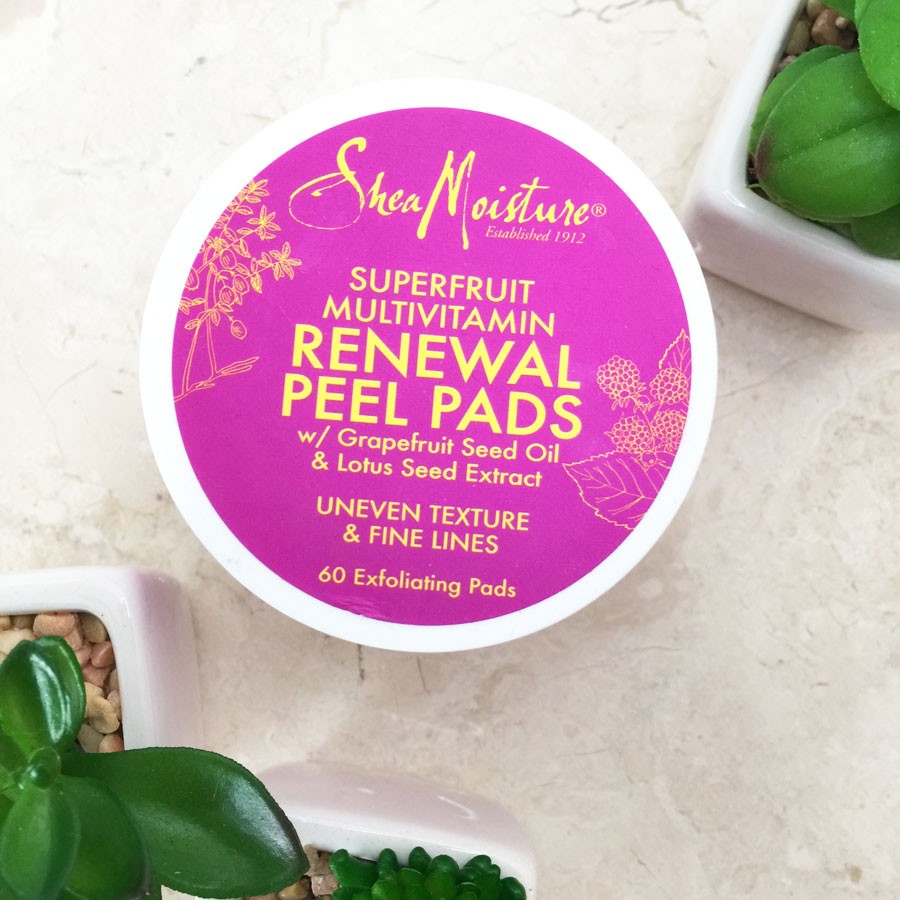 I'm big on exfoliation so when I saw that SheaMoisture had Superfruit Multi-vitamins Renewal Peel Pads I knew I had to try them. The textured pads help lift and remove dead skin cells with the help of a glycolic acid solution. I found these pads to be different from any other exfoliation pads I've tried because it leaves a thin moisturizing layer on the skin, instead of leaving it dry afterwards. The directions say you can use them once or twice daily, but my skin could not handle that, and I opted to use them a couple times a week after washing my face in the shower. Often times exfoliating pads will bring "up and out" pimples from the past, but luckily these didn't. My skin looked great in the morning each time I used them and I hope that with continued use the glycolic acid will help with some pesky sun spots I have on my cheeks.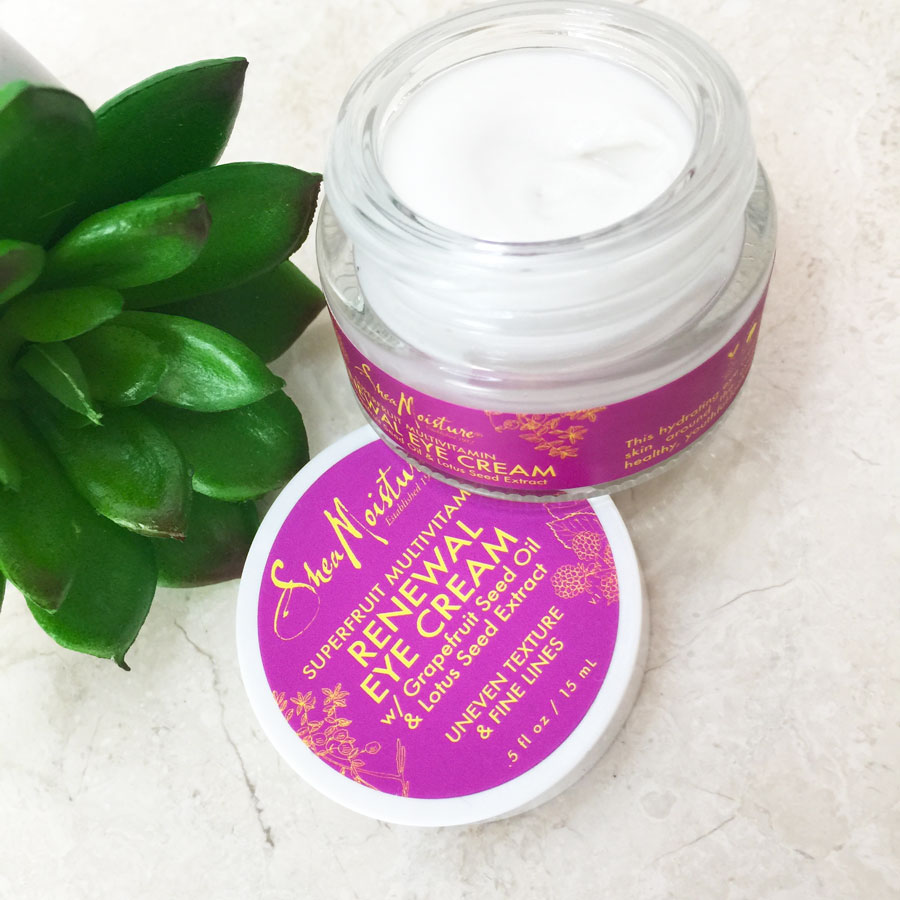 Since this new mommy has "tired eyes" I figured it was time to try out an eye cream. I'll admit, I'm pretty bad at remembering to use eye cream. So many things to do and remember and eye cream is not at the top of that list. But I love SheaMoisture so I figured, what the hey, let's give the Superfruit multi-vitamin renewal eye cream a try.  I love that this cream didn't feel heavy and made my skin feel fresh after patting it in. It also has grapefruit seed oil which has gentle alpha-hydroxy acids in it to help with skin renewal, while lotus seed extract strengthens the delicate skin around the eye. The cream does come in a pot which I know some people find icky, but I don't mind. I'm the only one using it, and I use it with clean hands. My husband has been eyeing this cream and I suspect I'll have to buy another pot so he gets to use his own.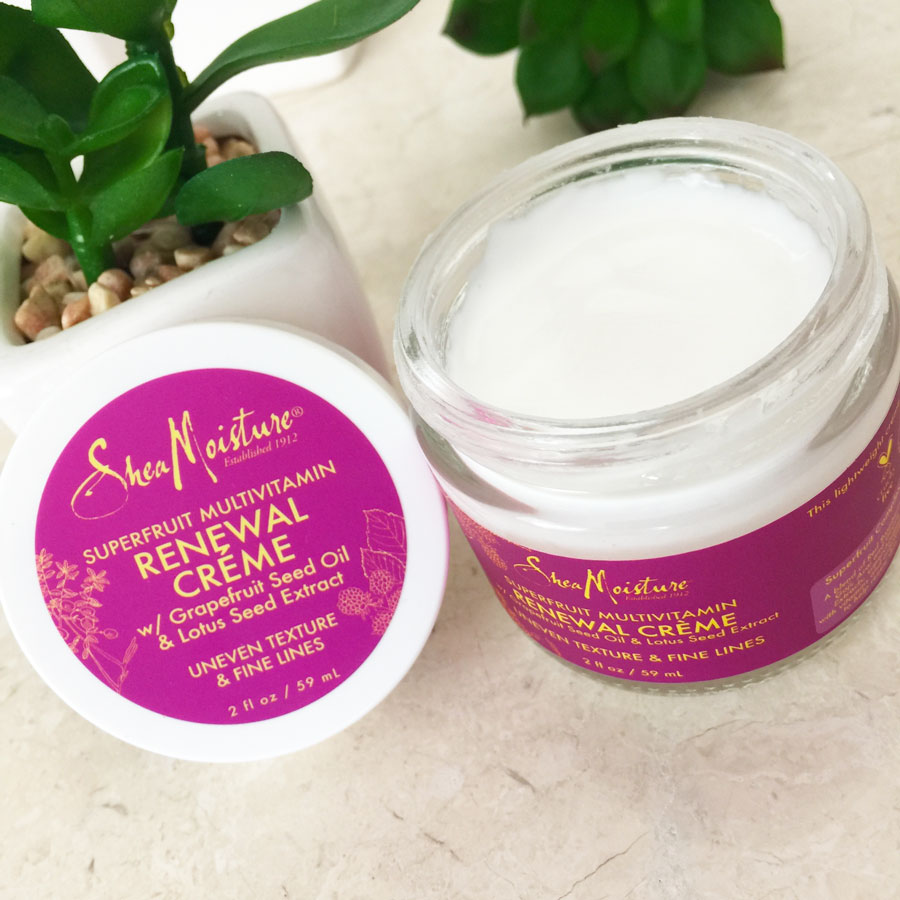 Lastly, I always make sure to use a moisturizer in the morning and night. Mornings I usually use a moisturizer with SPF, but nights I would go for the Superfruit Multi-Vitamin Renewal Creme. Especially important when using glycolic products in the PM. I wouldn't say I have acneic skin anymore, but if I use the wrong products, it can definitely bring on the pimples. My normal to combo skin appreciated the lightweight feel of this creme, and felt like it did the job nicely. This creme also contains grapefruit seed oil that helps with cell turn over and vitamins and antioxidants for a glowing complexion. This also comes in a pot instead of a pump bottle, but at a generous size so I'm very happy.
There are so many products just in the Superfruit Complex line alone that I want to try. The hair care masques, the leave in detangler and lip products are next on my list. The facial products above can all be found at ULTA, but you can see the entire line at SheaMoisture.com.