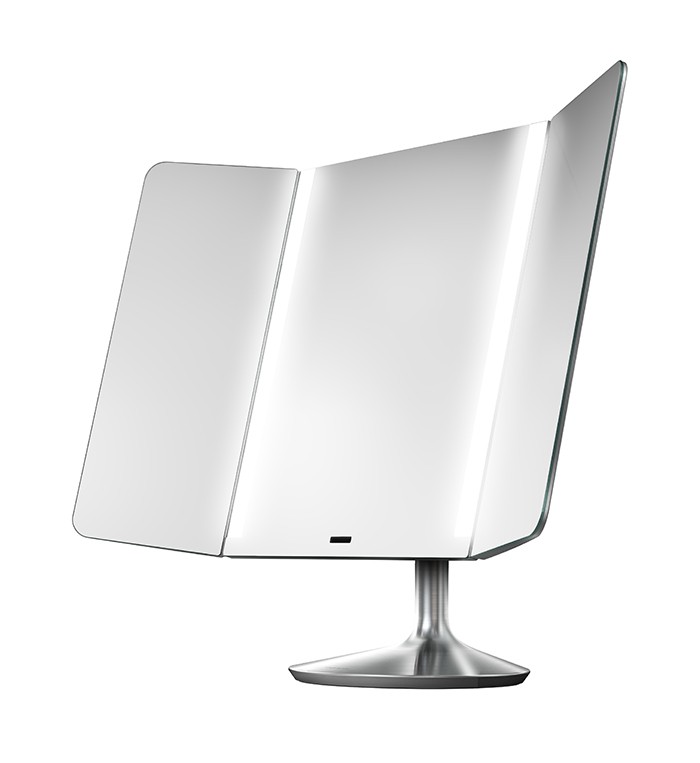 Need an advanced mirror capable of taking your makeup to the next level? The Cadillac of mirrors, AKA the simplehuman Wide-View Sensor Mirror, intends to do just that. Think of it as a smart mirror whose sole purpose is to help you look your best.
I think the slogan "see yourself in the best light" describes the mirror perfectly. This luxury mirror offers a wide range of features to help me perfect my look, no matter where I might be going. It's much more than a lighted mirror.
The stainless steel base matches most any decor. It measures 16.1 inches tall x 20.3 inches wide x 7.1 inches deep for the best view possible. View the full specs on the simplehuman website.
Magnification And Angles
I always want a mirror that's adjustable to my needs. The simplehuman mirror offers one time magnification. With the large three panel, wide angle viewing area, that's all I need. The side panels are adjustable, giving anyone the perfect viewing angle to apply makeup, style hair, or tweeze all those little hairs you didn't realize you had!
Color Correct View
It's so hard to get natural lighting when you're putting on makeup! Most bathroom and bedroom lights are too yellow – the light never shows what your makeup ACTUALLY looks like. The tru-lux LED light system is designed to provide you with natural sunlight. I like that there are two lights placed at the edges of the center panel to provide more even lighting. I can finally see what I'm doing! This is only the basic light setting, but we'll cover additional settings in a moment.
Adaptive And Punctual
I'm sure I'm not the only one who starts applying makeup and suddenly loses track of time. Not only does the mirror automatically turn on as a face gets close to it, it also flashes the lights to help me stay on schedule. Don't worry, the alarm feature is adjustable.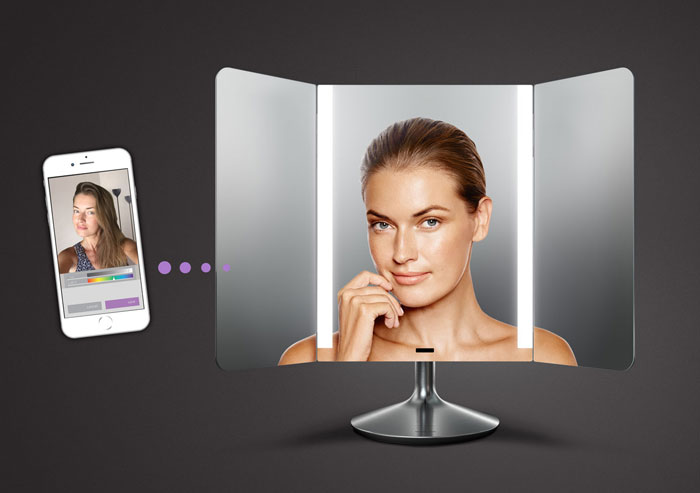 App Enabled For A Smart Mirror
I told this mirror wasn't your average makeup mirror. I'm never without my phone, so it's about time my vanity took full advantage of that. The app takes this already beautiful mirror and turns it into your personal makeup assistant.
It's the first of its kind to offer app-connectivity. The app allows you to manipulate the tru-lux system, which has an output of 600 lux along with LEDs that have a color rendering index of 90+. In layman's terms, the lights give me more accurate lighting.
The simplehuman app is free. All I have to do is take a picture of myself in the light setting I want and the mirror replicates it. Wow – we are living in the future! I can also use the pre-set options, such as cloudy, candlelit, dimly-lit restaurant, and fluorescent.
All it takes is an initial setup and the mirror and app work together from then on out. The wireless technology prevents any annoying cables from being in the way. The unique features make the $400 price reasonable.
Long Lasting And Energy Efficient
The simplehuman Wide-View Sensor Mirror is completely wireless, providing a charge of up to three weeks. It's partially charged when it arrives, meaning I got to try it out immediately. A full charge takes up to six hours.
A USB and micro USB charger are included for easy charging. The company chose a rechargeable option as a way to make the mirror more energy efficient.
Overall, I love the simplehuman sensor mirror! It's a little big for my tiny apartment, so one of the smaller sensor mirrors or the ones that are wall-mountable might be better for my needs. The wide mirror is great if you have a vanity or dedicated makeup space in the bathroom or bedroom. It charges up, so you can put it in a spot that doesn't have access to an electric outlet. Or you can keep it plugged in if that's easier. The automatic lighting is perfect for makeup application, and the app lets me see how my makeup will look in different lighting (at work, at a bar, in bright sunlight, etc), which is really cool!