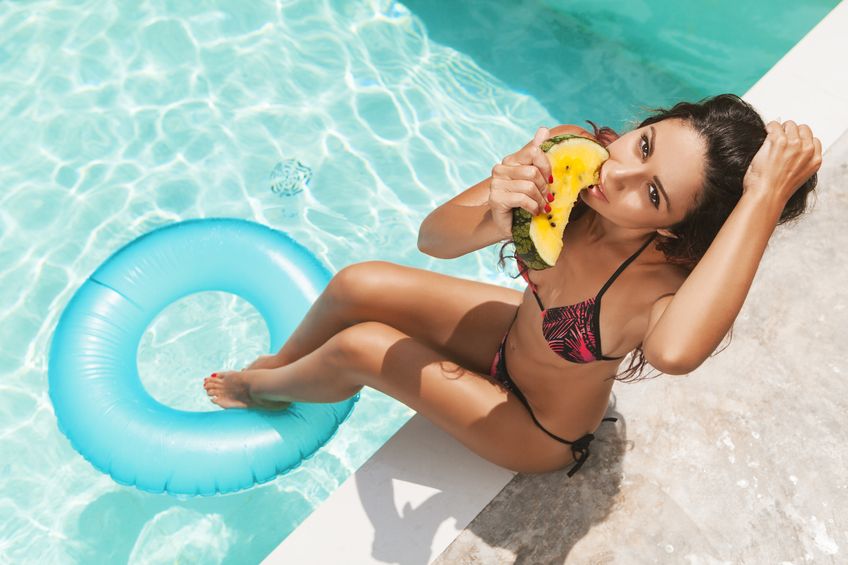 Summer Beauty Essentials to Beat the Heat
Summer calls for a new routine! Pools, beaches, or just hot weather mean you need to change up your beauty rituals. You need water resistant makeup, products with SPF and skincare products to protect your skin from the elements without making you break out!
First of all, it's important to protect your skin with antioxidant-focused, hydrating toners, serums and lotions. This helps prevent premature aging, wrinkles and hyperpigmentation (dark spots) caused by the sun. You also want to use gentle, cooling products AFTER sun exposure to calm irritated and inflamed skin.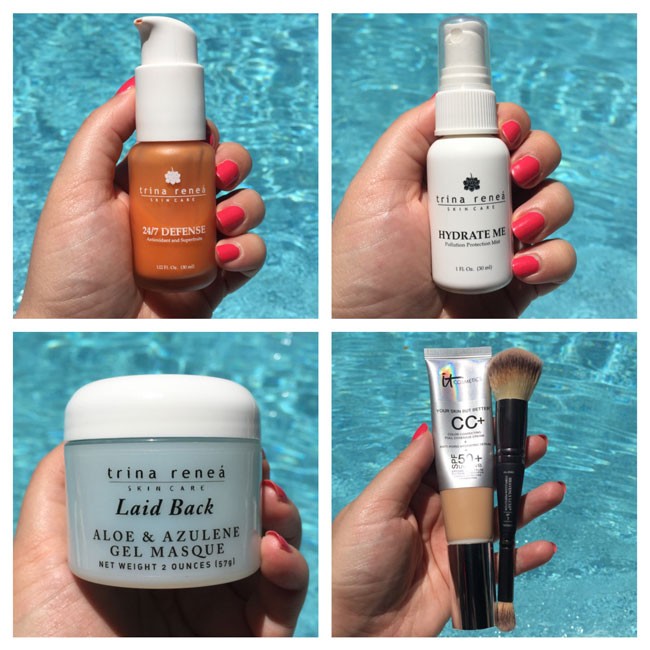 I have been using my Trina Renea Skin Care ever since my super satisfying acne facial with Trina herself (at her salon, The Facial Bungalow in Los Angeles)! Her 24/7 Defense is one of her top sellers. The formula is extremely impressive. It doesn't have just ONE type of antioxidant – it has an antioxidant for every "category" which means you are extremely protected from the elements. When she was formulating this super-light serum by testing it on her friends and family (not on animals!), they were SO excited with the results – she knew she had a winner. And I agree! I have been using it for about a month, and my skin looks more healthy and has a glow that was not there before. I know – a month is a short amount of time, but I'm already seeing results! I've been using it morning and night, and I can't believe how great it is! It is full of superfruits such as mangosteen, noni, pear, coffee seed, astaxthanthin (gives it that orange color), acai, goji, hibiscus, green tea and pomegranate. Sounds yummy, but don't eat it!
Trina Renea's Hydrate Me Pollution Protection Mist is perfect for plane rides (my skin gets so dry with that compressed air!) and anyone who lives in a big city. Um…yeah Los Angeles is known for many things, but clean air is not one of them! It contains malachite, seaweed, Vitamins A, C and E, and plant extracts to protect and hydrate your skin. Spray it on before and after makeup.
Trina's Laid Back Aloe & Azulene Gel Masque is the perfect after-sun facial mask. It soothes skin and reduces any irritation from sun damage. It's made with lavender oil, sodium hyaluronate, comfrey root (very healing!) and Japanese green tea. It's also a great mask to use after waxing, extractions, laser hair removal, peels and other treatments.
Trina also sells my favorite Jan Marini benzoyl peroxide treatments and Sunforgettable Colorescience Primer. Visit her online store here.
And of course, you need that summer beauty SPF! If you're looking for maximum coverage and maximum SPF, I highly recommend It Cosmetics "Your Skin But Better" CC+ Cream SPF 50. I actually won this in an Instagram giveaway recently (woot!) and I love it. The foundation goes on like a dream, and you can use the dual-sided brush to smooth the foundation on to your face. The small side is perfect for around the eyes and nose area.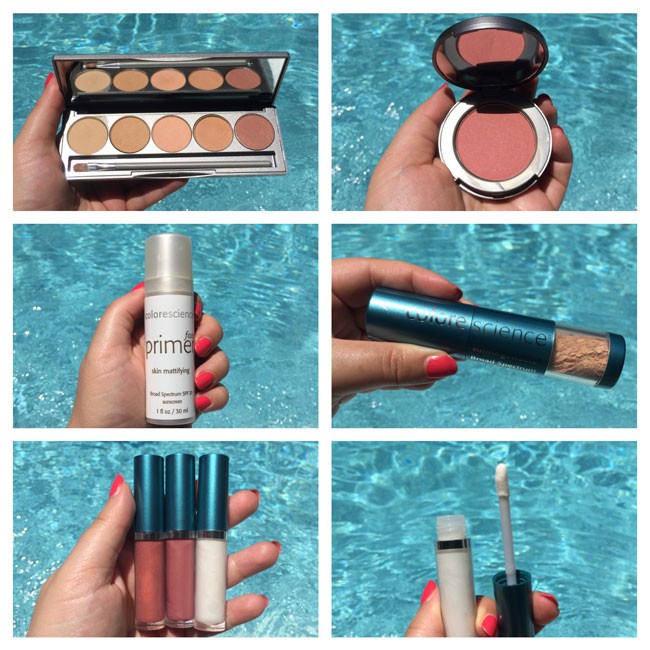 Are you worried about breakouts from too much sunscreen? I have just the thing – Colorescience! The mineral SPF gives you great coverage with a physical sunscreen, but doesn't clog pores. I have trouble with a lot of physical and chemical sunscreens, but so far, Colorescience hasn't made me break out. Score!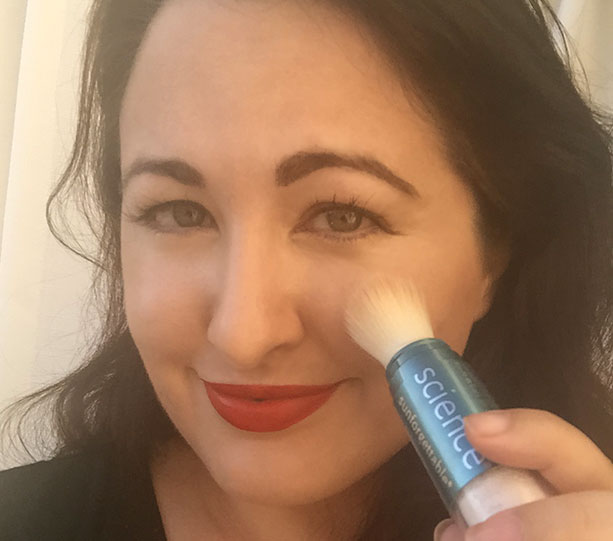 Colorescience sent me several products to test out. I am in LOVE with the Sunforgettable mineral powder sunscreen. It comes with it's own brush, so you can keep it in your bag to re-apply as you go. It isn't waterproof, but very good for everyday use or just sitting out on the porch, by the pool or at the beach. When you use it, the only thing to remember is that because you can't see how much you're putting on, be sure to tap the brush upside down to get it going. You'll know there is powder in the brush when you see just a bit of it fly out. Then just apply as you would a powder. It soaks up excess oil and keeps you protected from the sun. A double-duty product! It comes in several different shades. I used one shade before I put on faux tanner, and a different shade when I was much darker!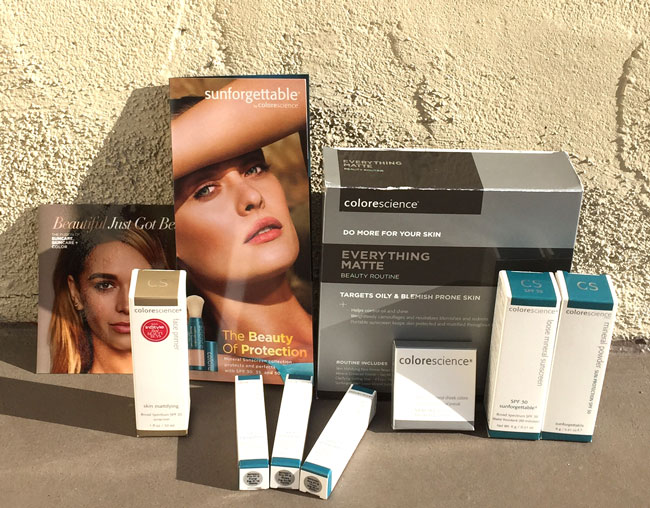 Colorescience also sent me their Skin Mattifying Primer SPF 20, which is perfect to use under your makeup or under the Sunforgettable powder alone. The Mineral Corrector Palette is really nice to blend over blemishes, undereye circles, dark spots and other skin imperfections. It has 5 different shades to cover up red, blue and yellow tones. It comes with the perfect tiny brush for those small areas. They even have blushes and lip glosses! The Pressed Mineral Cheek Colore in Soft Rose has become one of my all time favorites. I love coral shades and this is more on the rosy side, but with a bit of warm coral-like tones. You can add a bit to pale skin, or put it on a bit heavier when you have a tan. It looks great on both! I always want to protect my lips from the sun (if you've ever had a sunburn on your lips, you know why!). I was excited to try the Lip Shine with a whopping 35 SPF! The colored shades are nice – just a bit of color, but not vegan. The clear shine is vegan. They all have a nice cooling peppermint feel and are not sticky at all.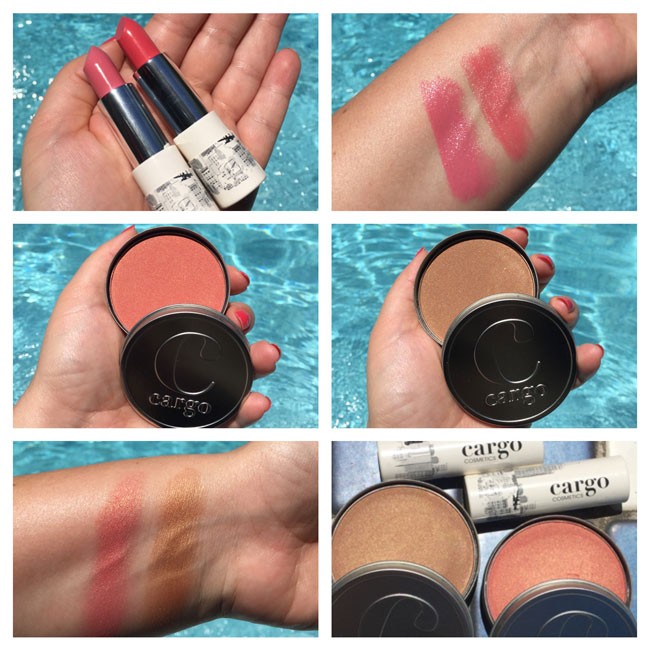 The next thing you need for summer is water resistant makeup! Cargo makes the most beautiful limited edition NYC-inspired gel lipsticks, Swimmables water resistant bronzer and Swimmables water resistant blush. The gel lipsticks I tried are a bright coral pink (Tribeca) and a soft bubblegum pink (SoHo). They also come in "Chelsea" and "Brooklyn." They are gluten free and paraben free. They have great pigmentation, moisturization and are not sticky. Just be careful about leaving the gel lipsticks out in direct sun – they aren't part of the Swimmables lines and aren't meant to be baking in 90+ degree sun! I broke one by twisting it up too far for the photo above! Doh! I'll just have to use a lip brush now!
The Cargo Swimmables bronzer and Swimmables blush in a prismatic coral (Los Cabos) are SO beautiful. Perfect for tanned skin. I swatched these out by my parents' pool (in Louisiana) and I had to keep making everyone look at the swatches because they were so gorgeous! You can also get the shimmering hot pink "Ibiza" or pretty rose pink "Bali" color at CargoCosmetics.com or online at ULTA. Cargo is a fantastic cruelty free brand.
So stay cool out there, and when in doubt, get a big floppy hat and some fabulous sunnies to cover up while looking HOT!