Everyone loves cruelty free beauty brand, Tarte. But, if you haven't tried their waterproof eye collection, you are missing out! Even if you don't plan on going to the beach or pool, if it's summer, chances are, your facing is making its own water – if you know what I mean.
The waterproof emphasEYES gel liner, waterproof Amazonian Clay Creamy Eyeliner and Clay Waterproof Eyeshadow Pots are made with mineral pigments and Amazonian clay, a natural waterproofing agent. Not all shades are vegan (some contain carmine – I'm guessing just the purple and pink shades – and the shadow pots contain beeswax).
I'm especially in love with the gel liner pots – the gel goes on smoothly and is very highly pigmented. You can get a nice, fine line with the brush that comes with it. Give it a minute to dry and then it's on all day. You'll need to use eye makeup remover to get it off, but it comes off clean without much hassle. It comes in brown, black, indigo, plum, bronze and green.
The QVC-exclusive Tarte Amazonian clay stick liners also go on easy (I just prefer gel liners in a pot personally) and stay on all day. They are fortified with minerals and Vitamin E (with no mineral oil or parabens).
Shades available now: black, brown, plum, navy, teal
Shades available in September: plum, bronze, green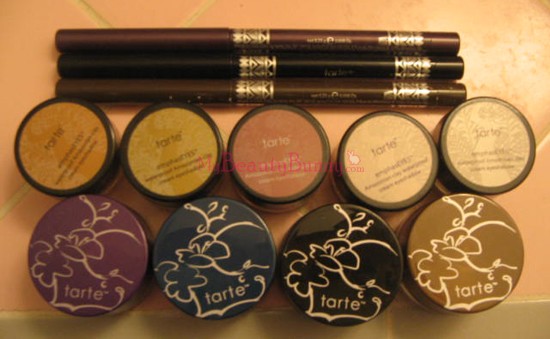 Another QVC exclusive – waterproof shadow pots! Love 'em! They are smudgeable cream eyeshadows that actually stay on my oily lids! If you have dry lids, these are still amazing because they moisturize at the same time (with aloe and Vitamins A and E). You have a little while to play with them before they dry, which is great when you're creating a look and need to smudge or remove color. You can use these as a base or as stand-alone shadows.
Shades available now: beach bronze, moss, slate, shimmering plum, seashell pink (a nice pink that brightens and works well alone or as a base for many colors)
Shades available later this month: shimmering taupe
Shades available in Aug: rich brown
The shadow pots and stick liners are available at QVC.com. Gel liners are available at Tartecosmetics.com.