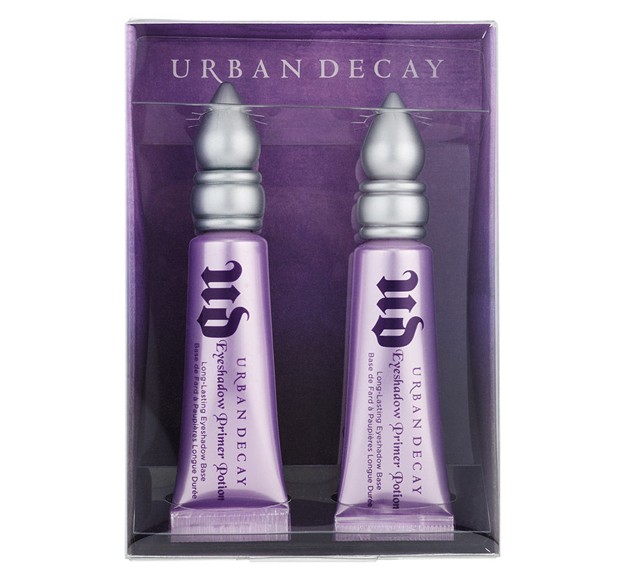 Question of the Week: Which eyeshadow primer are you reaching for most often these days?
Answer: As a blogger, I get to test a lot of primers. A lot. Primers for the face, eyelids, lashes and more – there seems to be a new one on the market every season. But I always go back to the classic and still champion of eyeshadow primers: Urban Decay's Primer Potion. The original formula in the iconic purple tube applies to your lids like a dream and adds crease and fade-free life to your eyeshadows.
Readers – What is your latest and/or greatest cruelty free eyeshadow primer?
Please Note: Not all Lipstick League posts are cruelty free.
Clumps of Mascara – is already feeling the summer heat here in Florida but what will Zoya's Paradise Sun collection pair well with the heat?
EauMG – Fashion and fragrance! Victoria pairs perfumes with seven women's Spring/Summer 2015 fashion trends.
Gouldylox Reviews – Looking to smooth your hair for summer? Me too! Check out the first post in my summer series about hair smoothing treatments. This one costs $50, takes 30 minutes and lasts for about a month.
Love for Lacquer – California Girl at heart? Then you will LOVE the new So SoCal collection from Polished By KPT!
My Beauty Bunny – Ready to get cheeky this spring? We've got the scoop on cruelty-free drugstore fave Jordana and their Color Tint Blush Sticks.
My Newest Addiction – Laura just started a new skincare regime and supposedly it gives the same results as botox: Cellumis Age Defying Skincare!
Nouveau Cheap – Attention CVS shoppers! The Semi-Annual Beauty Clearance Sale is back for another round. Here's a list of the deals that have been spotted so far (and a guide for newbies).
Prime Beauty – wants to introduce you to the newest subscription box from Wantable, The Style Edit box is full of items chosen just for you by a stylist. See what goodies we got in our first box!
Phyrra – Thinking you don't need another neutral palette? You need to see the Kat Von D Shade + Light Eye Contour Palette! This mattes palette has neutral, cool and warm tones to help you complete any look!
Vampy Varnish – There is yet another gorgeous LORAC Alter Ego Eye Shadow Palette out for summer 2015 that might be worth checking out!
we heart this – Stef started her very first skincare "routine" ever from Paula's Choice. See what she thought and how it worked on her wrinkles and acne (isn't she lucky to have BOTH?)
Beautygeeks – Being told you look tired is as excellent as being asked when the baby is due when you aren't expecting. At least there's a fatigue-fighting makeup trick to brighten eyes fast. Makeup pro Carly Wolk shows us how.
(Wondering what the Lipstick League is? Find out here.)