These Cats are Not Being Tested On – Please Help to Stop the Spread of Misinformation
Recently someone on Facebook shared a portion of this photo (above) along with a list of brands that test on animals. They tagged My Beauty Bunny (meaning well I'm sure) because the list of animal testers was cut and pasted from an old cruelty free makeup article here on my site. Since January 1st, this post has been shared over 40,000 times. I have been getting death threats and complaints and I wanted to set the record straight once and for all.
This photo shows cats being spayed and neutered.
There are some pretty major problems with the original post. First of all, the cats in this photo are NOT BEING TESTED ON. They were rescues from a hoarder situation in Florida and the photo shows veterinarians spaying and neutering them. It looks scary if you don't know what's happening, but apparently cats are often tied up like this during surgery so the vets can reach the areas they need to reach. You can see one of the original news articles about this here. And more about the "hoax" here.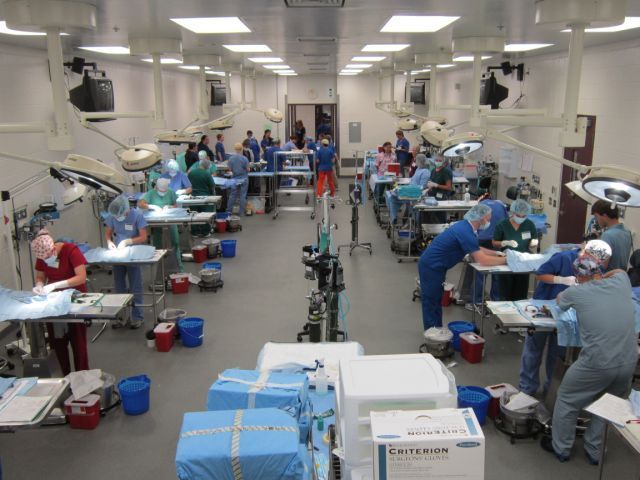 The photo pictured above is the aftermath of vets spaying and neutering the cats after being rescued from the hoarding situation. These cats are not being tested on. Yes, cats, dogs and primates are used for medical research (makeup/cosmetics testing is typically done on "cheaper" and smaller animals like mice, rabbits and guinea pigs), but this photo is being used to falsely illustrate this.
Weleda is a cruelty free makeup brand.
Second, the list of brands that test on animals accompanying this post was cut and pasted from an old My Beauty Bunny article that clearly gave the date of April 2016 and linked to my regularly updated list of cruelty free and non-cruelty-free brands that you can find here. Since the post hadn't been updated in over a year (and honestly I forgot it even existed), Weleda was included as a non-cruelty-free brand. In April/May of 2016, Weleda contacted me to let me know that even though they are selling products in mainland China, they are indeed cruelty free. Weleda is a cruelty free makeup brand because they only sell products with non-special use ingredients that are exempt from animal testing laws and not subject to post market testing.
This is what Weleda's rep said in April of 2016:
"…post market testing is known as a potential risk only in regard to products sold in shops and classified by the Chinese authorities as needing animal testing to assure their safety to consumers, such as cosmetics. These are the kind of products mentioned by NGOs such as HSI. The products that we export for sale in Mainland China, being our soaps and dental care products, have so far not been classified as cosmetics by the Chinese authorities, so there is no reason to assume that they might be subject to such testing. We also sell some products online across the border to individual Chinese consumers located in certain trade zones such as Shanghai. So far, animal testing has not been required for such sales. This was confirmed to us independently as recently as August last year, by PETA and the NGO they work with (IIVS)."
At that time, this is the list of products that Weleda was selling in China (no cosmetics or skincare using "special use ingredients" – only soap and dental products, which the Chinese do not classify as "cosmetics"):
Calendula Toothpaste
Children's Toothgel
Plant Toothgel
Ratanhia Toothpaste
Ratanhia Mouthwash
Salt Toothpaste
Calendula Soap
Iris Soap
Rose Soap
Rosemary Soap
They are also selling via two websites located in Hong Kong (a region that does not follow the same animal testing laws as mainland China):
JD Global (https://iweleda.jd.hk/)
Tmall  (https://weleda.tmall.hk/)
I think you can see why Weleda was originally on my non-cruelty-free list, but when they clarified the information, I removed them from my main cruelty free brand list. Unfortunately, I didn't realize they were on that old post, and that's what has been shared (and gone viral). I'm sorry Weleda had to deal with the fallout from this and I hope this will set the record straight.
This just goes to show that you really cannot believe everything you read on the internet. You HAVE to do your research! Please refer to my cruelty free makeup brand list before buying as I keep it updated regularly (you can see the edit date at the top).
Animal testing is still legal in many countries including the US and it's still a major problem. Although animal testing has been banned in the EU, India, Australia, New Zealand, Israel, and Norway, it's still legal in most of these areas to sell FROM these regions TO mainland China (where animal testing is required for imported cosmetics). This is a major loophole that means even though the brands aren't testing, they can still allow China to test on their behalf.
Thank you friends of the bunnies! Please share this article to help prevent misinformation from being spread!