Top 10 Places to Visit in London
I cannot wait for my upcoming honeymoon in London! A lot of people would want a Hawaiian or Tahitian vacation (and trust me – I need one of those soon!) but Gregg and I are city folk, and London is one of our favorite places in the world. If you're planning a trip to London, you've probably been overwhelmed at one point or another by the sheer number of things you can see and do in the city. With so many options to choose from, narrowing down your itinerary can seem like an impossible task. Fortunately, I'm here to help! If you're on a mission to experience the best London has to offer, make sure these ten places to visit in London are on your agenda:
1 – Camden Market. With over 1,000 stalls and shops selling everything from vintage clothing and toys to musical instruments and books, it's impossible to see everything Camden Market has to offer in one visit. Pick up a few souvenirs before grabbing lunch at one of the bars and restaurant in the Market and enjoy some excellent people-watching.
2 – The British Museum. This incredible collection of historically significant objects and artifacts is one tourist hotspot you can't leave off your list. Admire the stunning architecture and experience exhibits that feature items like the Rosetta Stone, an original Easter Island statue, and the head of Amenhotep III carved from granite, an ancient Egyptian relic. See what special events or rotating exhibits are happening while you're in town!
3 – The Dog and Duck. Tucked away in Soho, this pub is a sight to behold and makes the perfect place to grab a pint and take a break. You'll admire the over-the-top, ornately-decorated interior as you enjoy a beverage in the very same pub George Orwell and John Constable once frequented, which makes this an especially worthwhile stop for literature-lovers and art fans.
4 – The Shard. For an unforgettable view of the city you won't find anywhere else, you need to plan a stop at The Shard. Boasting the title of the tallest building in the United Kingdom, this skyscraper offers an incredible glimpse of London below from one of its viewing decks. Gregg and I will be staying at the Shangri-la at the Shard for our honeymoon!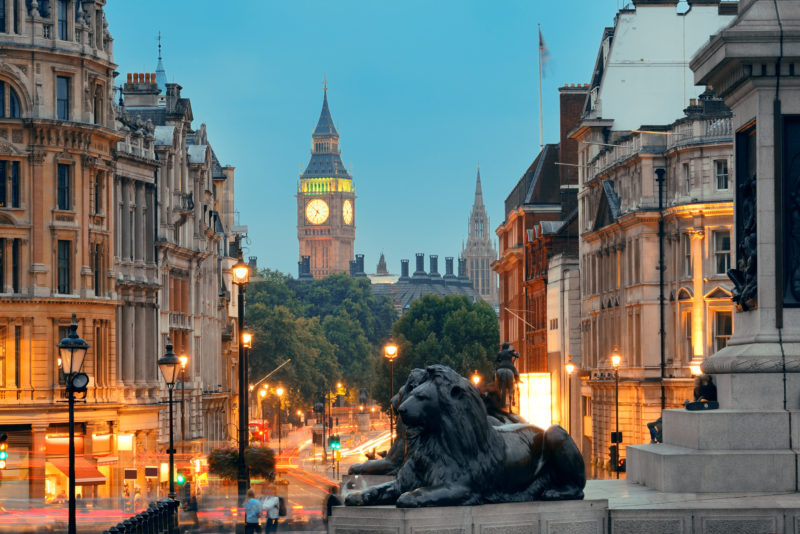 5 -Trafalgar Square. It's hard to miss Trafalgar Square on a trip to London, as it's located in the middle of the city next to some major attractions. Home to regal sculptures, impressive monuments, and two stunning fountains, the square hosts many events and festivals throughout the year.ather takes a turn for the worse, or if you're on a mission to pick up some one-of-a-kind souvenirs.
6 – Portobello Road. Located in Notting Hill, you'll find rows of brightly-painted homes that make this street a great place to take some photos. It's also home to the Portobello Road Market, where you can find everything from food and clothing to interesting antiques, depending on the day you visit.
7 – The London Eye. This massive ferris wheel is the tallest you'll find in the United Kingdom. It'll send you soaring in a pod high above the River Thames and will provide great views of many of London's most-loved landmarks, like Big Ben (currently under construction) and Westminster Abbey. Since this attraction is so popular, it's smart to purchase your tickets in advance.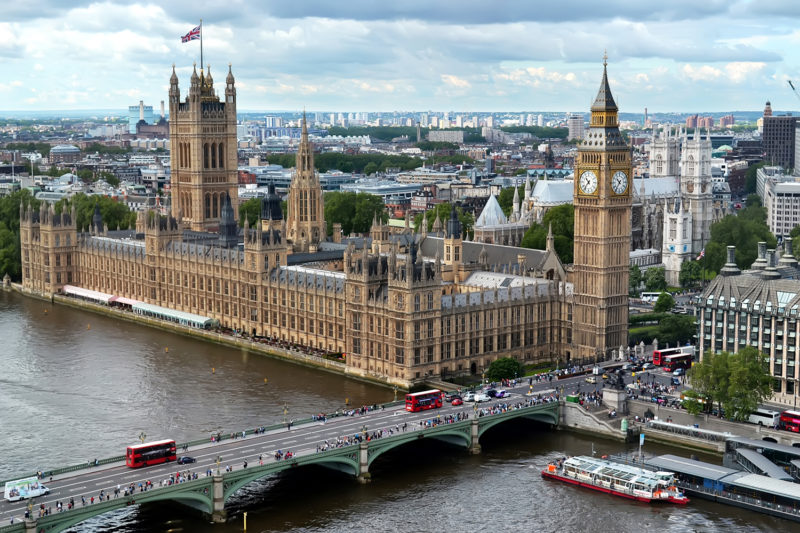 8 – The Langham. This hotel makes an excellent choice if you're looking for an upscale place to stay in London, but even if you don't choose to stay there, you should make a point to stop by for afternoon tea – a classic British tradition and an experience worth indulging in on vacation. You'll be treated to a delightful selection of teas, cakes and treats, both sweet and savory, in a picture-perfect teahouse setting.
9 – Hampstead Heath. This public park and open space is perched upon one of the highest points in London, making it a prime location to snap photos of the skyline. Pack a picnic lunch and spend an afternoon relaxing in the sun, then stroll through the zoo or butterfly house, two free attractions in the Golders Hill Park portion of Hampstead Heath.
10 – Stanfords. This bookshop in Covent Garden is worth a visit for anyone who loves traveling. Open since the mid-1800's, this bookstore specializes in books, maps and odds and ends related to travel. It's the perfect place to check out if the we
Hit these stops as you make your way around London and you'll be guaranteed to see, do, eat and experience the best the city has to offer. Did I leave your favorite London location off of the list? Leave a comment and let me know about your favorite places to visit in London!
You may want to also check my top Instagram-friendly spots in London.
Loving this places to visit in London review? Take a look here for more of my travel favorites!